More than a music, a hymn
From birth, 'Nissa la bella' has been the soundtrack to our lives. Other teams come out onto the pitch to pop songs or classical music, but OGC Nice stands out with the hymn of the region, of its identity, of its roots, which the club has used for nearly two decades.
At the stadium
After Mèfi has landed in the centre circle, 'Nissa la bella' raises the atmosphere ahead of kick-off. The initiative came from our fans, the famous 'Operation Menica', which was undertaken when OGC Nice returned to the top flight.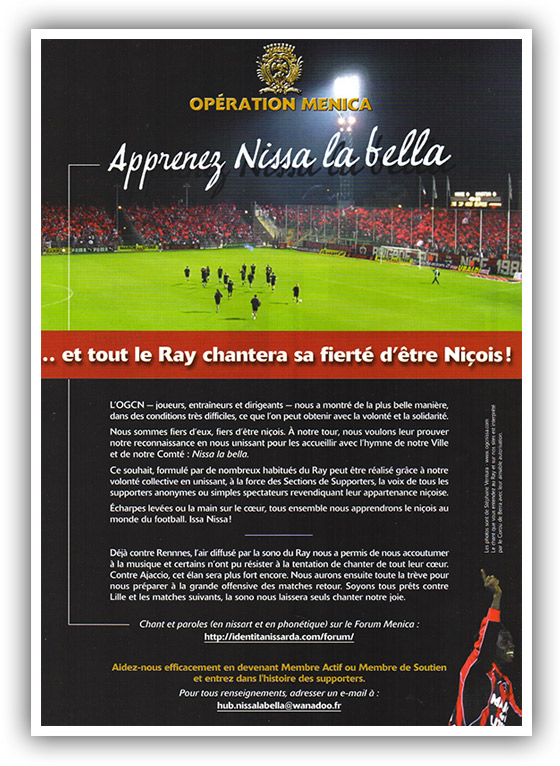 It was a major success as the club then integrated it — from early 2003 — into the pre-match protocol at the Stade du Ray and then the Allianz Riviera.
It has been performed a capella by a traditional group, Le Corou de Berra, and Nice baritone Franck Ferrari.
It is also heard in other stadiums when the visiting fans find their voices, and featured in the club's 'Cultivate our differences' campaign in 2014/15.
Origins
It's the Niçois poet and singer, Menica Rondelly, who is attributed with writing it in 1903. In its first version, it was called 'A la mieu bella Nissa' (To my beautiful Nice). Three years and several performances later, it acquired its current name.
O la miéu bella Nissa
Regina de li flou
Li tiéu viehi taulissa
Iéu canterai toujou.
Canterai li mountagna
Lu tiéu tant ric decor
Li tiéu verdi campagna
Lou tiéu gran soulèu d'or.

Toujou iéu canterai
Souta li tiéu tounella
La tiéu mar d'azur
Lou tiéu cièl pur
E toujou criderai
en la miéu ritournella
Viva... viva... Nissa la bella
the lyrics
An ode to the city, it talks of the flowers, the mountains, the green countryside, the sun, the sea, the clear blue sky, roses, lilacs, the port and marina, and the white flag.
"The lyrics are very light. It's not Brel's 'Ne me quitte pas'. But when tens of thousands of people start to sing it at the same time, with the same passion, there's a shiver of excitement. It becomes something great," said Nice-born musician Francis Lai, who has worked on a number of film soundtracks, in an interview with Le Monde in May 2016.
Learned by all Niçcois at a young age, it is sung by everyone during the festivals in May, and resonates in all of us: 'Viva, viva, Nissa la Bella'.