OGC Nice arrived in the Saint-Maurice district in 1927 and stayed there until 2013, having won all its trophies there.
85 years of emotions. And what an experience it was...
Some don't even remember their first time. Others will never forget it. A cult venue for the city of Nice and for French football, the Stade du Ray has become a meeting point for entire generations of fans.
Hundreds of memories in thousands of minds.
Originally located on the " terrain de la Californie ", in the west of the city, the increasingly successful OGC Nice took possession of its new home on 30 January 1927 (a 3-2 victory over a Côte d'Azur team). Alternately named "O.G.C.N. ground", "Saint-Maurice stadium" and then "Léo-Lagrange stadium", the Aiglons' garden found its most used name in the Ray.
If a first stand of 300 people was built on the west side, it was not until 1948 that the Ray resembled its modern version, with the construction of a 3000-seat main stand. The new stronghold of Nice-Nord could then beat new attendance records.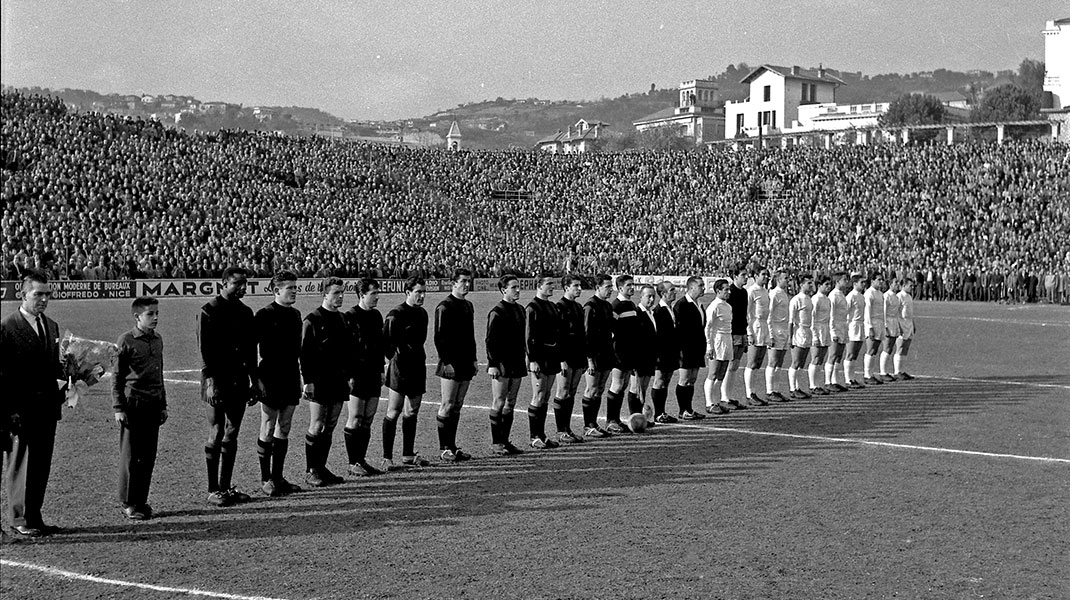 On 8 March 1959, 22,908 fans cheered on the Gym in the clash against Reims. The legendary Aiglons escape against Strasbourg, on 29 May 1990, was seen by 19,997 fans.
Following an incident during a French Cup match against Bastia on 8 April 1992, the east stand was closed, destroyed and replaced two years later by a tubular structure, the last major alteration to our good old Ray. Its history came to an end on 1 September 2013, in a match against Montpellier (2-2).
This final match was celebrated wildly by all the red and black people, supporters, officials, presidents and players of all eras. A moment of unity, celebration and sharing, it concluded a rich history with both beauty and warmth.
Since then, the Ray stadium has been destroyed and replaced by the Parc du Ray. Inaugurated on 13 January 2020, this 3-hectare green space, "open to the city", is equipped with new sports facilities.
Built on the site where the Léo-Lagrange stadium proudly stood, it has also preserved part of the collective memory of the people of Nice, since part of the "original" stand reminds all the sportsmen and women of today that they are walking around a place like no other.
The stade du RAY through the years