Childhood
Small change project
Since 2012, OGC Nice has been supporting the foundation of Hôpitaux de France - Hôpitaux de Paris in the Yellow Coins initiative.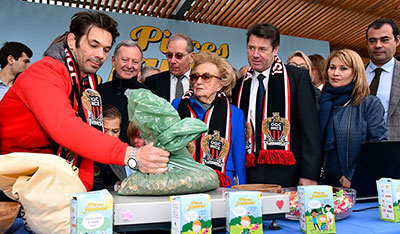 During the national operation, OGC Nice takes a lead on a local level and involves all of its supporters in the cause, as money is raised for children and young people in hospital.
Every year, a home fixture is assigned to the charity: €1 is taken from each ticket sold and shared with the Fondation des Hôpitaux de France et Hôpitaux de Paris, while bucket collections are carried out at all four corners of the stadium, plus food and beverage kiosks and lounges, so that supporters who would like to are able to demonstrate their generosity.
The amount raised is then matched by the Club and shared with the cause that was supported by Bernadette Chirac in the last edition of the National Operation, which usually takes place in Nice.
Since 2012, more than €32,000 has been donated to the Yellow Coins Initiative.