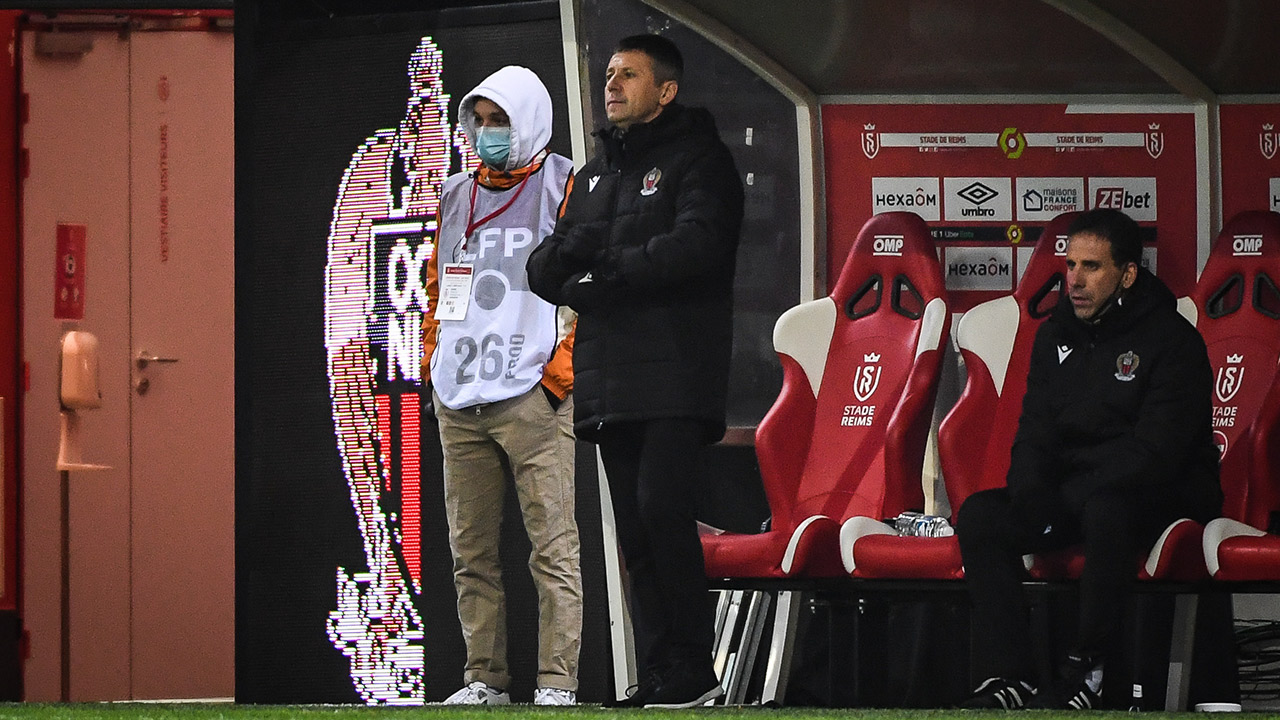 Reaction
Ursea: "The players did the work together
Adrian, are you happy that you didn't concede a goal tonight?
When we prepare for a game, that's not how we think. I can't say that I'm happy with this point. We always play to score goals and hope to get the win at the end. Despite that, given the situation we're in it was more about giving the players confidence so that point will give them that. Now we need to recover, get some injured players back and give our best for the upcoming games.
Your three at the back worked well…
Yes, it did. Daniliuc carried on where he left off in his last game. It was good, I really enjoyed his performance. The players understood my message and they did the most important part of defending, getting stuck in. They ran a lot and gave their all. I was pleased with that. The players worked together.
We saw two different Nice sides today, first an attacking side and then a bit more defensive. Do you agree with that?
Yes, you're right. The first half went pretty well, we created five or six chances if I remember correctly. In the second period our opponents put us under pressure and we dropped deeper. But we managed to stay calm and most importantly we didn't concede a goal.
What have you got to say about Jeff Reine-Adelaïde's positioning?
Jeff is a really important player for us. I don't think that we found him enough today. When he's got the ball at his feet, he's really impressive. The idea is to give him the freedom he needs because that's what he likes and what he wants. You need to find a way to let him express himself. We know that he can make a difference and we need to figure out a way to improve what we didn't do well.
You got a point tonight. What do you need to do to get a win?
First of all we need to recover. I don't think we can establish what's needed just after the game, we need to analyse it and see what we did well. I'll do that and we'll look at our strong points and how to take advantage of them.
You made a few tactical tweaks but you didn't make wholesale changes tonight…
There's a new staff in place and we changed lots of things (the warm-up, set pieces…) but as far as the players taking all the changes in it's too early, mostly about the way we keep the ball. In the second half we struggled a bit physically and we lost a bit of confidence. We're going to try and stabilize and get into a good routine. And also to go forward.
We're saw you were very calm on the bench. How did you feel in your first game in charge?
I've got a big personality but I feel like the players need a bit of calmness from me, not for me to go crazy. We did what we needed to do for them to go into the game in the best conditions. I was quite satisfied with the first half. Maybe with the fans in, things would have been different. But since that's not the case, unfortunately, I was quite calm about it.
Talking about fans, are you excited about them coming back in?
To be honest, football isn't the same without fans. The emotion, the atmosphere and the excitement. We can't say we enjoy it. We miss the fans and it's not just for us, everyone misses them. Sadly, that's how it is but I'd like for it to be back to normal as soon as possible.
On Thursday you've got a Europa League game without anything at stake. Are you intending on rotating the side?
We're thinking about it. We'll probably decide tomorrow but it's a possibility.
---