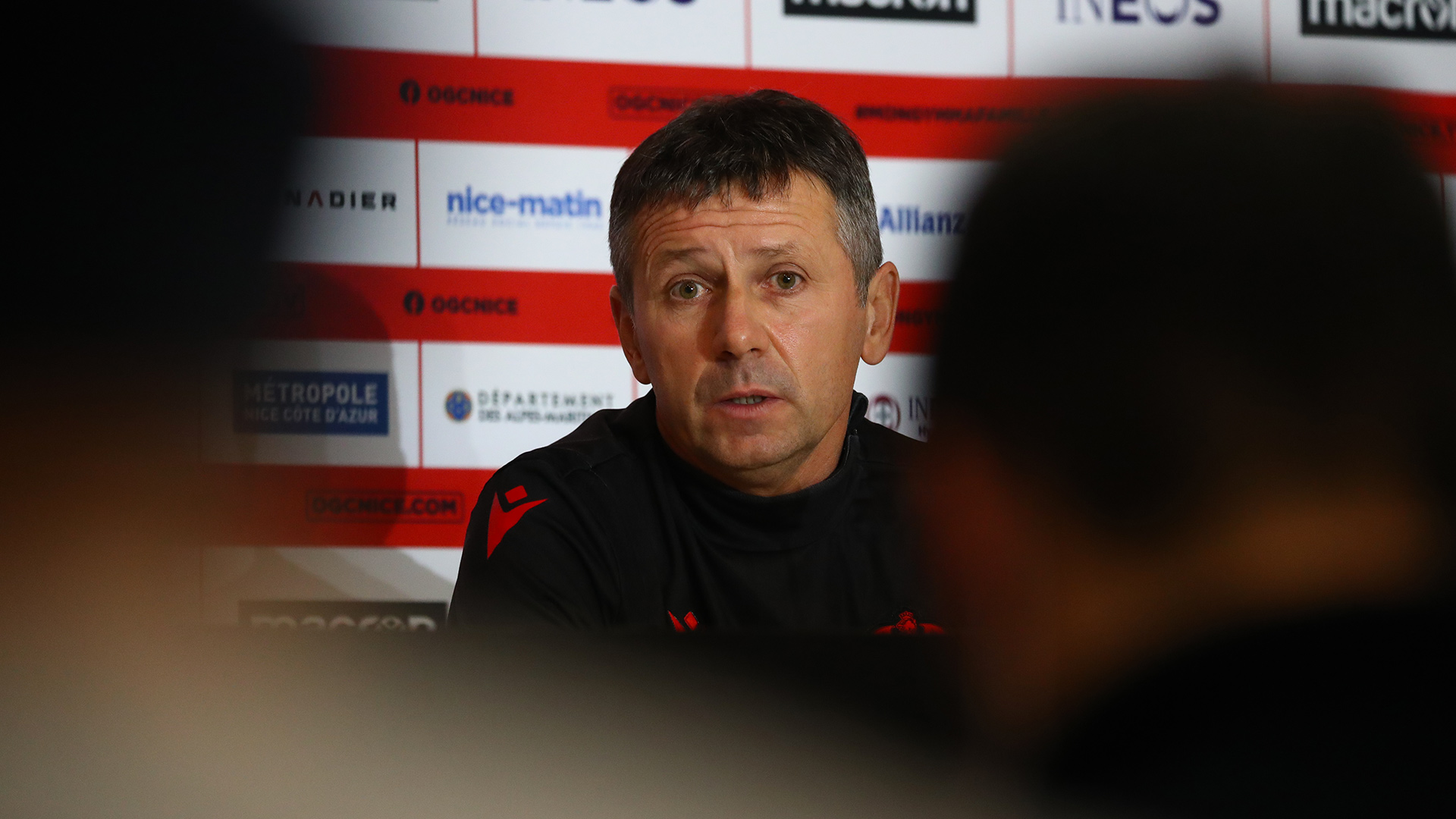 Focus
"Restore the squad's confidence"
​On Friday, Jean-Pierre Rivère (President of OGC Nice) and Julien Fournier (Director of Football) presented Adrian Ursea as the new Head Coach during a press conference. They spoke about their decision and set a clear objective: "Restore the confidence of a squad with real quality".
"It's never easy to end things with a coach in the middle of the season, and on a personal level, it's never pleasant. It's not a knee-jerk decision after a defeat. It has been well thought through." Speaking to the numerous members of the press in attendance, it was Jean-Pierre Rivère who spoke first. The President of OGC Nice calmly set the scene for a press conference that was scheduled for earlier in the day. A conference called following the decision to replace Patrick Vieira with Adrian Ursea, a choice jointly made by the directors and owners of the club.
"How to get this team to progress with Patrick? This is a question we have been asking ourselves for several months. We tried to support him as much as possible to find solutions by making things available to him. After two strange years, Julien (Fournier) did our business extremely early this summer to provide him with a squad early on. But we felt that there were certain things that were't right for us recently in the way the team is functioning. In a project, everybody has responsibilities, starting with us. When you see that the route we are taking isn't the right one, you cannot hesitate to ask questions of yourselves and to take another route."
In the middle of the three men, sat Les Aiglons new coach who was questioned and of course at the heart of the discussion.
A. Ursea: "I put myself forward, I am ready"
Ursea proudly declared himself to be ready "for the challenge" without being overwhelmed: "I put myself forward, I feel ready. I have always said that I am a servant of this club and ready to serve. I have been given a mission and I will do everything in order to complete it."
"There's no point looking for other names. Adrian is the OGC Nice coach for this season, that's for sure" reiterated President Rivère. "We have known him for a couple of years. On a human level, it's remarkable. When he left for a season, he didn't really leave us. We spoke regularly on the phone with the idea one day of him coming back to us. He is a real footballing expert, someone who loves the game. That's obvious."
Alongside them, Julien Fournier completed the top table: "When you have somebody already within the club whose ability you are certain of, his loyalty to the club, his perfect knowledge of this squad, the players and our league… Yes, of course there is a bit of a risk because it's one of his first experiences as a head coach. But every decision is a risk, we are comfortable with it."
Made aware of the board's decision late last night, the man who arrived in 2016 as Lucien Favre's assistant immediately switched his focus to the match on Sunday against Reims. Adding: "Of course I have ideas of what I want to put in place. But these ideas will be determined by the physical condition of my players. We will see how things are tomorrow."
Reims, the first match of his reign, who are in a difficult patch and are also one of the teams that Adrian was tasked with following since the start of the season. A side that he is preparing to face with a very clear idea in mind: "Give the players confidence again. That's my priority! We are going through a difficult period, we will try to find something that will reassure us."
J. Fournier: "Our objectives remain the same"
Confidence was also at the heart of Julien Fournier's message: "We have turned to Adrian because we believe he is capable of getting this team in shape. We believe that we have a squad with real quality. Of course, here or there, we may have a couple of corrections to make*, but it's been a long time since OGC Nice has had a squad with such quality. So Adrian and his coaching staff's mission will be to restore this squad's confidence. In terms of objectives, they remain the same: we have two thirds of the league still to go. We aren't struggling in terms of points. We completely missed out on our Europa League campaign, you have to recognise that and admit it. But in the league, we are still in the running. We have always asked that our team compete for the European places, there is no reason to change that."
"There is a change of coach, it's important for the daily life of a club. But the club continues to move forward with the same ambitions and the same project", concluded President Rivère.
* "We are working on a centre back"
Questioned about the arrival of a centre back following Dante's injury, Julien Fournier stated: "When Dante got injured, we weren't in the transfer window. We can't recruit a player when we are unable to do so. We are working on that position. Will we get there? We will see, because finding a player "is easy", but we will be looking for very specific characteristics and a player that is able to bring something to the squad."
---