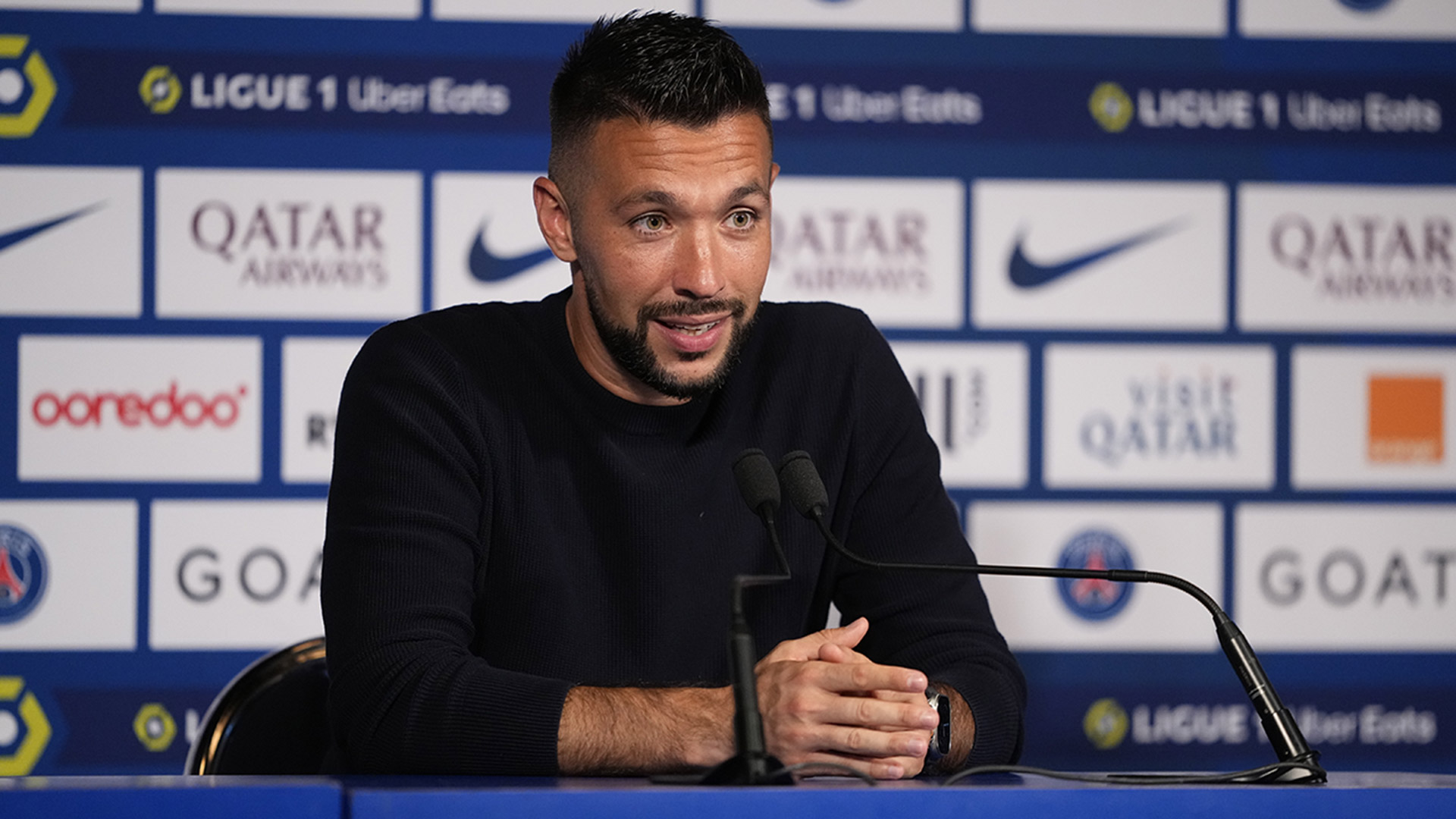 Press conference
Farioli: "I saw a team of warriors"
Here is Francesco Farioli's reaction after Le Gym's 2-3 win at the Parc des Princes.
What did you think of Terem's performance?
As I said at my first press conference, I have a lot of confidence in him, in his physical ability, his skills and his talent. I always get a lot of questions about whether he's a player suited to the style we want to develop. I've always said to myself: I believe in Terem. He's a very useful player for us. We're seeing him now because he's got goals and stats, but what he did tonight was the consequence of all the good performances he put in before.
With so many internationals returning and the Champions League looming, was it the ideal time to win against Paris?
It was certainly a unique moment for all of us, because we also had 6 players on international duty. Of course, PSG had more. We came here to get the 3 points. There are several factors that explain tonight's result, but my team really deserves this victory. The players paid a lot of attention to the details and it was fantastic. As I said to them in the dressing room: beyond the tactical aspect, beyond the pressing that we did, tonight I saw a team of warriors. That's what makes me most proud.
How did you feel about Luis Enrique's compliments towards you?
Aside from the words, what pleased me enormously was that, on the bench, I saw a coach who had prepared for the match with great care. That's worth even more than the rest. He's a coach who's known for the quality of his work, both at club level and with the national team. That's very satisfying. As I said in the press conference, he's always been a benchmark, one of the coaches who's been the most influential and made the greatest contribution to modern football over the last 20 years. Tonight's victory is a great satisfaction. It's a small part of our journey. But unfortunately, or fortunately, football moves very fast, in victory as in defeat. Tomorrow we start a new week. We already have a very important game to prepare for.
Are you more satisfied with your team's ability to defend collectively or its ability to attack well, even without possession?
I'm pleased that the team was able to play several games in the same match. We scored the first goal by winning the ball back inside their half. We defended with order when we had to be a bit lower. We had 3 or 4 situations where we played out from the back very well to attack. We were able to counter-attack at the right moment. So what I like about tonight is that it was a complete performance. We were there mentally, we always found the way to read the game, the moment. All the players, including those who came on, gave their utmost attention to the game. Between all the good things that happened tonight, I want that to be what carries us through the next few games. This attention to detail can help us achieve great results like tonight.
The concept of the "3rd man" was used a lot by your team this evening, particularly to win the ball back...
It's one of the principles that all teams want to implement. At least teams that want to have possession. You have to be able to connect with the 3rd man. In this match, we found moments when we could get to the free player. We could have done better at times, but if we want to consolidate our phases of possession, we have to be quicker to find those solutions. It's part of the process, we're putting these concepts in place and we're going to continue in this direction.
In the build-up to the game, did you plan to press Donnarumma?
My opinion is that Donnarumma is one of the best goalkeepers with his feet. We prepared for the match by wanting to press: Donnarumma and the centre-backs. We played the game we're used to playing. Sometimes they managed to escape our pressure. Two days ago, in the press conference, I said that I wanted to come here with humility. We knew the team we'd be up against, their qualities, both collectively and individually, and the quality of their coach. But at the same time, we wanted to come with our own mentality. That's what we've been doing since the start of our adventure. High pressing is what we do, to win the ball back as high up the pitch as possible. It's part of our DNA. We came here to do it and we did it. Sometimes we had to defend lower, and we did that too. The team's performance was very solid and once again I'd like to highlight the players' attitude and their attention to detail.
How did you convince your centre-backs, Todibo and Dante, to play so high, without fear and with ambition, here at the Parc des Princes?
What we're trying to do is part of a process we've been following since the very first friendly match. At the start, this project of defending high was difficult, because we play to the limits, to within a second. If we're late or early, it makes a huge difference. Now, we're able to play with this high defence because our attacking players are able to do a tremendous job up front and keep the ball under pressure. I'd like to highlight the work of our 6 or 7 attacking players. The work they do without the ball, their commitment, their application and their attention to detail. It makes the work of our midfielders and defenders a lot easier, helping them to take on slightly more aggressive positions. Dante is a player with enormous intelligence, he knows when to back off and when to go for it. Jean-Clair Todibo has incredible potential. He knows how to defend in tight spaces and in wide areas. He can attack as well as defend.
---