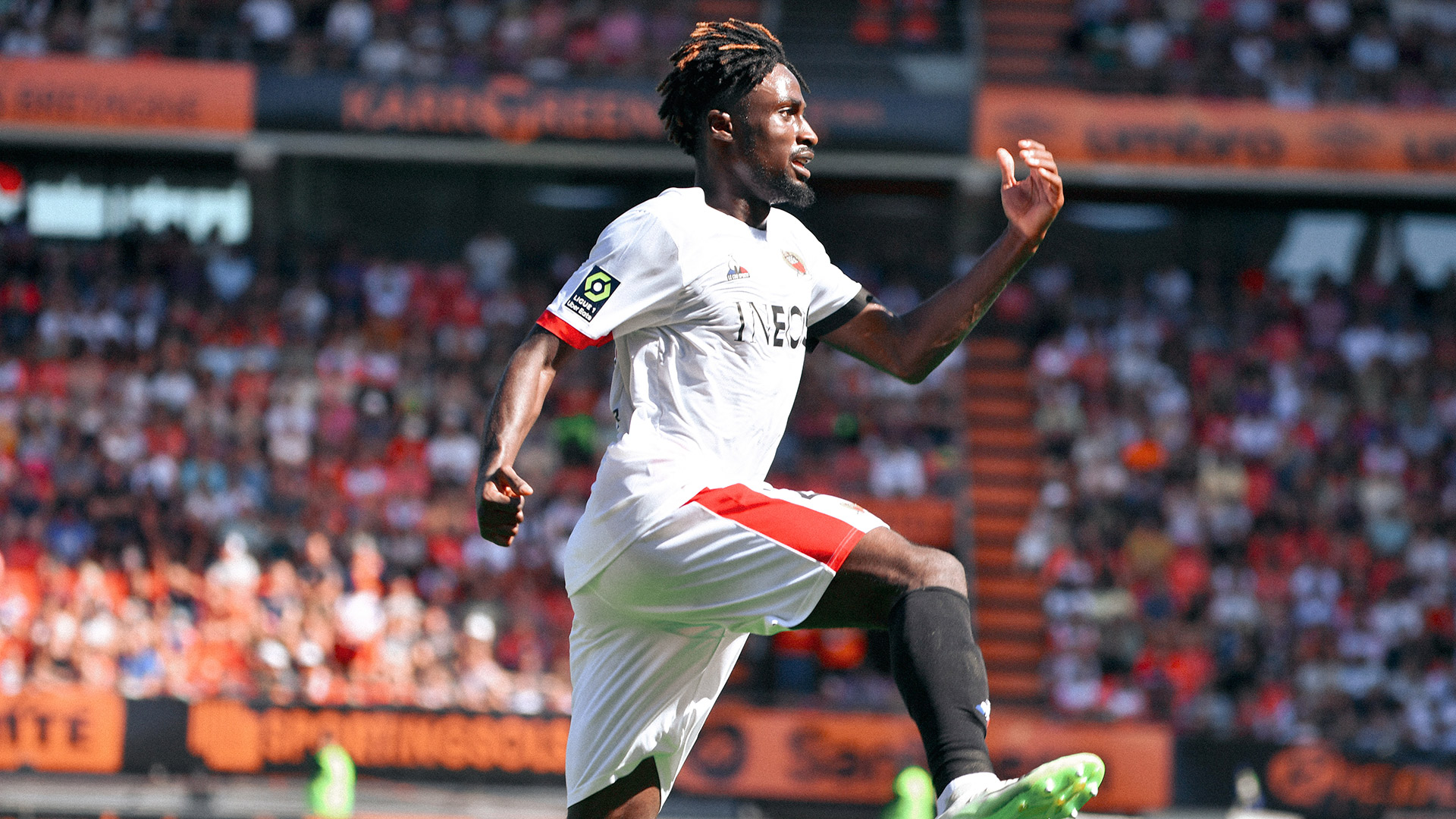 Interview
Evann Guessand: 'I hope I can make them proud'
At the age of 22, Evann Guessand has already experienced many things, many seasons and many matches. Yet at 22, he still has a lot to live up to, a lot of games to play and a lot of goals to achieve. A pure product of the Rouge et Noir academy, Evann Guessand chose to stay at Le Gym this summer after a season on loan at Nantes. He decided to stay to perform and to help his club move forward. With the international break just around the corner, the striker has taken a step back to look forward. A good setting for an in-depth conversation.
Evann, what made you decide to stay?
"During the transfer window, I could have left, like all the other players. In my case, there were quite a few twists and turns. I had some interesting discussions with Florent Ghisolfi [sporting director] and Francesco Farioli [coach]. They convinced me, explaining what they wanted to do with me this season and what the team wanted to do. We made the decision together and I'm delighted to be staying on. Nice is the club where I grew up, where I've been for almost ten years now... Winning here has always been one of my ambitions and objectives. It would be a wonderful story, a player who came here at the age of 13, who has gone through all the categories, and who 'makes it' in the pro world at his club... That's my main idea. It's up to me to work hard to give myself the means to do so and to continue to progress."
What did Florent Ghisolfi and Francesco Farioli have to say?
"We talked a lot during the weeks of pre-season preparations. At one point, they said to me: 'We need you and we know you can help us'. I was touched and convinced. We were heading in the same direction. I've given it a lot of thought, and I know that I have the support of the club. That counts for a lot."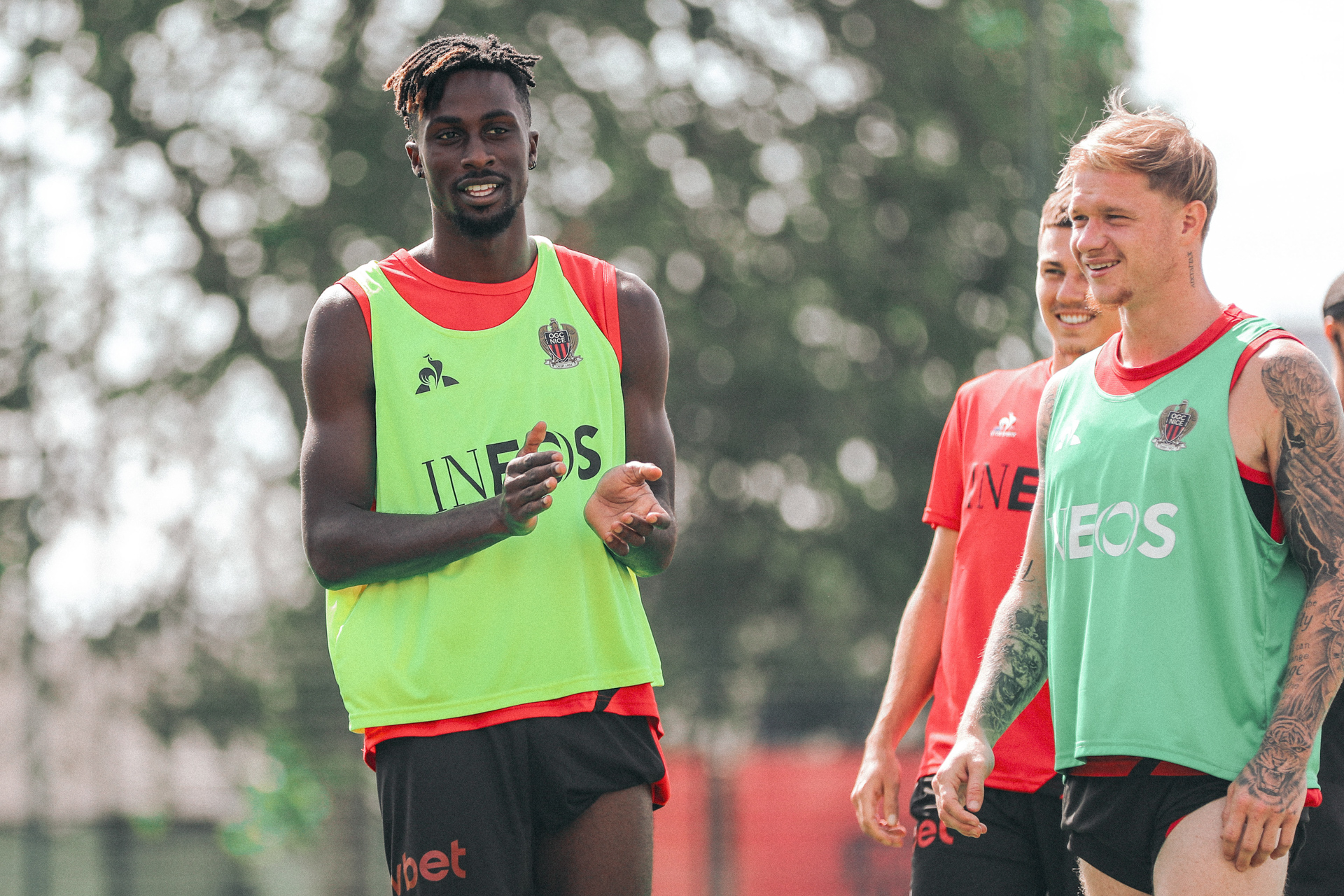 In the same way we saw with Romain Perraud's return, do you think there's a special bond between you and Le Gym?
"Yes. When I was there, in the academy, Romain was one of the greats. I'd see them play and I'd say to myself that they'd had a lot of work to do to get there. It's a real pleasure to have him back in the first team. We talk about our memories and we think about doing great things for the club where we grew up, by giving it the benefit of the experience we've gained elsewhere. It's a great challenge."
What have you gained from your loan at Nantes?
"It allowed me to develop, to discover Europe and to make a run in the Coupe de France, like the year before. It was a bit of an up-and-down season, with me playing against Juventus [1-1, 0-3 in the Europa League play-off] and trying to stay in the top flight, but all in all it was my first season at the top level where I was able to play an important role in the team [44 games played, five goals]. At Nice, in 2021-22, I was almost exclusively a starter. At Nantes, I started quite a few games. That's how you gain experience. Today, I think I'm a different player."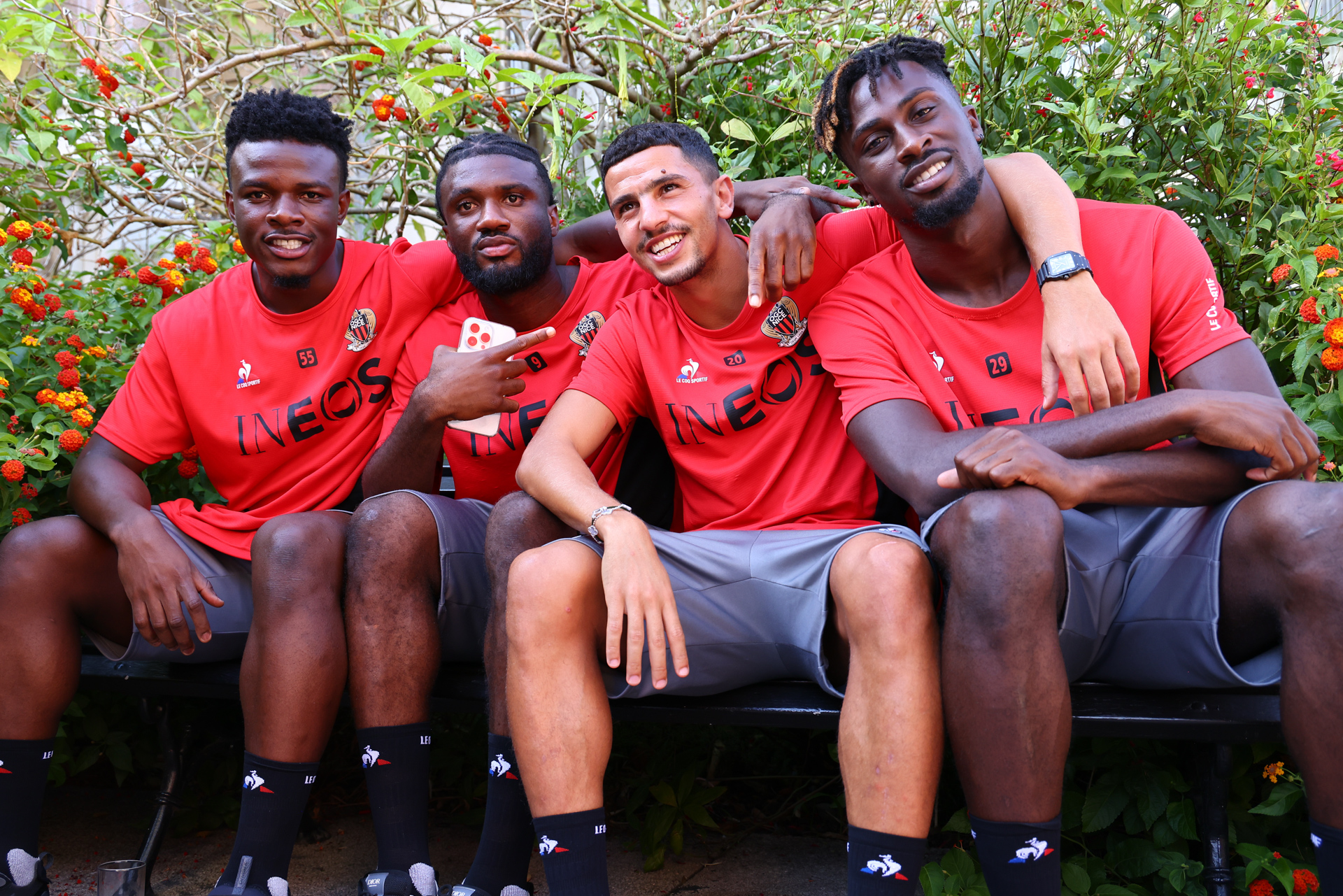 'IT WOULD HAVE BEEN STUPID OF ME TO CRITICISE THE CLUB WHERE I CAME UP'
'I need to find a family again in Nantes'. Do you understand that your words on your arrival at FCN may have caused some Nice fans to cringe?
"Of course, but the message was misunderstood. There was never anything against Nice. At that same press conference, I also talked about Lausanne, where I had a great time. There was never any comparison, it was just a question of putting into words what I felt at the time. I've heard a lot about this declaration and frankly I was surprised. It would have been stupid of me to criticise the club where I was trained, where there are people I like, and on top of that the club that is loaning me out, knowing that I'll be coming back because there was no option to buy. It wouldn't have been logical or respectful to criticise Le Gym. I think I was misunderstood. Nice didn't do me any harm, nor did Lausanne, quite the opposite. Nice trained me, gave me my shot, and I was able to play professionally for the first time at Lausanne. I only want good things for these two clubs and their supporters."
Six points in four games is...
"Good, but we can do better. With our ambitions, I think we should aim higher. If we had nine points, I'd have told you it was good. But there's a 'but' here, because we would have liked to have won against Lille [1-1] and Lorient [1-1], wins that were within our reach, in games where we were leading. We can't be satisfied with six points. The win against Strasbourg [2-0] before the break was good for us, it means we can look upwards."
When you scored in Lorient, did you say to yourself, 'That's it, I'm back'?
"Yes. I'd already come back well against Lille. Lorient was a continuation of that. That's good, because I feel I'm getting stronger. Now, as a competitor, I'm working hard to get even more playing time. My objective is to be as decisive as possible, without putting a number on it and by playing as many games as possible. All to help the club finish in the top six. I try every day, every day in training, to give the best of myself to encourage the coach to put me back on the pitch."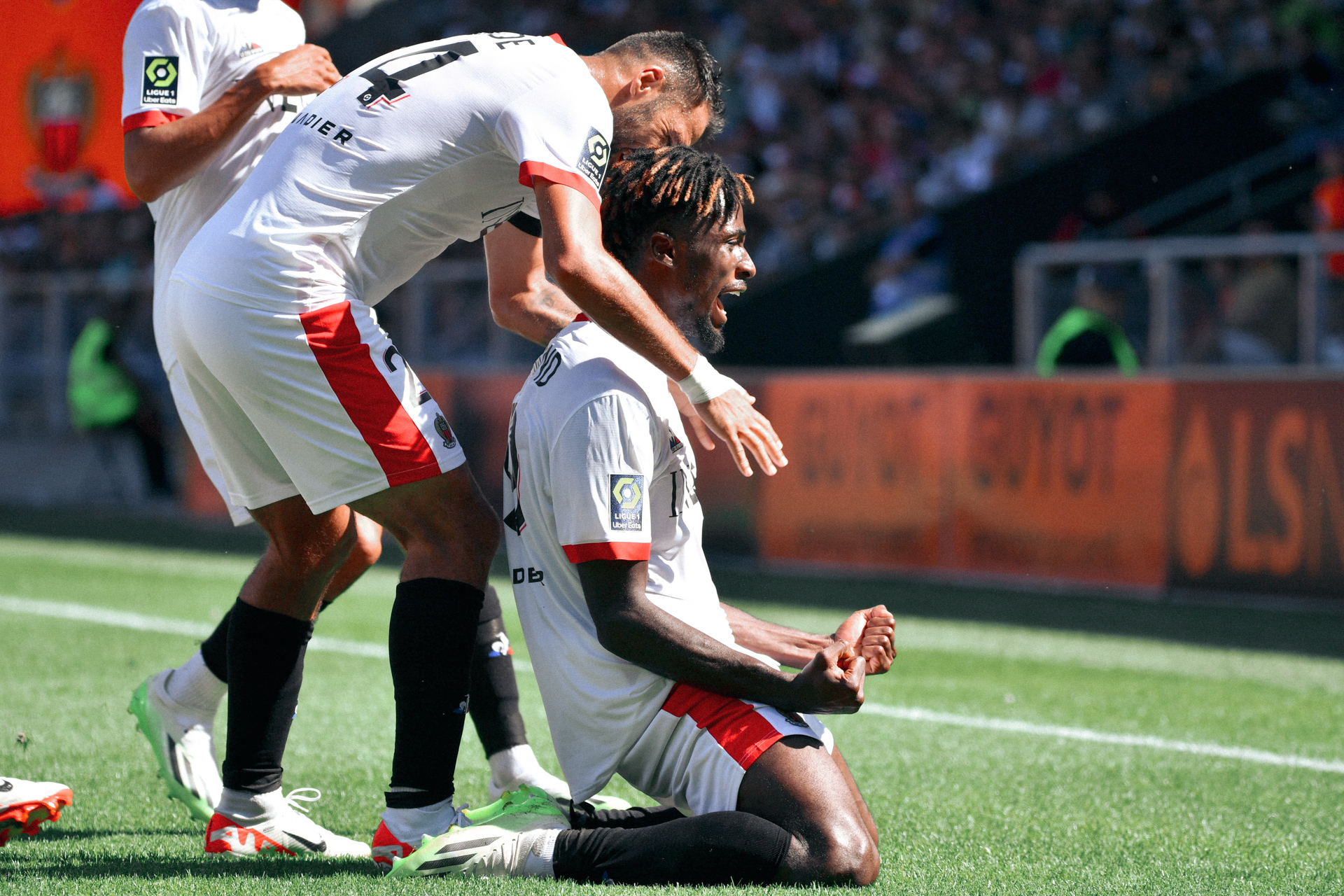 What does he ask you to do?
"To play to the best of my ability, to do what I know. We talk a lot about tactics, and he has a lot to offer me. On the pitch, he gives me a lot of freedom offensively. That's what we strikers need: to create, to show things, to keep things off balance. He wants me to work defensively and enjoy myself offensively."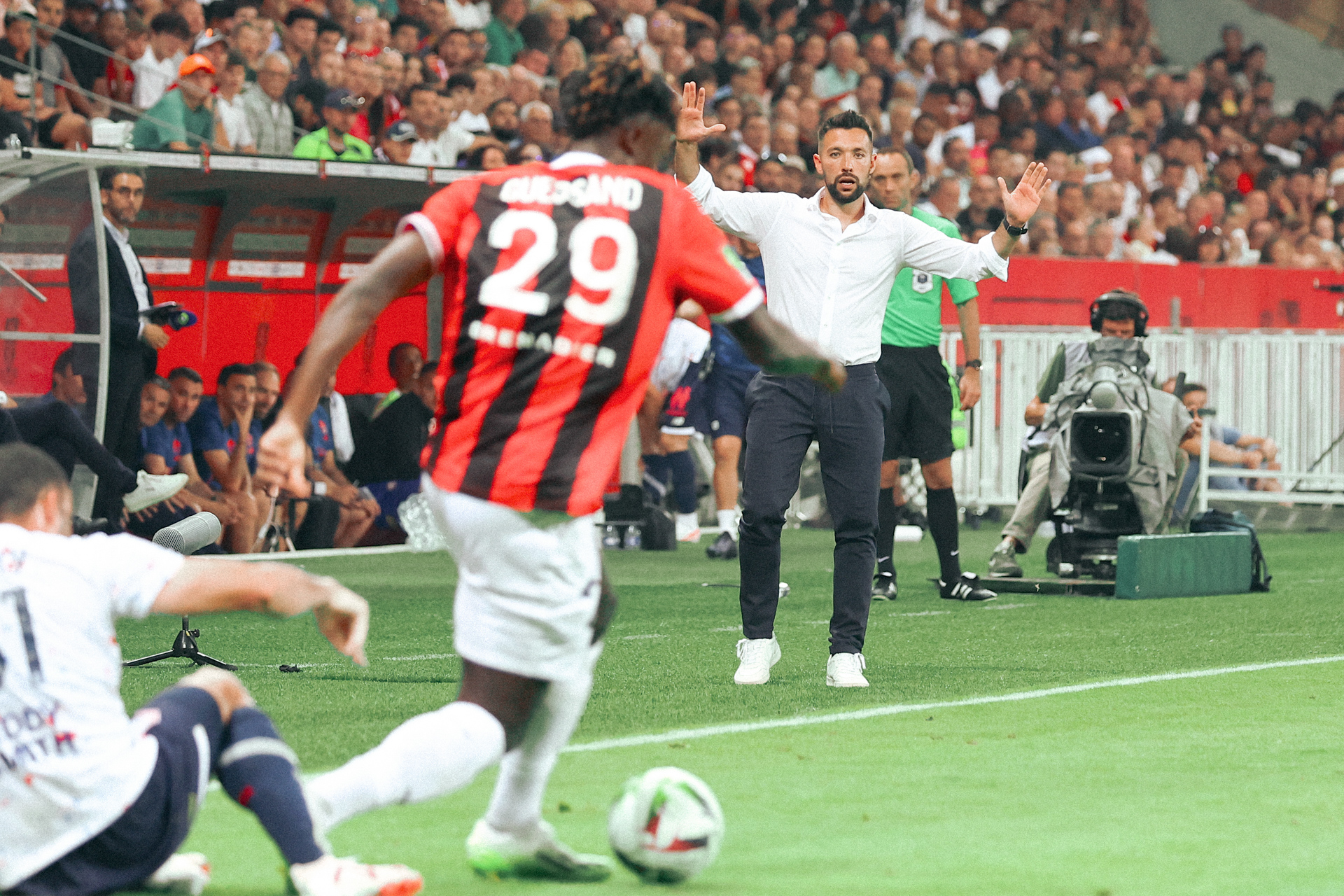 'I ALWAYS THINK ABOUT THOSE WHO HAVE HELPED ME'
In 2021, you said that you were "less of a nine" than your father, Hervé. Two years on, what do you think?
"I still think so. I was trained as a winger, and even when I went to the national team, I played as a winger. Then I grew physically, getting taller, so they put me in the centre. At Nantes, I played ¾ of the season on the right flank, so yes, I'm less of a 'nine' than some. I can play in all attacking positions. Away to Lorient I played up front, against Lille on the flank. I like to play in all attacking positions."
Paris and Monaco are on the cards after the break...
"These are very exciting matches. We all want to rub shoulders with the best. We've got two big tests coming up, so we'll see how we react, but we believe in ourselves. We're confident. In any case, when you play Paris after the international break, you don't get much sleep."
And after Monaco, there's Brest, for the tenth anniversary of the Allianz Riviera...
"Just imagine, ten years... I arrived at the moment of the changeover between the Ray and the Allianz Riviera. My first memory is of being the flag-bearer for the Europa League. Then there was Napoli in the Champions League. I was a ball boy, next to the pros who I saw from a distance in the centre. When you're a kid, your eyes are open and it's wonderful. In fact, I always think about the people who helped me when I arrived at the centre and throughout my years here. I worked hard, but there were some really good people around. I can't cut the ties with all the employees, managers and players. I know that when I score or when I'm on the pitch, a lot of them are happy. I grew up here. People see me as a bit like a child of the club. I hope I can make them proud."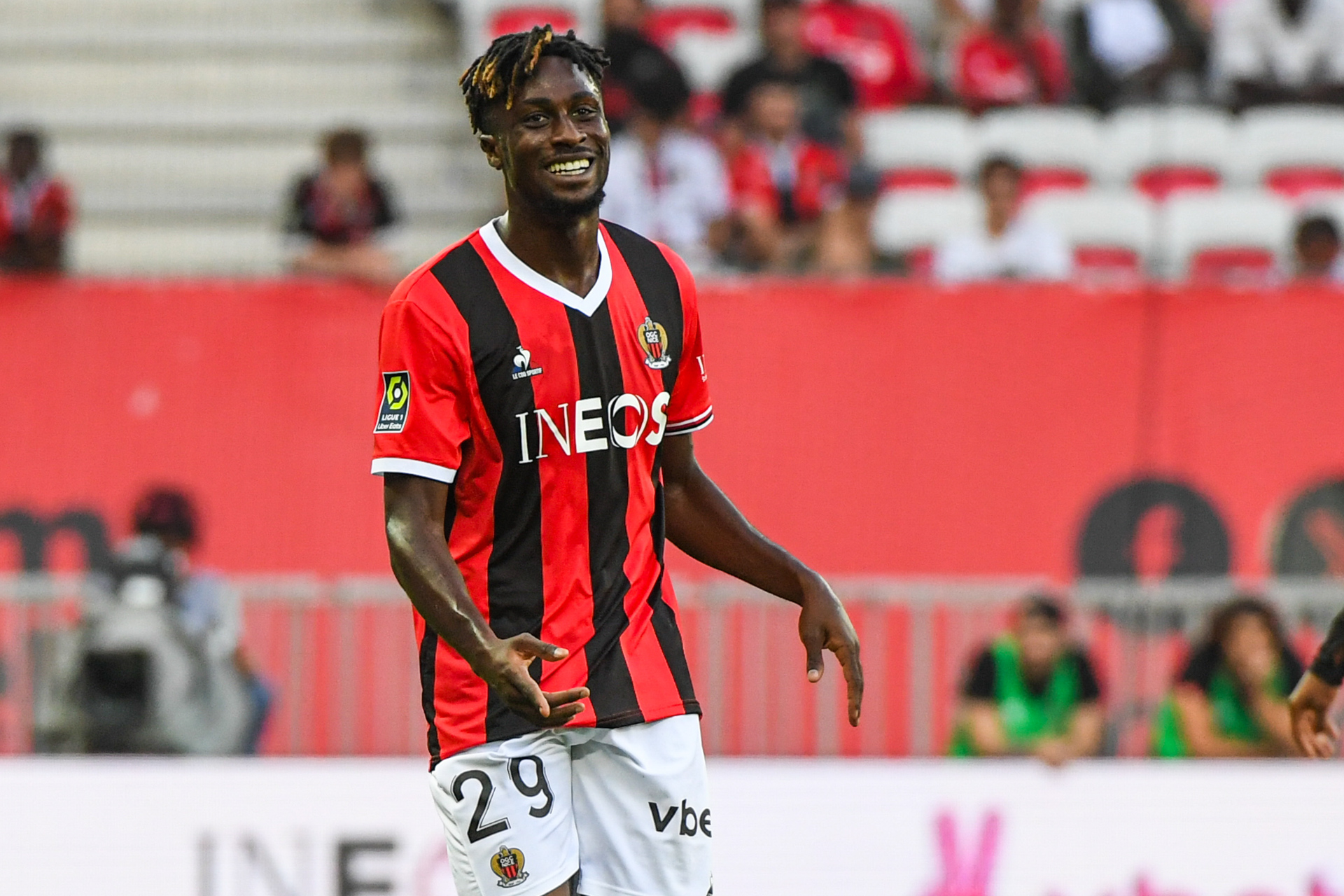 ---
C.D.
OGC Nice & IconSport