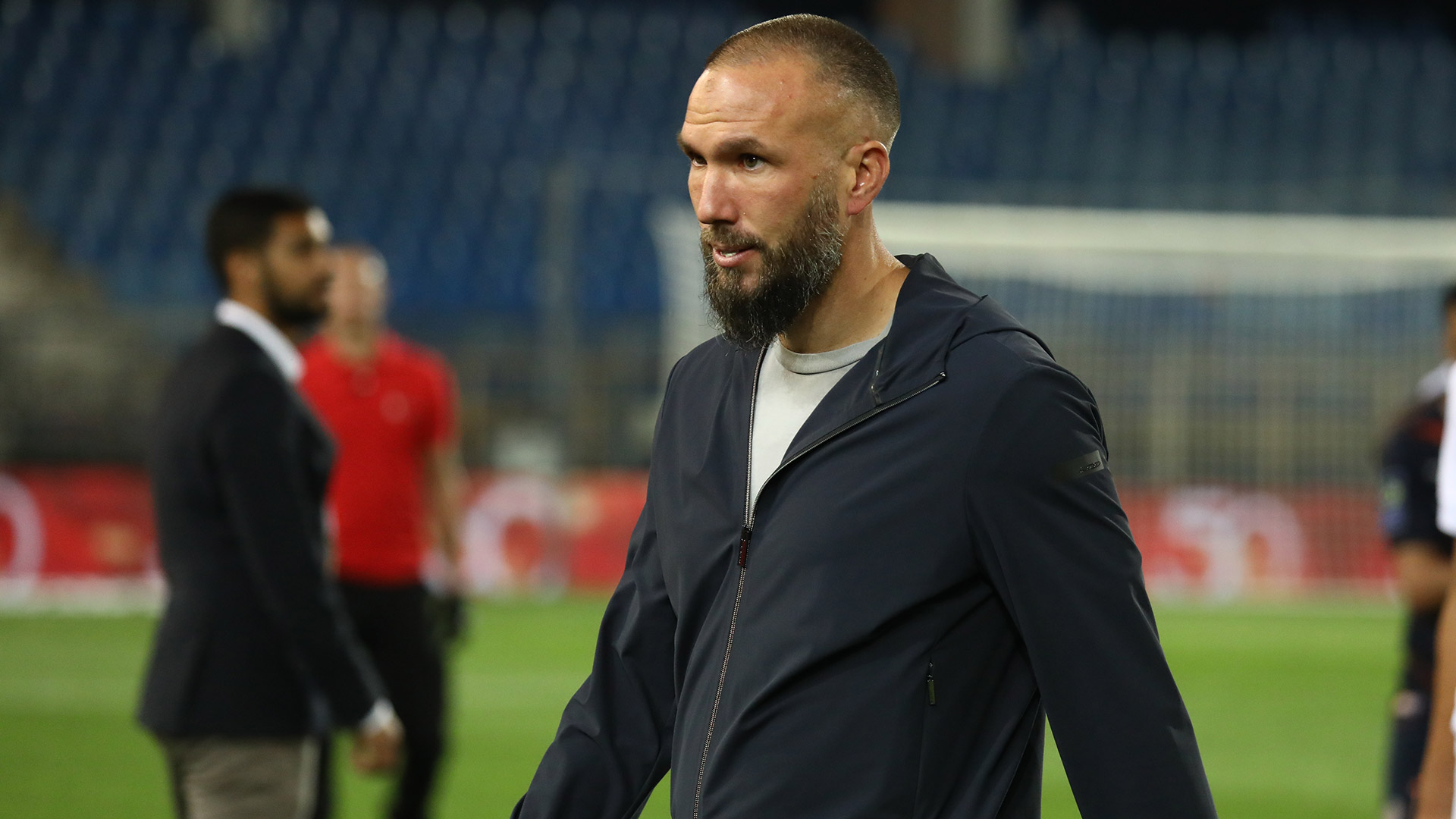 Press conference
Didier Digard: 'Happy for the players'
Didier Digard spoke at a press conference after Le Gym's stunning 3-2 win in Montpellier in Ligue 1 Round 37.
How do you explain the difference between the two halves? In particular, the second half was much more controlled and much more attacking...
It's hard to explain. It's good but it's also a shame. It's difficult when you see the potential the team showedl in the second half. It's hard to explain. Sometimes you want to do too well, you get inhibited and you miss out. We had some honest words at half-time.
Does this win show that the players are still willing to put in the hard work to get a result?
Frankly, they're incredible. It's always difficult to understand the commitment of the players when you're looking in from the outside and I totally understand that, I understand that results are judged because it's top-level sport. When I tell you that on a day-to-day basis, they are beyond reproach, it's because they are beyond reproach. I'm never going to lie and sincerely, they are being rewarded for all the effort they put in and I'm really happy for them.
Gaëtan Laborde scored a brace. He has always been great in terms of spirit - was he the driving force in this courageous victory?
When I give the lads a hard time at half-time, I know that he's one of the ones who'll always look to me and wait to see if he's going to be OK... But I know he'll always step up. Even when he misses out, you know he's fully committed, so you leave him alone and wait for things to turn around. At the start of the season, when things got tough, he stood his ground. Now it's the opposite: he's getting all the breaks, he's scoring goals and he's being rewarded. People see him differently today, even though he's always been a committed player.
Did you think Montpellier were unplayable after their first-half performance?
I never thought that. I really thought that we weren't doing what we wanted to do, without taking any credit away from the Montpellier team, who did exactly what we expected of them. That was the difference between the two teams; one applied their game plan 100% and the other didn't. I think that at the end of the first half, Montpellier gave us something to chew on for half-time with their attitude... They made my players want to play out pf their skins.
How did that go?
Didn't you see the last move of the first half (to the journalists)? I love the player (Savanier) and I'm sure he didn't do it in bad faith. But in Ligue 1, when you take the ball and run up and down the pitch and you're up against competitors, you give them a run for their money. I know that when he does it, he doesn't think, but he made the players want to turn things around because it's hard when the guy in front of you takes the ball and starts juggling in Ligue 1.
Did Téji Savanier pose a particular problem for you in the first half? We saw a lot of him and then we saw a lot less of him...
He was at his best. He's a player who moves extremely well, who sees things before anyone else, who has incredible feet and who puts the ball where he wants. He's been absent recently so I think it was a bit more complicated for him in the second half and the players also managed to push forward a lot more, to give him less space so there was both his physicality and our team moving forward more.
Youcef Atal's injury tarnished the evening a little... Did you want to protect him by not starting him?
Absolutely. Youcef (Atal), obviously there are muscular problems, but there are also emotional ones. He came back last week with an promising performance. He was in form and had a good week. We have to look ahead; we know that there could be an international call-up soon and we have to be careful that he not get anxious and lose his way mentally. I spoke to him yesterday and explained to him that he was perfectly in line with that. Unfortunately, Melvin's (Bard) injury meant we had to bring him in early and what I feared happened, so I'm sad.
Did Melvin stop in time?
It's too early to make a diagnosis, but I hope so, because we lost Youcef, and if on top of that we lose Melvin... We fall back into things we've experienced in the past and that's pretty complicated to deal with, especially with such a difficult match as Lyon coming up next Saturday.
When Youcef got injured, we saw his team-mates rally around him. You get the impression that it gave us an extra spark of desire, with a feeling of real cohesion in the second half...
Yes, it's a squad that gets along very well, that suffers together, that goes through things together and that today faced things together. At half-time, I took my time before speaking, I left them to their own devices and they had quite a lot to say to each other. They were aware of things - they are aware of things - and they all want to move forward together. It's a united squad and it's really good to see them in that frame of mind.
---