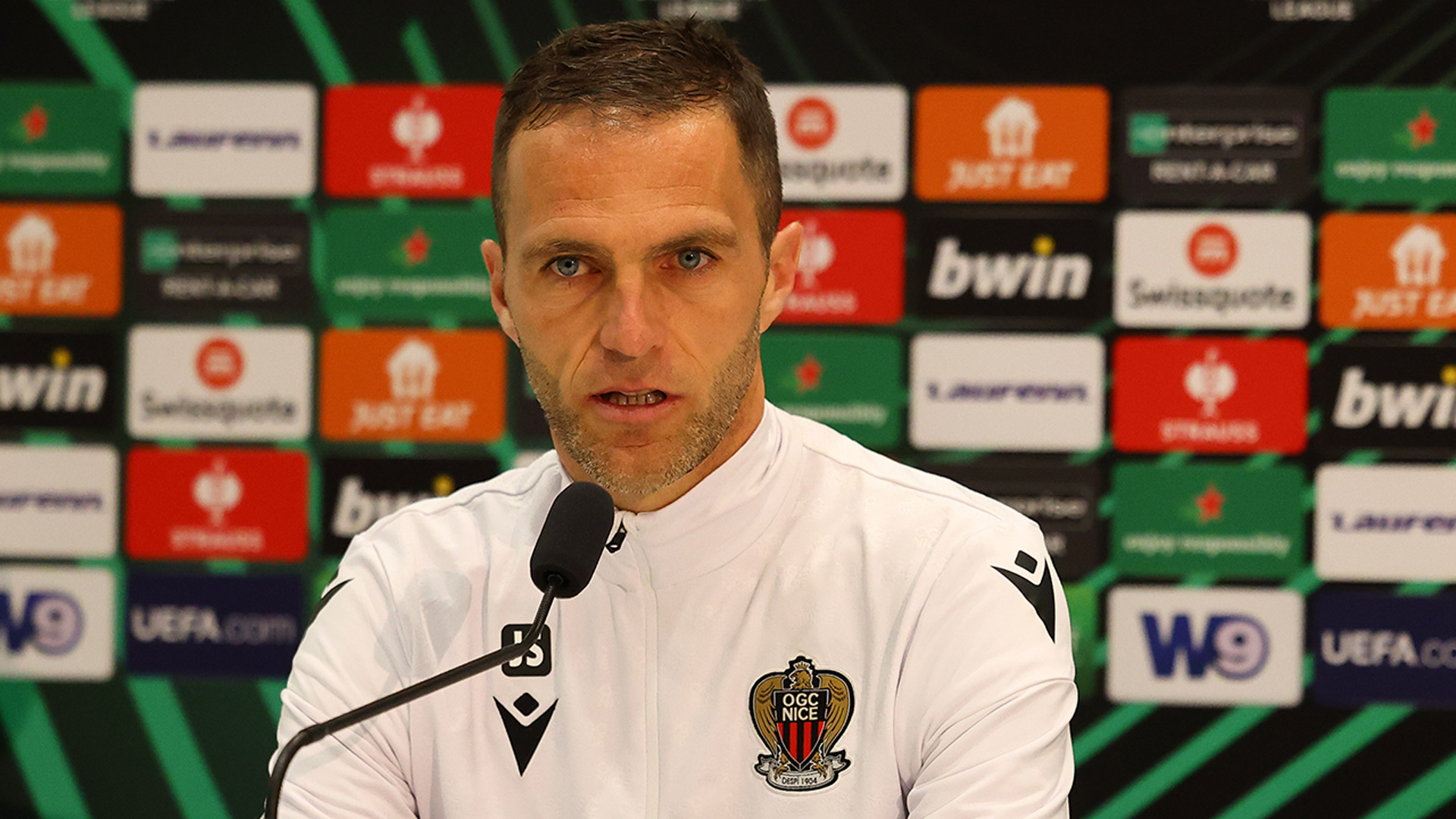 Press conference
Sablé: 'A very satisfying night'
Julien Sablé spoke to the media at the post-match press conference, after Le Gym's 3-1 win over Sheriff Tiraspol in the second leg of their UEFA Conference League last-16 tie.
A part from the first 10 minutes of the match, your side was largely in control of the game with that third goal settling it once and for all?
Yes, we were a little slow out of the blocks, but overall we controlled the game with possession, intensity ... We had aimed to attack them in transition and just before half-time, already 1-0 up, we had that opportunity to give us a two-goal cushion. But we came back in the second half with renewed intentions, before giving ourselves a little scare. The substitutes did what was needed. It was a very satisfying evening.
You switched to four at the back after the four changes...
It is always a tactical battle because Sheriff also changed formation when we changed. And then there was the substitution of Youssouf Ndayishimiye which was not planned so we readjusted and adapted. We wanted to move to five at the back to play them a little higher on the pitch. But they changed at the same time as we changed so we readjusted. The advantage with this team is that it's flexible with versatile players.
Do you feel any extra pressure being the last French side in continental competition this season? You are the last chance for France to hold onto fifth place in the UEFA index…
We don't feel pressure for that. We put enough pressure on ourselves every day, whether in training or games, to meet our goals and move forward. We don't feel like we're on a mission for anyone else. We feel we are on a mission for us, for our group, for our goals. We see the draw tomorrow. We will prepare as well as possible for the next match. But we are already focused on the game against Lorient in two days. We are not going to put extra pressure on ourselves for the UEFA index. If we go far, all the French football community will be happy, so we will not add unnecessary pressure. We have enough in our daily life to progress and keep improving. That's how we'll win games.
Todibo and Ndayishimiye looked like they picked up knocks… can you give us an update?
I saw them celebrating at the end. We'll see how they are tomorrow. They'll do their recovery, they're taking hits every game because they play with a lot of intensity. I can't tell you exactly what they have, but they were smiling, they were happy to have qualified Le Gym for the next round, so there's nothing major to report at the moment.
Will it be a big celebration, given how historic this result is for Le Gym?
No, it will be very subdued. We are dealing with great competitors. They are very proud of what they have done but there is no excess. They are very humble, but very ambitious too. They didn't celebrate it like a victory in the final. They want to keep winning games, to fulfil the potential of this team. They are celebrating this victory like any other win. We haven't reached our goals yet.
---