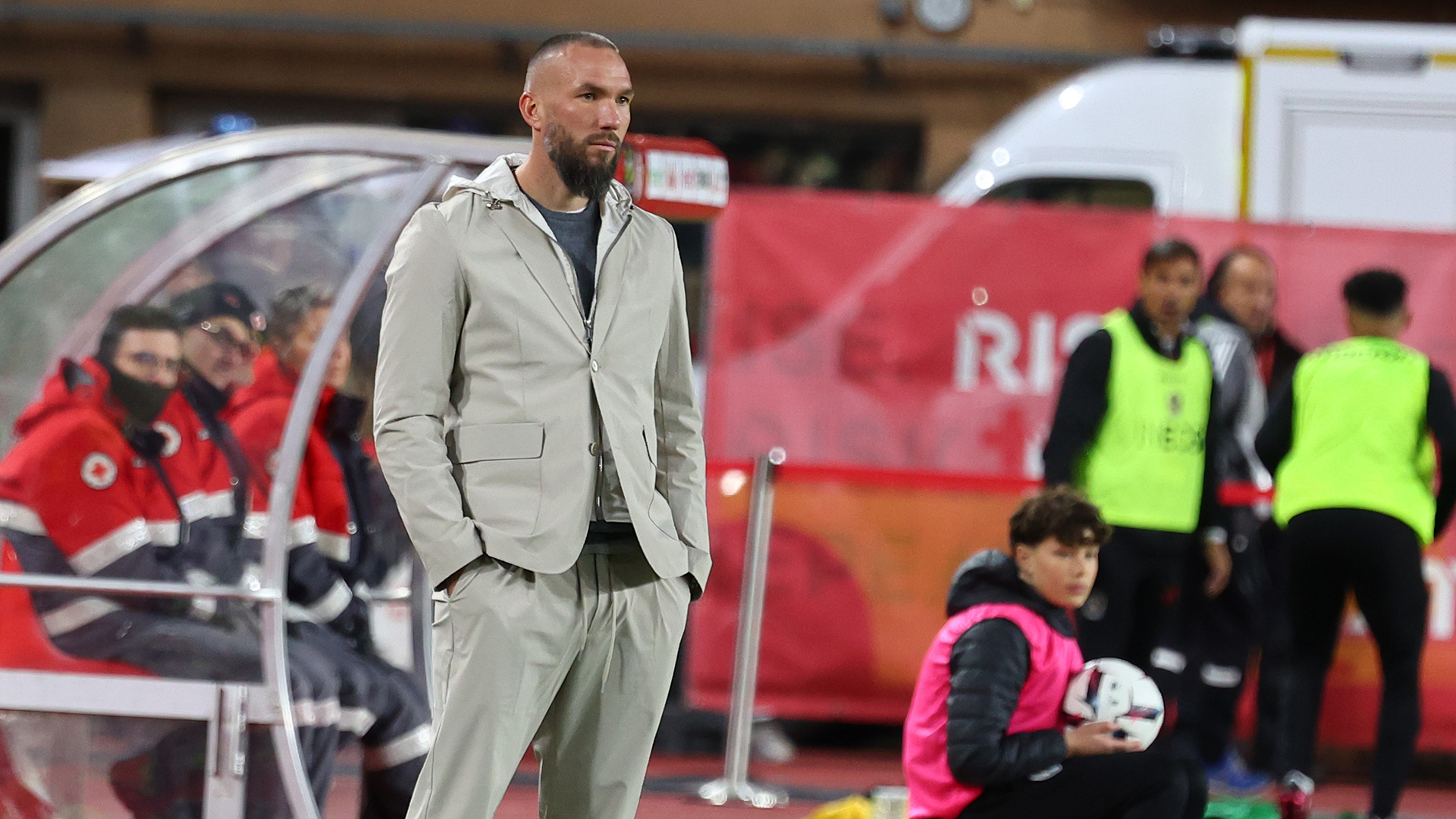 Post-match reaction
Digard: "Keep our heads down!"
It was a very satisfied and focussed Didier Digard that spoke to the media after his OGC Nice side's 3-0 victory over Monaco on Sunday. The coach of the Gym was especially delighted by his squad's discipline at the Stade Louis II.
Didier, can we call that a demonstration by your side tonight at the Stade Louis II?
We can call it a great performance by Nice, for sure. We were up against a very strong opponent, but we were well prepared. The players were convinced that they could do it and they did it, and that is very satisfying.
It was also a tactical battle, with two teams that tried to surprise the opposition, before Nice came out on top…
Yes, I've never hidden the fact that we are always going to change a lot. We said it from the beginning, we didn't lie, we don't hide it. We have very versatile players that allows us to change certain things depending on the form of the moment or the opponent. Tonight, we did it. Perhaps they weren't ready. The busy fixture list may have forced them into it. It worked for us, so much the better.
What does it mean when you beat a team that hadn't lost at home in the league since mid-November?
What does it mean? It means that we have three more points, that we are in a good dynamic and that we are full of confidence. We decided to keep our heads down and go for it. We'll see where it takes us. We're not going to get ahead of ourselves. We will keep working hard and finish the season with as much confidence as possible.
Did the fact that it was a derby give the players extra motivation?
Yes and no. If we want to get the most points, we can't afford to look at who the opponent is. We were lower down the table and we know how hard we had to work and how hard we continue to work to get back to the position on the ladder that reflects our ambition from the beginning of the season. We also know what it did to the opponents who perhaps underestimated us and lost and we don't want to suffer the same fate. Having said that, yes, there's no denying that it is a derby. There is also the fact that we haven't won here for eight and a half years. There was a lot of hope and ambition tonight. There is a mini-championship against them since we took over. We were equal on points with Monaco over the last seven games, coming into this game. There is always a small part of your ego that is a good thing if it is for the service of the team. There is this notion of derby, but not only...
"I thrive on people's smiles"
Didier Digard
Does the current scenario allow you to enjoy this win? How do you experience these prestigious victories?
I'm not sure. I don't celebrate them right away, at any rate. I do when I get home, with my family. What I like, is to see people so happy, my family in the stands, my coaching staff and my players. I thrive on people's smiles. I savour the win a little bit, but it's more when you go home to your family that you enjoy it.
A word about Terem Moffi's performance. His first goals for Nice, a brace in the derby that can launch his career with Nice.
Once again, I never doubted him. The main thing is that he had the support of all his teammates and his coaches. We were aware of the situation and he could have had doubts, but he was able to work very calmly and feel the confidence everyone had in him. Today he was rewarded, but for me it's normal.
Do you think AS Monaco's Europa League play-off match on Thursday night had an impact? Did you consider your physical freshness as an advantage?
Of course it was a factor. When you play in Europe, you know what's coming and you are prepared for that. We have a large number of players. Monaco has a very good team. It was necessary to weigh up the pros and cons, and for us it was also an opportunity. We also wanted to exploit this by playing very vertically, with balls in behind. We knew that the runs were going to hurt them, while keeping our players sharp and fast to finish the game. Tonight it worked for us.
Can you explain the choice to start the young Amraoui? What was the thinking behind that?
He is a left-back and all our left-backs are injured. He trains every day, I've known him for a while. I know the potential he has. He trained with us the last two weeks. He did well, the group brought him in and he settled well. I thought, we thought, that he had the capacity to mentally handle a first game in a derby. I think he did it very well.
There are two halves with two tactical schemes. Was it planned at half-time to go to a back four or was it the fact that Monaco brought on several attacking elements because Youssouf Ndayishimiye played as a defender and then in midfield?
When we saw the players warming up for Monaco, we suspected that they would change their system. I told the group that if that was the case, we would adapt and change our system so as not to lose control of the match. We were prepared, and we could have played like that from the beginning of the game. We are lucky to have versatile players who can a variety of formations.
Were you surprised by Philippe Clément's 5-3-2 system with Ben Seghir as a 10, Embolo and Boadu up front? It was a bit new at Monaco.
We knew he might try that. He hadn't done it for a long time. Maybe it was a way for them to try to trouble us and also adapt to the players they had available. They tried to play their tactical card and we played ours.
Who can stop OGC Nice at the moment?
Auxerre will be the next to try. It could be every opponent we face. There are a lot of games left, but it's good. It allows us to keep progressing. But it's also what makes us realise that we can't afford to slack off. There are many teams who will fight until the very end. We can't afford to take our foot off the gas, especially when you consider where we are coming from.
Are you afraid of overconfidence?
No, not at all. Honestly, I have no fear about the mentality of my players, about the state of mind of this group and also of the coaching staff. We make sure of that. I am really very confident. We just want to finish as well as possible. Given that the current situation doesn't necessarily allow us the hope of playing in Europe next season, we are just focused on doing as much as possible to prepare for next year. We want to finish well. We are coming from a long way back, but we're going to fight to go as far as possible until the very end.
Why did Aaron Ramsey come off?
He felt something at the back of his thigh. We hope it's not too serious. The good thing is that he was smart enough not to take any risks. He has confidence in his teammates to replace him quickly.
---