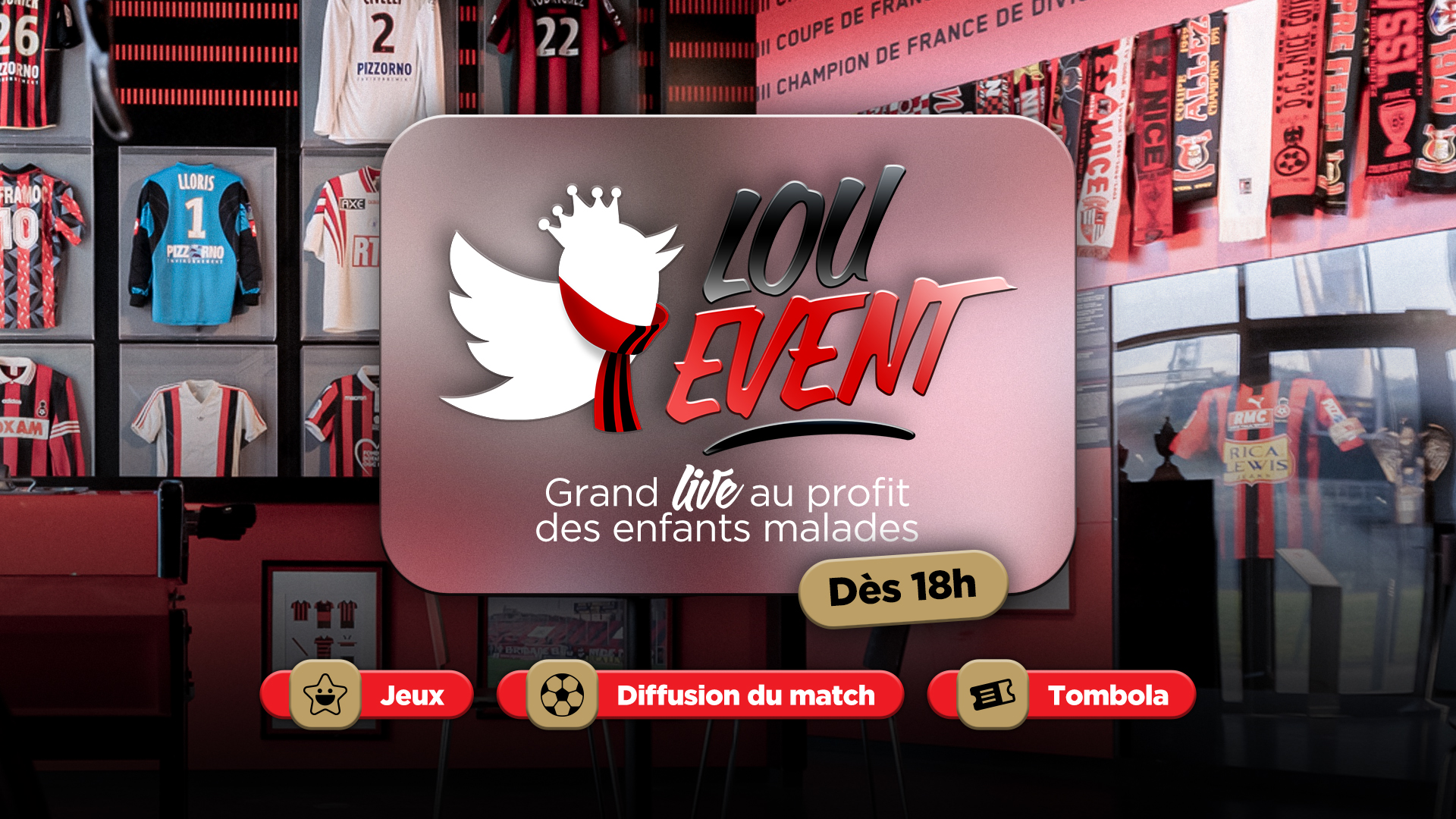 Lou Event
LIVE: Supporters and Club come together for hospitalised children
On Friday, OGC Nice will return to the Allianz Riviera for a friendly against Atalanta (kick-off at 8pm). For the occasion, supporters and employees of the Club will join forces to raise money for children in hospital. Pre-match, a live broadcast of the match and a debrief - in total, 5 hours of live coverage on all of the club's platforms for the good cause!
Last year, the club was deeply touched by the actions of the well-known #OGCNice Twitter followers. They contributed to the development of certain areas of the playground of the children's psychiatric day hospital in Cagnes-sur-mer, for the Lenval Foundation. So when the team from the "Avanti Nissa" podcast suggested this winter that Le Gym get involved with the second edition of the event, the answer was a clear yes.
Jean-Philippe "Sky", Alrick, Jérémy, "Pancho" and their friends will therefore benefit from the support of the whole Club. A Club that has made 'children' a key focus of its community engagement programme. What's on the cards? An incredible live show built around the broadcast of the friendly against Atalanta, courtesy of Le Gym's media channels.
From 6pm onwards, all supporters are invited to log on to OGCNICE.COM (or go to the Café des Aiglons where a pre-match broadcast will take place). But what is the aim of this "Lou Event", named after the charity event organised by the famous streamers? To have a good time together, and for a good cause! Up until kick-off, the members of "Avanti Nissa", Ben (100% Aiglons), Sébastien Serrano (presenter of Kop Aiglons), Vincent Menichini (Nice-Matin & Gym Tonic) and many other members of the OGC Nice family will come together to take part in games and quizzes. They will then return for a post-match debrief from inside the Allianz Riviera.
A COLLECTION FOR CHILDREN BEFORE CHRISTMAS
When watching "Lou Event", each user will be invited to contribute to a huge collection, which will have a special feature: for each donation of more than 10€, the name of the donor will be entered into a draw. Up for grabs in the digital raffle include shirts worn by the players during Nice - Atalanta, an official ball, Dante's armband, and also many other surprises. The entire amount raised will be donated by the OGC Nice Endowment Fund to the Lenval Foundation and the Archet Hospital, providing numerous gifts for children in hospital.
The live broadcast will be available on the official OGC Nice website, YouTube channel, as well as on Facebook and Twitter. It will continue with the broadcast of the friendly against the Italian club, with commentary from Constantin Djivas.
We hope to see many of you at the Café des Aiglons or online. Issa Nissa, and thank you on their behalf!
---