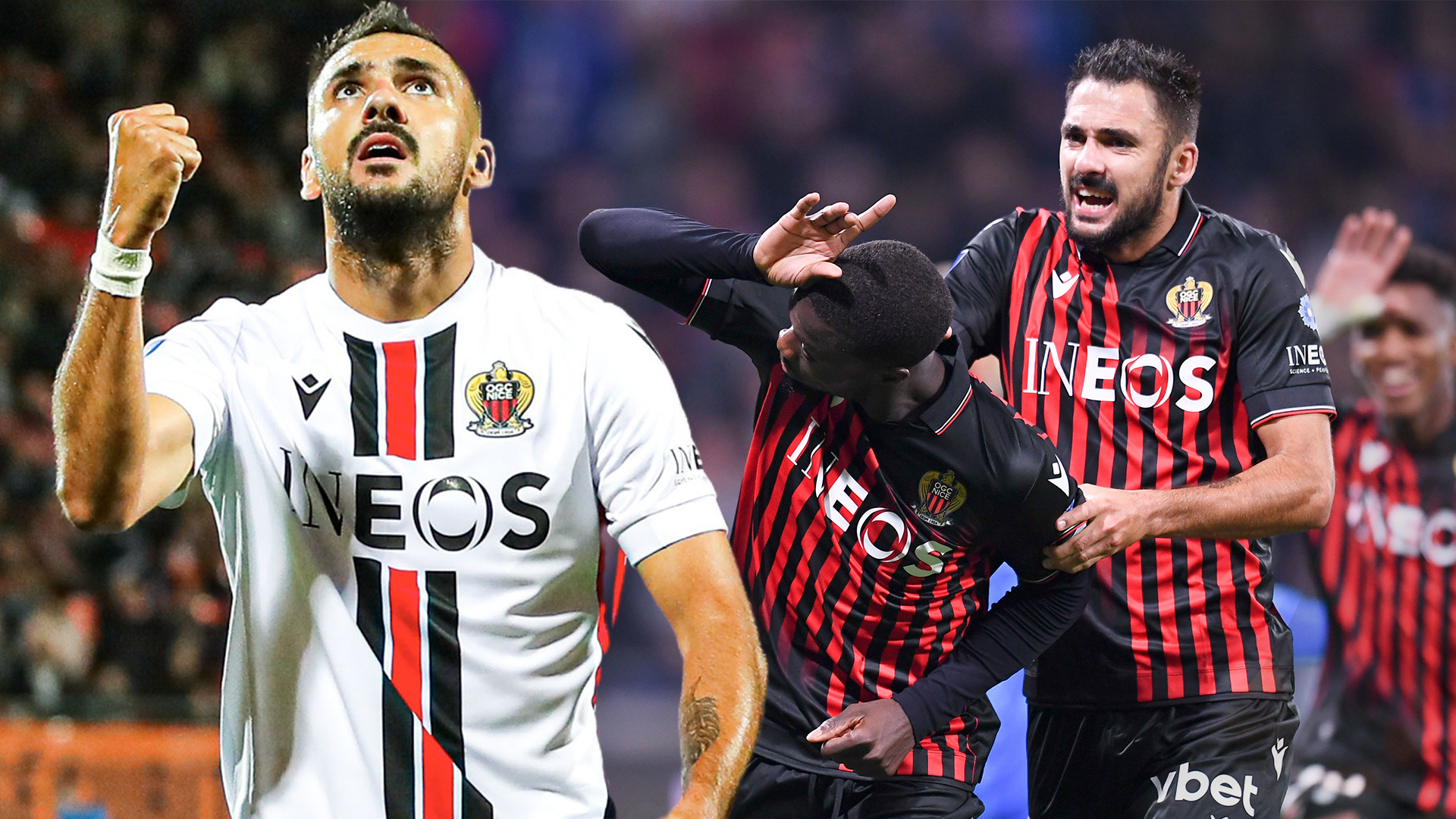 Interview
Laborde : "I give everything for the team"
Gaëtan Laborde (28) arrived on the Côte d'Azur this summer from Rennes and has just wrapped up his first few weeks as a player at Le Gym. With 16 matches to his name, 4 goals, dozens of kilometres covered and a constant desire to be useful to the group. Before training resumes on Monday 28 November, the striker took the time to reflect on his transition, and speaking about the team as a whole.
Gaëtan, what is your overall assessment of your first steps at the Gym?
I was a bit unlucky when I arrived. The team's results were not great either. For the last two months, it's been much better, with numbers, a team that's doing well and getting positive results, despite the frustration of the last match in Lyon (1-1, Friday 11 November).
16 games, 4 goals*: we can feel that this doesn't necessarily satisfy you as a competitor. Is that true?
Of course, because I always want to score more and be more decisive. I've hit the bars and the posts four times since I've been here, it could have been completely different. The lack of success that I had, I have got back recently. That's football. Sometimes the posts go in, sometimes they go out. The aim is to keep working every day so that the balance tips in our favour. That was the case in the last few weeks, for the team and for me. It's still a positive for the future.
The only place where you had such a difficult start in terms of stats was in Montpellier and we saw what happened next. Did you use that to turn the tables?
You always have to use past events to move forward. I wasn't necessarily worried because I felt pretty good when I was playing. When you hit the woodwork four times, when you make passes that should be assists but your team-mates also hit the post, you are really unlucky. These are annoying moments in a career but I've been there. The only thing you can do when you are in a spiral like that is to work hard and fight for the team. That's what I did. I knew it was going to turn around.
"I GIVE EVERYTHING FOR THE TEAM AND HOPE TO BE REWARDED"
You're one of the people who runs the most on the pitch. Can that have an impact on your sharpness in front of goal?
No, I've always been like that. At Rennes, I was running as much or even more. It's not a factor that weighs on your finishing. Today, as I'm a striker, they try to link me to stats, which is normal, but once again, football is a team game. I'm here to bring a lot of energy, I'm the first defender. It's not always obvious, but I'm like that: I give everything for the team and hope to be rewarded afterwards. For example, I would gladly exchange my goal in Paris for a draw there, because that's what we want. We want to win games, take points, we are competitors. Winning is what is important.
"A MATTER OF CONFIDENCE"
Do you think that the European Cup allowed you not to think too much about the tough period in the league?
Absolutely, because good results lead to good results. It's a matter of confidence. It was a really difficult group, in Europe, with some very good teams. We can be proud of what we have done and we can use the positives to follow it up more calmly. In the league, our first half was up and down, a bit like me. We lacked success in the first part of the season, it was a bit shaky but now, I think that what we are showing is better. We are running better together and success has swung a bit to our side, which means that the results are rather positive. It's good, we must use this to progress and be even better on the pitch. We're trying to progress together, it's slowly taking shape, but we still have a lot of room for improvement.
The season will resume in December (Nice - Lens, Thursday 29 at 21:00). Do you think that you can do well and that the second phase of the league will be different?
Whatever the case, we're going to attack with the desire to perform well in the second half of the season. If we want to be up there, we'll have to have a very good second half of the season. We are aware of that.
*He also scored two goals in four games for Rennes at the start of the season.
---