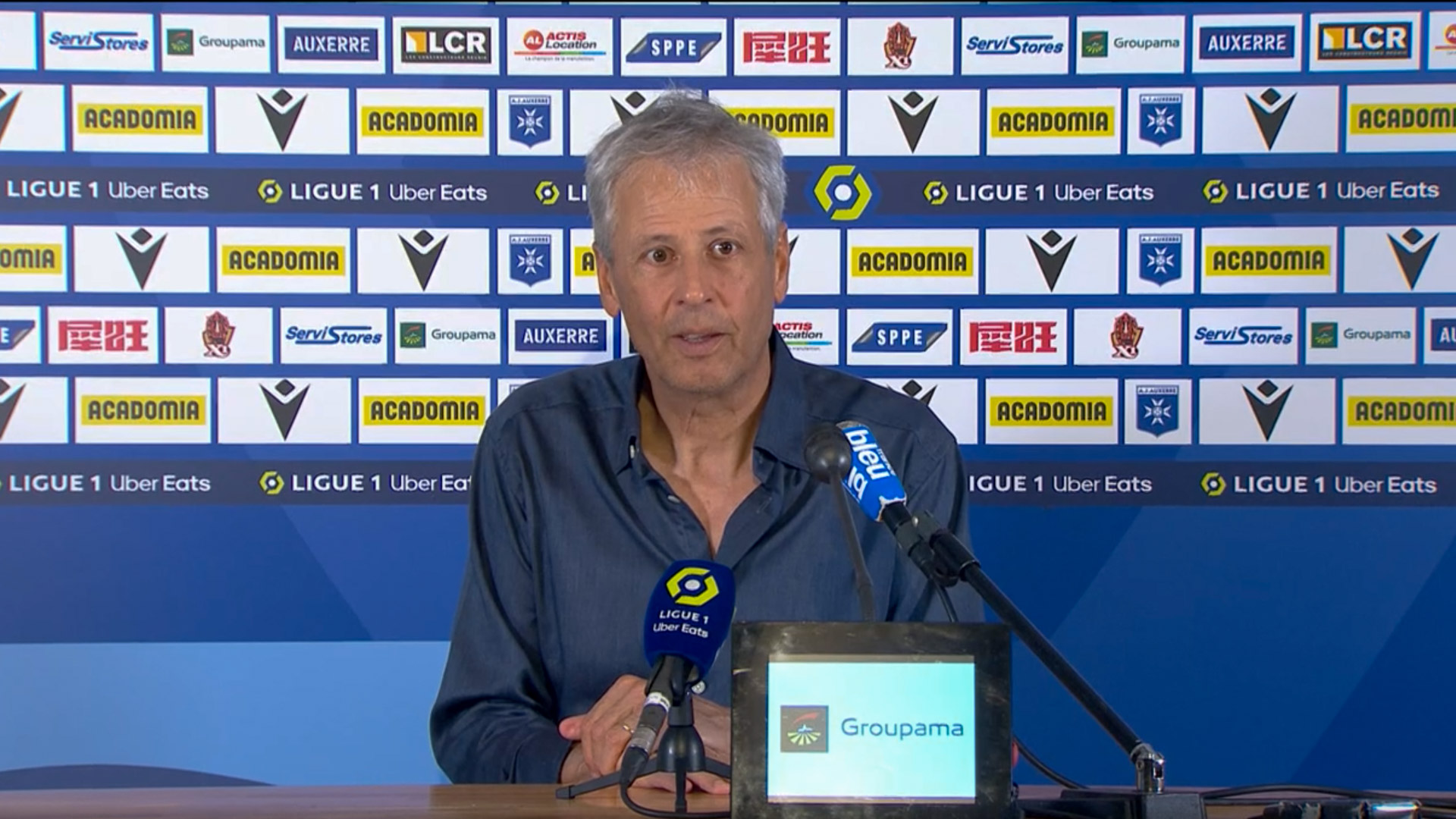 Reaction
Lucien Favre: "It was okay"
The Gym coach Lucien Favre discussed his side's 1-1 draw with Auxerre in the post-match press conference.
Like last Thursday, you get the impression that Nice had the means to win but didn't manage to do so...
Yes, we had the means to win, but you have to take game after game. I don't like to say that we had the means to win two games and then go back to the other game. On Thursday, we know that we had eight clear-cut chances and we didn't take enough, that's clear. We have to accept that, that's all. It's not enough.
You had less this Sunday.
Yes, much less. We did have some, we can win 2-1 at the end. They hit the post too, a nice effort. At times, I think we played quite well. There are pluses and minuses. I'm not disappointed.
What did you like about your team's game?
I think it was okay and at the beginning of the second half it was not bad. We had a good phase in the first half and another one in the second half, I think. It wasn't the whole second half, far from it, but the first 20 minutes were not bad.
Are you starting to find consistency in the game?
We changed the system again, because this or that player was injured. This player goes in this system, this player doesn't go in this system. It's difficult sometimes, but it's going to happen. It still takes a while.
You can see players like Thuram and Lemina who finished with a lot of tiredness today...
They started again, to play in this 3-5-2 system. They have a lot to do, that's obvious. They have to run a lot. They were tired, very tired.
How serious is Andy's injury?
You can see when he twists his knee,... I can't tell you 100% yet, but no it doesn't look serious.
He's your top scorer. His injury was also detrimental when it came to winning the game...
I think Pepe made a good entrance as a striker, as a real striker. It was very good, he put two balls in, everything he did was very intelligent I think. It was a good introduction. We didn't play him so he could have a little break, because he has played a lot. He had to come back sooner than expected.
Barkley played 90 minutes, he almost made it 2-1. In two months, he does that...
Yes, he almost did. It's a pity, it's Pepe who makes the pass. It was wonderful. He has to take it from the right, I think, looking from the bench. He was already inside the box, he went through, it was good. It's a shame. But there are a lot of players like that, like Pepe, you have to give them time, get them fit. They haven't played for a while, like Barkley too. He played 165 minutes last year. He's not going to get back into the rhythm in two 20-minute spells. It will take time.
Do you have this time?
Yes. The most important thing is that he doesn't get injured again in between, because then you lose a lot of time.
From a general point of view, there are a lot of expectations around the OGC Nice team.
Yes, there are expectations. Listen again to what I said. I spoke about it at the beginning of the season. I said that it's a two-year job, because not only do we have to train the good young players we have. You have to take time for that. You have to choose a system of play as well, because changing every three days is no fun. There are things to create that everyone is aware of. It's going to move forward, we're going to do it. I want to do it. Because the goal is high. Even what I said is very high. We have to fight for the top three. I hope that France will have a fourth (team in the Champions League, editor's note), but it's above all about fighting on an equal footing with the top of the top. Two years is not long, but we'll get there.
At the moment, today, it's difficult, given the absences and even the number of players, to do better in the end?
No, we could do better. We lack 5-10% sometimes to do better. We saw it in Paris, against Monaco at home. We make small mistakes that cost us dearly, it costs us points.
---