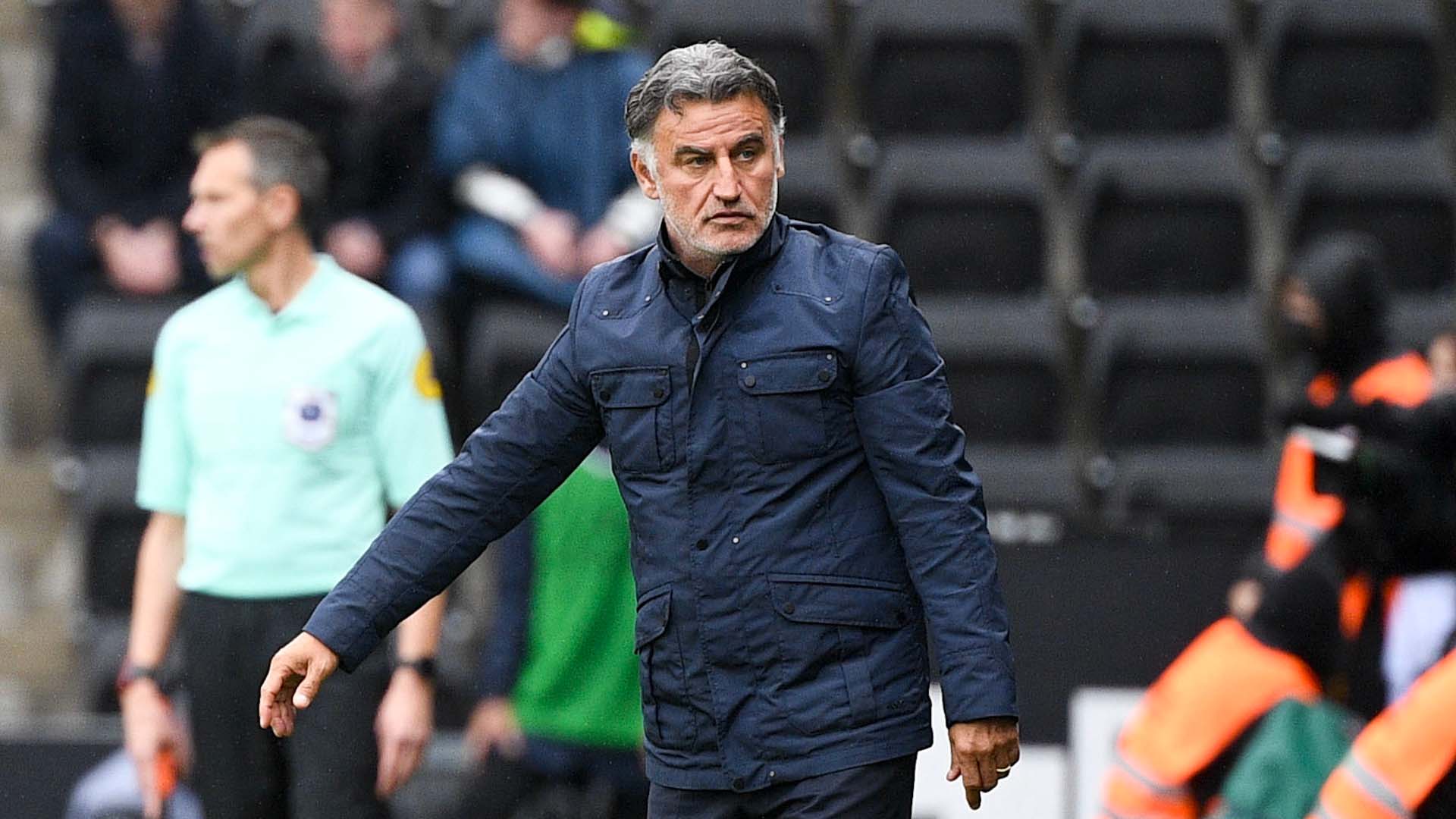 Press Conference
Galtier: 'because we have this desire...'
Christophe Galtier expressed his satisfaction in the press conference after the Gym's win in Angers this Sunday (1-2). The Nice coach hopes to see his group continue their momentum against Montpellier next Sunday in front of their home crowd (17:00).
Coach, what is your analysis of this match turned around by the Gym?
This match is not like the one against Lyon last Sunday (3-2). It looks a bit like the one against Marseille on Wednesday (1-1). With much more consistency in the way we played. We went behind from a penalty, but we had a certain control of the game without being dangerous, even if Andy (Delort) hit the post and we had a deflected shot. It was important to stay in the game and to bring other things in the second half. In that sense, I am very satisfied, not with the reaction, but with my players' attitude. There were more runs forward and we split up the Angevin block which had a lot of density. Because we had that desire, it happened. Of course we were lucky with the first goal. The second is magnificent. I'm satisfied with the week, but especially with this match. We'd had some very average away games, particularly at Troyes (1-0), where we were poor. And here, those who started and those who came on were part of the game plan and had a great determination to win.
It's a great performance to beat this Angers team who have made a good start to the season.
They have made a very good start to the season with Gérald (Baticle), a brilliant tactician. They had a very interesting start, we insisted on their ability to counter very quickly with a lot of depth and athleticism. We worked to counter these plans, we wanted to impose our way of playing and that's what we managed to do.
Delort symbolises what you want to bring to this team.
He has a thankless role. When you're struggling for 93 minutes against Angers' three physical defenders, it's difficult. He tried to get between the lines with Amine. We had to find depth, stretch the block and receive crosses. We all know about his qualities, but also about his mental toughness. He is full of passion, he hates losing and he symbolises what I want to see. He had a session the day before yesterday in front of goal where he was more than successful in what he did. He even surprised our young players who saw him working with great determination on difficult moves. And not in a playful way. He worked and was rewarded for it tonight.
Was he especially looking forward to this match after not being eligible against Marseille during the week?
No, not especially. The players like to play. He continued to work this week because of his absence from the trip to Troyes (against OM). He wasn't particularly focused on that game. He knows why he came here, he has the ambition to go further and he puts in a lot throughout the week. He is rewarded for his work and is one of the leaders in the team. When you create a squad before the season, you always imagine leaders in terms of character, personality and technically. Andy is one of them with his determination and skill in front of goal.
Gouiri was struggling in the first half and looked more comfortable after the break.
I repositioned him. I found him very responsive to the instructions, making himself available and being very far from the opponent's goal and from the combinations he could have with the other attackers. He has played in all the games, given the absences and Andy's ineligibility against OM. It's normal that he's had less energy at times, but he showed temperament and character to put himself in the fight where he needed to in the second half.
The Gym are second in Ligue 1 after this victory. What do you think of it?
It's an achievement, obviously, to be second after 12 games. But the match coming up this weekend will be decisive (Sunday against Montpellier, 17:00). We'll have to play it without stress, with great determination and also with a clear idea of what we have to do to beat Montpellier. There are turning points in the seasons and we will prepare this week to negotiate this turning point as well as possible. If we were lucky enough to win, it would be a great momentum.
This match will also mark the return of the whole crowd to the stadium...
I hope that our supporters will be there. They expect a lot from this season. They have been deprived, for the reasons we know, of matches and atmosphere. I hope that they will all come and push hard behind this team which is beginning to show a strength of character that we will have to develop in order to try to be the party spoilers in this first half of the season.
---