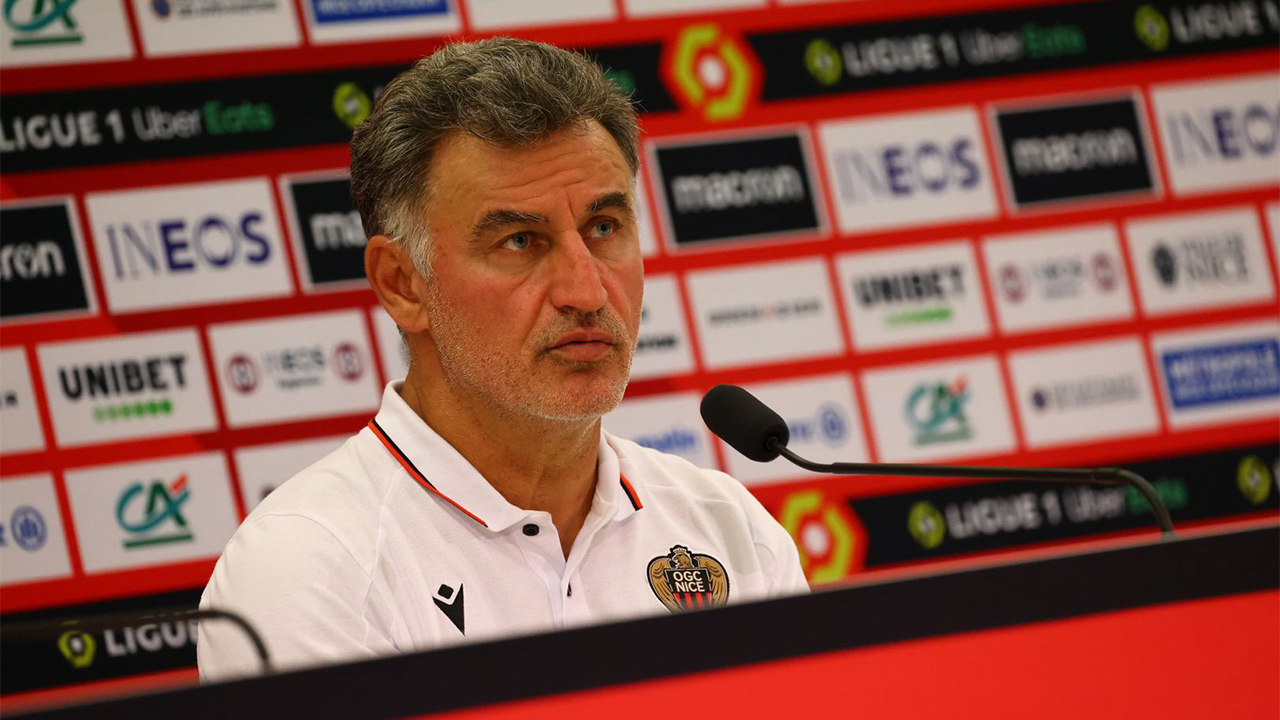 Reaction
Galtier: "It was better"
After OGC Nice's final pre-season game against AC Milan on Saturday (1-1), Christophe Galtier gave his analysis of the game.
Christophe, what do you think of this match against AC Milan which closes pre-season?
It's better. We had a high-quality opponent and, even if not everyone was there, it's a team that finished second in their league. It was better in a lot of areas, especially in terms of intensity and rhythm, and compared to what I've seen in previous pre-season games in terms of ideas and things that are starting to take shape. There was desire and enthusiasm. Obviously I'm disappointed with the goal we conceded because it's the third one we've conceded in this fashion in pre-season , certainly with a good striker in Olivier Giroud who has a formidable goal in him. There are points of satisfaction, but also many things to improve on. But it was much better than the previous games.
You are looking for experience in midfield, what did you think of Pablo Rosario and Mario Lemina in this game?
Pablo has much more pace than Mario because he was in a team that was playing in the preliminary rounds of the Champions League. He picked up quite early on even though he struggled at the end. He's a player with a lot more experience than we've had. Khephren's (Thuram) performance was very good and he is having a great pre-season. Mario was a little bit exhausted at the end, but it was quite difficult in this game with a lot of changes. We had very few sessions together. You have to combine youth, enthusiasm and carelessness with experience and professionalism. If we want to perform well, we have to play very high intensity games and only experienced players know what that is. Our young players are seeing this level and the technical and tactical intensity that goes with them. If we manage to make this change, it can only be a positive for our season.
Thuram finished the match in defence. Explain the thinking behind this choice.
He is a young player with potential and many qualities. He needs to improve in many areas, especially in the way he defends and gets a taste for the duel. Putting him at the back is also showing him what a midfielder should be like in terms of defending, the demands and the concentration. It's totally different from playing in midfield. It's a different responsibility because the slightest mistake can be punished in a big way. I'm always looking for solutions and I look at who can play in that position. We have Dante, who played 45 minutes last week, who has just played 70 and is out with cramps. With Flavius, we have three central defenders at the moment. There could be an injury or a suspension. We have to find a fourth, I'm looking at who can do it. Now we have to keep a certain balance in the middle of the park.
After this match, do you think your team is ready to face the championship next week (Sunday 8 August against Reims, 15:00)?
I said a week ago that we were late. There are many different levels of fitness. There are also players who have just come back from internationals, I think of Jordan (Lotomba) and Kasper (Dolberg) who have had very few sessions with us. I don't think any coach can say that he is ready with a week to go, there are so many things to work on that you can't be ready. On the other hand, I have seen things this week and in this game that show that there is a desire to do things together. We have to maintain it, develop it, keep this energy and in this match against an opponent of such quality, there were some interesting things. At the end, the intensity went down with the numerous changes on both sides. But to say that we're at the top of our game with a week to go, no, that's not possible.
---