22
FR
Badredine
Bouanani
#22 | Midfielder
Stats 2023-2024
Goals created
Passes
0
assist
inside the box
outside the box

0
du pied
gauche

0
de la
tête

0
du pied
droit
Passing
0
assist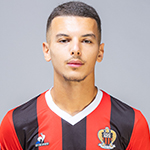 Profile
overview
Date of Birth
December 8 2004
Place of Birth
Lille (France)
Joined
Juillet 2022
Biography
Born in Lille on 8 December 2004, Badredine Bouanani joined the Dogues at the age of 7 and spent his entire youth career there. An impressive, technically gifted attacking midfielder with the ability to play as a second striker, he chose OGC Nice to sign his first professional contract.
After learning his trade in the reserve team during the first half of the season, Badredine benefited from Didier Digard's trust to make his top-flight debut on 11 January against Montpellier (J18, 6-1). With an assist that night, followed by three more in subsequent games, 'Bad' never left the pro squad.
The young Aiglon finished the season on a high with his impressive pace and technical ability, playing in the last 16 Ligue 1 matches. Voted Young Player of the Season by Gym fans, the young winger has already made his mark, notably with his incredible equaliser against Clermont (J32, 1-2) and his assist for Gaëtan Laborde against Rennes (J34, 2-1). These performances have also earned him a call-up to the Algerian national team for the first half of 2023.
Career
Season

Club

Div.

Games

Goals

2022/2023

2022/2023

OGC Nice
1
21
0