1
PL
Marcin
Bułka
#1 | Goalkeeper
Stats 2023-2024
Goals conceded
inside the box
outside the box
Penalties
Defending
10
saves made
2
penalties
faced
2
saves from
penalties
Goalkeeping
3
clean sheets
10
saves made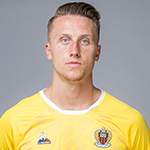 Profile
overview
Date of Birth
October 4 1999
Place of Birth
Płock (Poland)
Joined
Août 2021
Height
1m99
Weight
99 kg
Biography
Marcin Bulka came through the Chelsea youth academy before signing for Paris Saint-Germain in the summer of 2019. Following two first-team appearances (against Metz and Lens), the Poland U21 international joined Spanish second division side Cartegena — playing four times — and then French Ligue 2 club Châteauroux — playing nine games — on loan for the remainder of the 2020/21 season.
The Polish keeper, on loan at OGC Nice (with option to buy) from Paris Saint-Germain, played the entire Coupe de France campaign. He made the difference during the penalty shootout win over PSG in the Round of 16 (0-0, 6-5 on penalties) and played in the final against Nantes. The goalkeeper also featured in Ligue 1, against Clermont and sees his option to buy clause activated by Le Gym at the end of the season. He is now a permanent Niçois.
In 2022-2023, Bulka played in three Conference League matches and two Ligue 1 matches, before seeing his season curtailed by a dislocated left shoulder.
Career
Season

Club

Div.

Games

Goals

2022/2023

2022/2023

OGC Nice
1
5
0

2021/2022

2021/2022

OGC Nice
1
6
0

2020/2021

2020/2021

Berrichonne Châteauroux
2
9
0

2020/2021

2020/2021

Carthagène
2
4
0

2020/2021

2020/2021

Paris Saint Germain
1
1
0

2019/2020

2019/2020

Paris Saint Germain
1
1
0