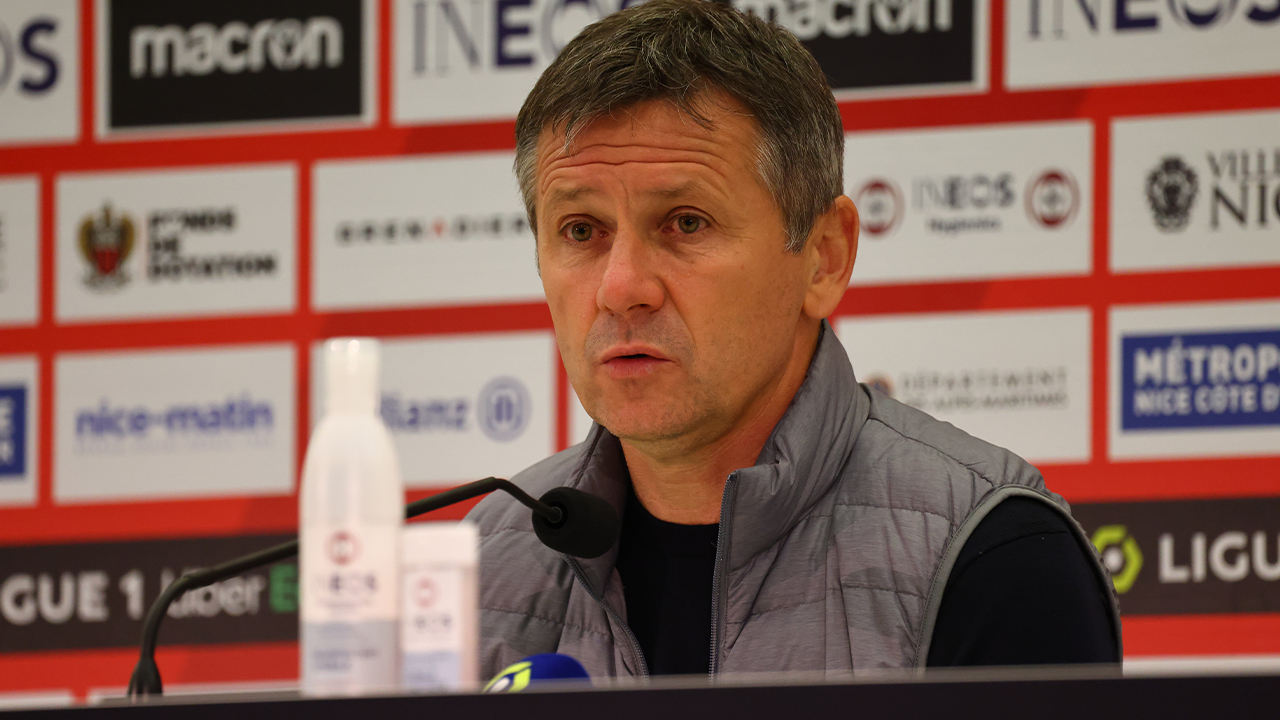 Reaction
Ursea: "We had to react"
Adrian Ursea gave his thoughts on his side's victory over Montpellier this afternoon (3-1).
Coach, was this the reaction that you were expecting this afternoon?
Yes, it is what we were all expecting after the terrible performance against Dijon (2-0). The very least that we needed to do was to react, we had to do so and I am really happy that the team showed this character, this spirit and had this reaction. Today we can say that the match against Dijon was just an accident.
Your team quickly conceded the opener this afternoon? Did you fear for what was to come at that moment?
We didn't even have the time to fear whatsoever, we reacted straight away and got ourselves back into the game. I would even say that it was good for us. Did it wake us up? I don't know because I didn't feel that the team was sleeping. On the whole, we managed the match well and I think that the three points are deserved.
Was the second goal, scored by Todibo, the turning point in the match?
You could say so. What I liked today was the desire to play, to apply what we had discussed during the week, and the fact that we found solutions. The players realised that everything we had prepared in the week could pay off if they did what was needed, they took confidence from that and let go. It's another aspect that really pleased me this afternoon.
We get the feeling that you prepared well for this match in order to take full advantage of the spaces left by the Montpellier defence.
We insisted upon that, we know that they have a particular way of defending, with midfielders that copy what the opposition's midfield does and zonal marking. This Montpellier side boasts a lot of qualities and we were wary of them. We expected a tough match and that was the case. But we were able to exploit the weaknesses that we could see.
Claude-Maurice was particularly impressive in the heart of midfield.
He has been improving week on week for a while now, and we really saw that today as he was involved in all three goals, was very impressive at the break-down and made the difference in attack. It's work that we started a fairly long time ago with him, reassuring him and focusing on just one role. I didn't want to keep changing his position. From then on, we kept working and brought the confidence of everybody. The rest comes from his qualities. He is very talented in tight spaces, has very impressive control and he can cause problems for the opposition. He also has scope to improve, in terms of his decision making and his final pass. He is continuing to improve and we hope that we will see him improve even further.
Kasper Dolberg's role was also vital in terms of exploiting the space.
We worked in order to create spaces and we saw lots of movement from Kasper to recover the ball. He had his instructions. The important thing for us is to be able to play players in to attack the space. Kasper was a very important part of that because he could help us to create spaces and push towards the opponent's goal.
Do you get the feeling that you are seeing one Nice with Boudaoui and another Nice without him?
You can't sum up Nice with just one player, everyone is important for us. We have had the proof in the past. When Hicham wasn't there, we were able to do what was needed without him. We play differently with Hicham than with others because of his qualities. It's down to the staff and I to adapt things based on the problems that we can face with each side we play and what Hicham can bring to the side. But I can't say that Nice's game depends on him, that would be unfair.
We know what he is capable of doing: playing in tight spaces and attacking deep. He is very intelligent and knows how to put into practice what we ask of him, but he isn't the only player in the team able to do that.
A word on Youcef Atal's hour on the pitch.
He was tired but I would say slightly quiet. We have 10 players who are in the middle of Ramadan and I am surprised that there weren't more of them struggling like that. Youcef obviously suffered a lot more especially because he is coming back from a series of injuries and so we needed to intervene, it had already been decided with the medical staff.
What are your objectives for the remaining four matches?
There is no objective in terms of the league position but we hope to go on a bit of a run like the one we had before Dijon. We want to leave a good impression. It's incredibly important at the end of a season, individually and for our supporters and the institution. When I see the difficulties that Bordeaux are having, I say to myself that with our owners Ineos, the very least we need to do is come out of matches with our heads held high and to do the club proud.
---