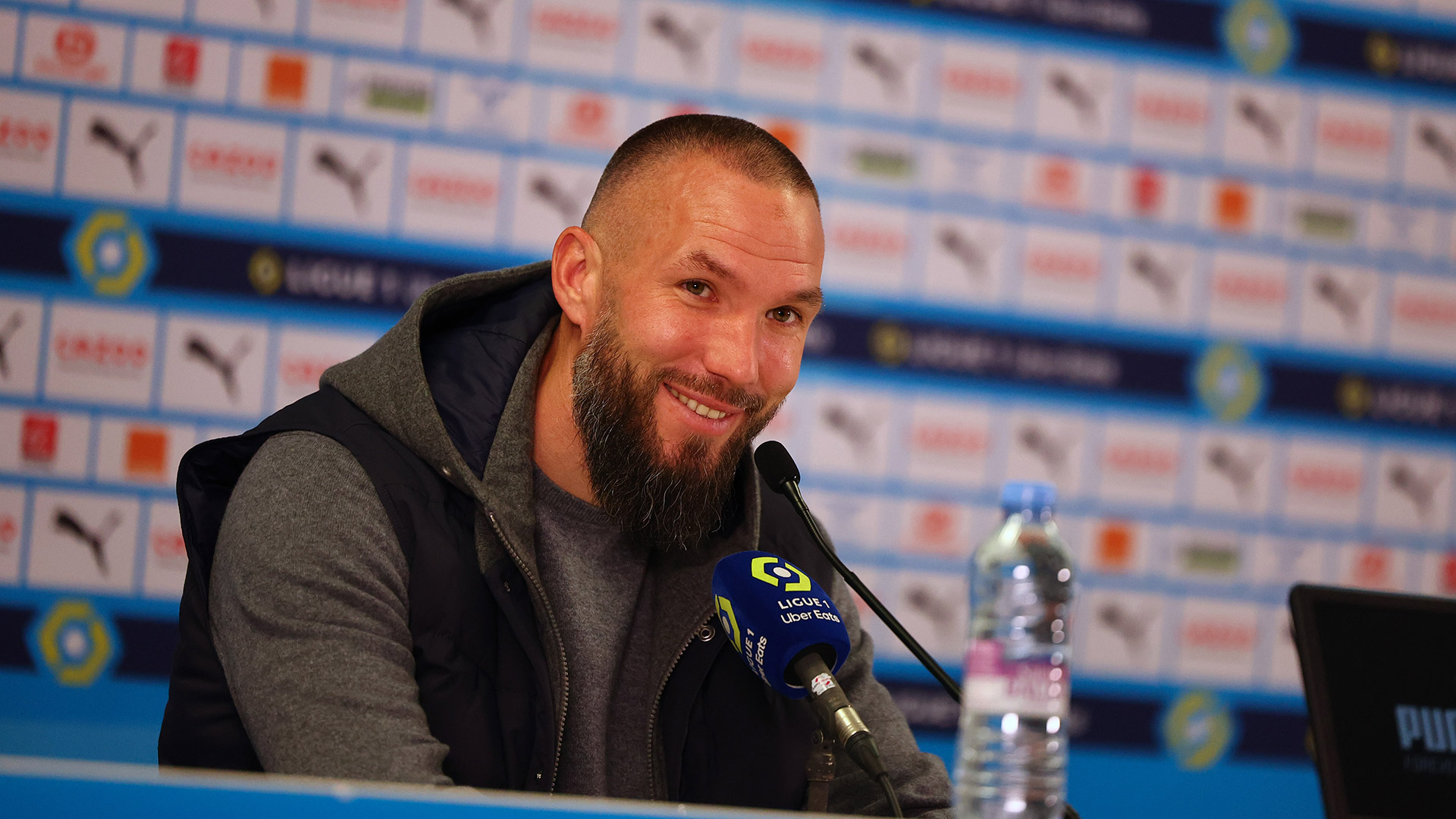 Press conference
Digard: "There was a lot of joy"
In his post-match press conference, Nice manager Didier Digard reacted to his side's convincing 3-1 win over Marseille in the Mediterranean derby.
Is your team surprising you more and more with every game?
Yes and no. Yes because you can't deny that these are exceptional results against top-of-the-table teams, and no because I know what the team's potential is and I see them every day.
Was that the kind of game that you had prepared for and anticipated? Did it go how you were expecting it to?
I wasn't anticipating anything in particular because they're quite a difficult team to watch. For us, it was about focusing on ourselves more than about trying to implement something based on them. Also, I suspected that we'd find space on the counter given that they're a team that changes its shape a lot, and that's what happened, so all the better. Above all, I was hoping that we'd take our chances because they're a team that you have to finish off. They have a lot of energy and a crowd driving them forward immensely, so you can't let too many chances go.
In the second half, were you worried that you'd missed your chance to make it 3-0 when OM brought it back to 2-1?
Of course. When you don't take those chances and then concede and see them pushing forward, you obviously regret it, but I didn't have any doubts in particular because I knew that whatever happened, we'd find space on the counter until the end. My team is prepared to concede goals. That's what I tell them every day; we're going to concede goals, we're going to lose games, but what I want is for us to keep that attacking mindset and to believe in ourselves until the end. Even after we conceded, I wasn't more worried than I was before we conceded.
In your first game, the players scored six goals. Your side has taken six points off Lens and Marseille. Have you ever tried walking on water or over hot coals?
I could've done, as it started raining! We're certainly doing very well at the moment. Also, I'm incredibly lucky because I've honestly got a fantastic team of staff giving 100%. My players are turning up, and we're trying to be as united as possible. Then, things start turning, and you obviously gain confidence, which leads to great things. So, we're certainly going through a successful period.
Was it euphoric in the changing room?
Obviously, there was a lot of joy because, on one hand, we're gaining confidence and starting to get a taste for winning and, on the other hand, this is a game that means a lot to our fans, who weren't able to be here. After giving us their support yesterday, it was good that we managed to win for them. Also, though, it wasn't unbridled joy because we mustn't forget that just because we're on a winning streak and breaking our backs, we're still only mid-table. We're slowly getting towards slightly better things, but it's a long, tough road. So, it was measured.
Did Terem Moffi come off with cramp or with an injury?
No, it was cramp. It was a high-intensity game, and he gave a lot. It was his first game with us, and we know the situation, what with it being against a club not that he nearly joined but that he was pushed towards. So, obviously, it was a slightly special game. We'll recover properly because we're playing again pretty soon, so we'll get some good rest.
We saw what he can bring to the table: he can play in behind, with his back to goal; he can practically do it all…
Exactly. We would've liked him to score, but for a first game without much training with the squad, it was a very convincing performance. We're honestly very happy with he brought to the team.
At kick-off, were you surprised by the changes that Igor Tudor had made, particularly taking Alexis Sánchez out of the starting 11?
He had announced that he would make changes, and they've had games coming thick and fast. They're playing in the Coupe de France soon as well. These are very high-intensity games, and I don't think that he wants to expose himself to losing important players. He wants to involve his entire squad, so I think that we probably would have done the same thing if we had had to play again soon.
---