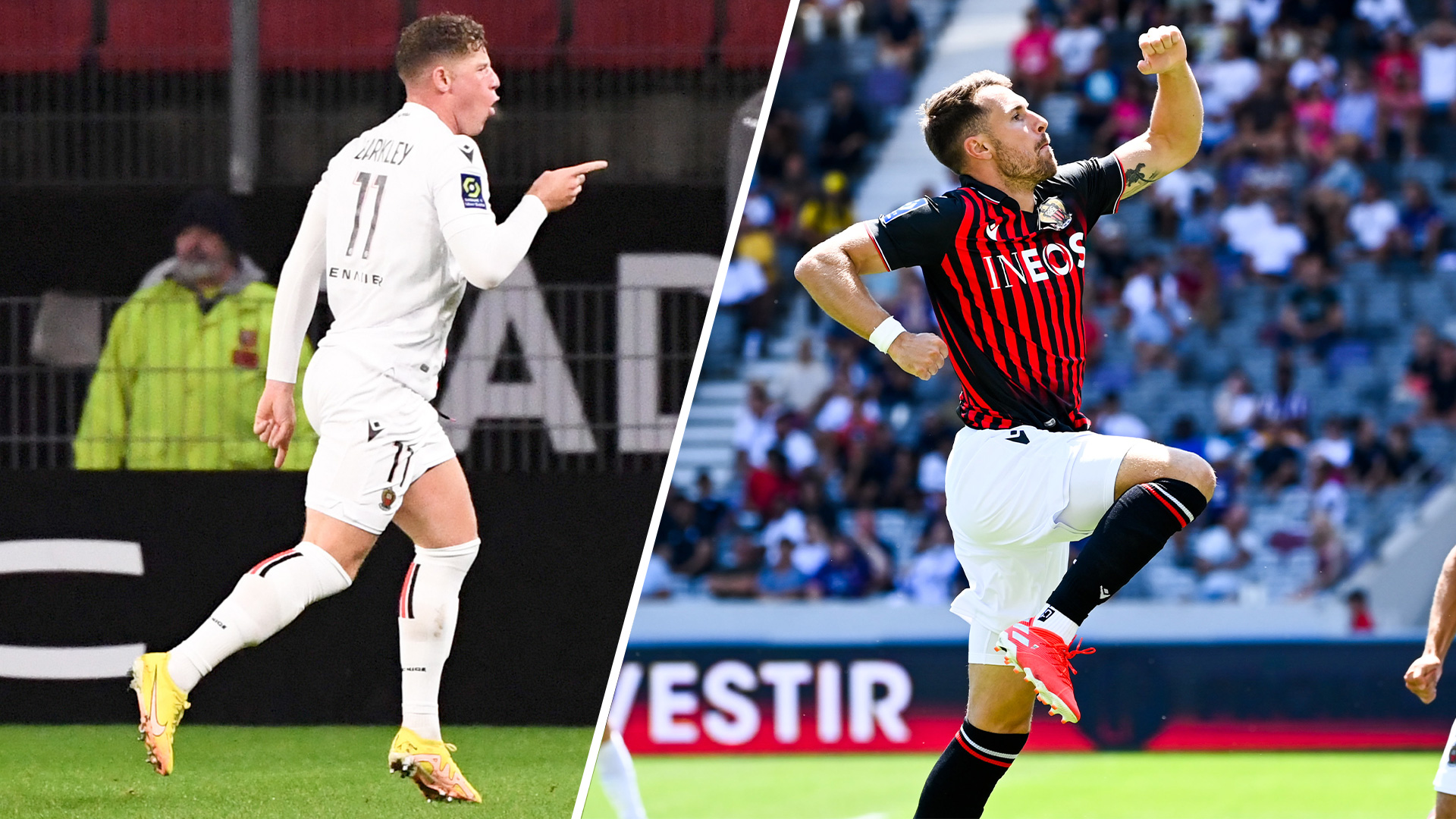 Review
5 goals from the first half of the season
While OGC Nice will start the second part of the 2022-23 season next Sunday with the home game against Lille, let's take a look at 5 goals that have defined the Aiglons' first half of the season.
THE FIRST: "HELLO FROM THE PRINCE OF WALES"
It was away to promoted side Toulouse that OGC Nice kicked off their 2022-23 season. And the first goal came from the right foot of Aaron Ramsey, who had come on a few moments earlier (1-1, final score).
THE MOST POWERFUL: "A THUNDERBOLT FROM ROSS"
He promised it before going into 2023: Ross Barkley wanted to score with OGC Nice. Before the Englishman scored a brace against Montpellier (6-1), he opened his account with a beautiful right-footed shot in Rennes (1-2 defeat).
THE MOST ACROBATIC: DELORT'S OVERHEAD KICK AT AJACCIO
After two goals from the penalty spot (against Strasbourg and Lille), Andy Delort scored his first goal in the game at Ajaccio. On his former club's pitch, the number 7 took off to score with a superb overhead kick. A goal as beautiful as it was important because it allowed the Aiglons to take 3 points from Corsica (0-1).
THE MOST ATALESQUE: YOUCEF LEADS THE FIGHTBACK IN LORIENT
Gym, who were trailing in Lorient, turned around a difficult situation thanks to a performance from Youcef Atal. Just before coming off, the Algerian started the fightback, and in what a way! The Gym went on to win at the Moustoir (1-2).
THE BEST TEAM GOAL: 9 PLAYERS THEN ROSS
The icing on the cake: to add the final touch to the beautiful evening against Montpellier (6-1), Ross Barkley was at the conclusion of a team move in which all the outfield players touched the ball!
BONUS: BEKA BEKA'S GEM
While this top five list only concerns Ligue 1, it is difficult - if not impossible - to not mention Nice's goals without mentioning Alexis Beka Beka's gem in the Conference League play-off against Tel Aviv. A shot into the top corner in the 113th minute that allowed the Gym to confirm their spot in the next round. And today, it takes on an even greater significance with the qualification for the Round of 16 next March...
---