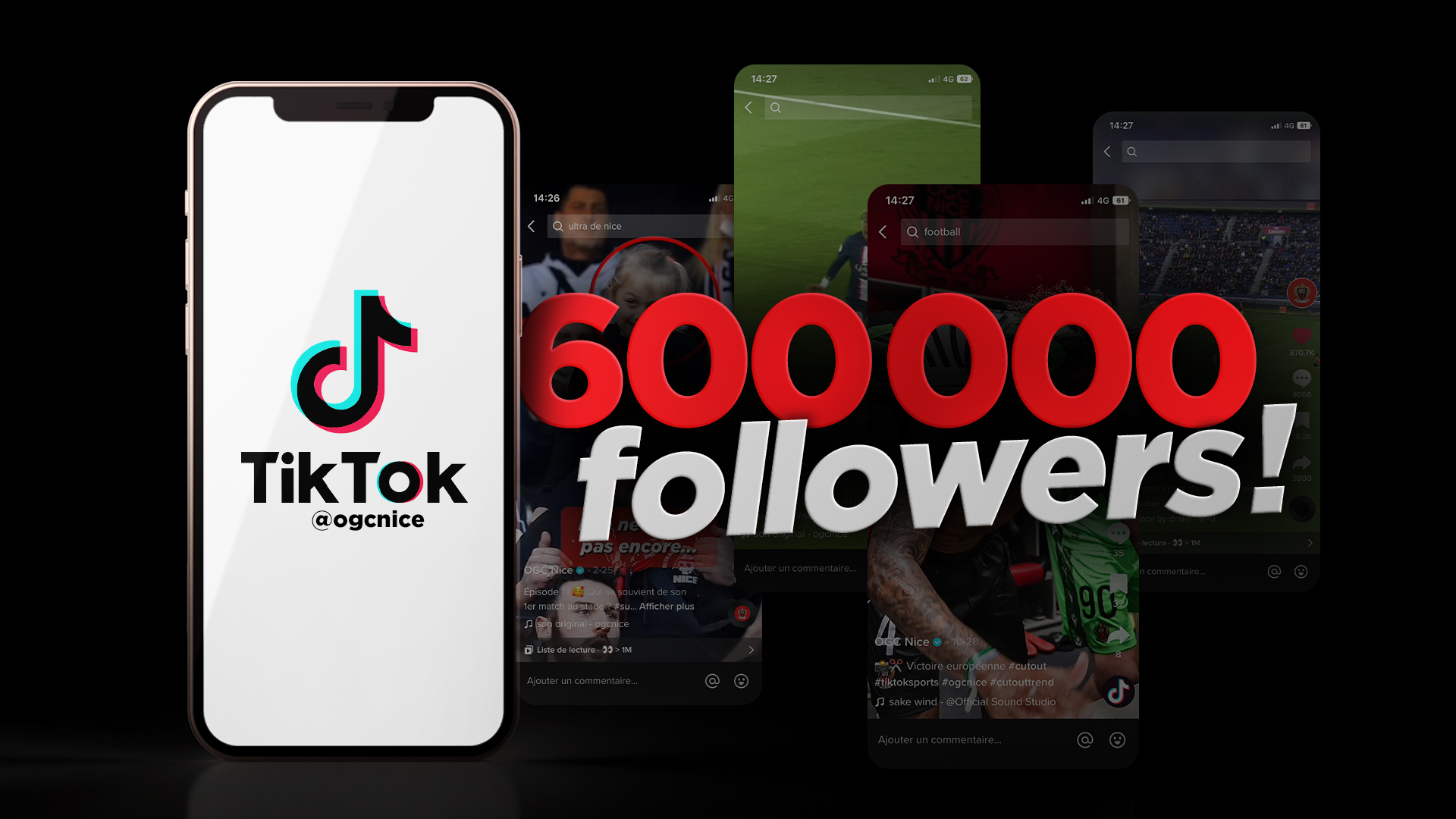 Social Media
600,000 red and black tiktokers!
A year and a half after its launch, the official OGC Nice account on TikTok has just passed the 600,000 followers mark! Let's take a look at some numbers and images from this lightning growth!
SOON TO BE THE NUMBER 1 AHEAD OF FACEBOOK?
If OGC Nice has 2.5 million followers, they are distributed as follows
Currently behind OGC Nice's Facebook page, the Gym's TikTok account could thus have the largest red and black community on social media in the coming months!
226 VIDEOS POSTED
Since March 1, 2021, the date of the Gym's first post on TikTok, 226 videos - short, mobile-friendly formats - have been published on the official account. That's an average of one piece of content every 2.75 days.
Among these 226 videos, 22 have been seen by more than 1 million people!
600,000 SUBSCRIBERS, 100% NATURAL!
Each of the 605,672 OGC Nice fans came naturally and authentically after discovering the OGC Nice content published on TikTok. A useful precision at a time when it is also possible to inflate one's numbers by using paid solutions.
THE MOST VIEWED VIDEO: ATAL HAS FUN AGAINST PSG
A star player (Youcef Atal), a big match (against PSG), a stroke of genius (against Bernat) and a frustrating end to the move (Saint-Maximin hitting the bar): everything was there for this video to go around the world! Between France, Algeria, Brazil, Morocco, Tunisia and Germany, 9,900,000 people have watched this clip!
BEAUTIFUL MOMENTS ON THE FIELD...
On TikTok, we know how to appreciate great moments. First of all, those performed on the pitch. Nutmegs, great passes, accelerations: the brilliant Youcef Atal alone has 4 videos with more than 1 million views. Ross Barkley, Amine Gouiri and Hatem Ben Arfa have also reached this milestone.
... AND OUTSIDE!
But on TikTok, we also love good stories. When Marcin Bulka offers his shirt and gloves to a young fan disappointed by not being able to see the game against Cologne. When Dante comforts Xavi Simons who saw Marcin Bulka take the penalty that sealed Nice's qualification at the Parc des Princes. Or when a young supporter, on her father's shoulders, is cheered by an entire stand!
INSIDE...
The Gym's followers also love "inside" images, both in the dressing room and in training. Andy Delort's shooting, Dante's rehabilitation, Schmeichel's physical tests, the young players congratulated by the pro group... All these videos have been seen by more than a million people!
... AND LAUGHTER!
Finally, we also like to have fun: an interview in the middle of an animation on the square, Rémi Walter forgetting the label on his shirt or the funny goal in Saint-Étienne: nothing gets past you!
---