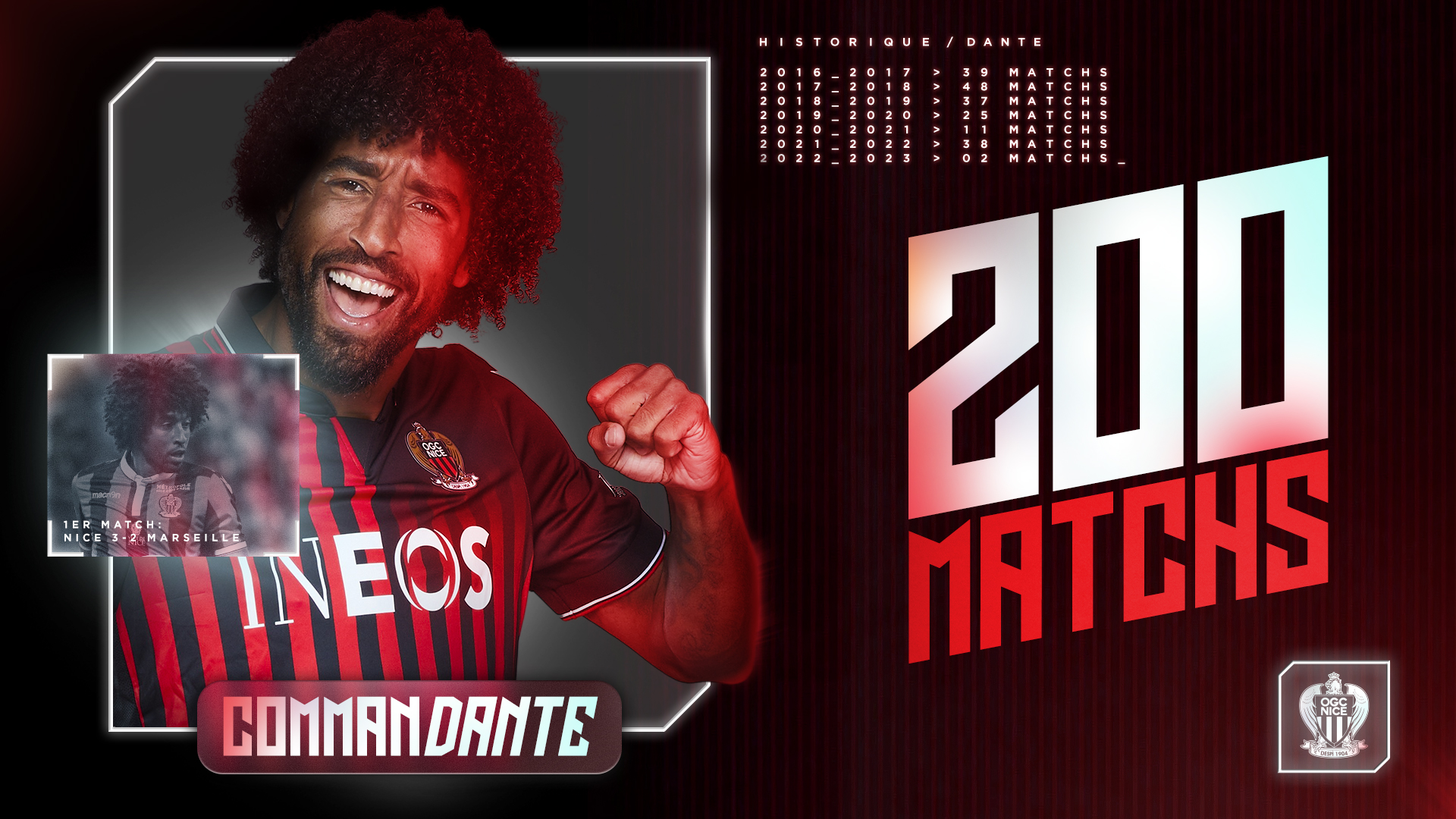 Focus
Dante: 200 up and still going strong
On Sunday, Dante celebrated his 200th appearance for OGC Nice. We look back on the Brazilian's career on the Côte d'Azur so far.
When was the last time Dante started a game for OGC Nice without being captain? 14 May 2017, against Angers (0-2), on the penultimate day of the season. Paul Baysse had the captain's armband that day, and Mattia Viti was just 15 years old, Aaron Ramsey was starring at Arsenal, and Andy Delort had been back in France four months after his spell in Mexico. In football, it's an eternity, and shows just how important the Brazilian is to Le Gym. He's respected and listened to, as Youcef Atal showed against Lyon last season. "The coach didn't pick me. I didn't know why, I was very angry, I wanted to speak to him before the game," said the Algerian defender. "In the end, I talked to Dante, who advised me to wait until after the game. He said, 'Perhaps you'll come off the bench tomorrow and change the whole game,' The following day, we were losing 2-0. I came on, I scored, got an assist and we won 3-2."
DANILIUC, PRECIOUS ADVICE
The Brazil international's experience (13 caps) has been valuable for so many teammates, on the pitch and in training. During the training camp in Portugal, the number 4 reminded Flavius Daniliuc of the importance of a cold bath to aid recovery. "He's always been like a father to me since I arrived here," said Flavius. "He's helped me improve, knowing that if I improved, we would be in competition for a place in the team. We spent two days together in Paris, because he had filming to do for a sponsor. We're closer than ever nowadays. He's a friend for me, not just a teammate."
At 38 years old, the Strasbourg game was Dante's 200th competitive appearance for the club since his arrival on the Côte d'Azur on 23 August, 2016. Never has he worn the same shirt for so long in his glorious career. From his debut against Olympique de Marseille at the Allianz Riviera (3-2) to the draw with Strasbourg on Sunday, he has had some tough times too, notably his ACL injury at Angers on 1 November 2020 when his cry of distress sent a chill through his teammates. After that setback, Dante saw his contract extended by Le Gym, and after nine months of effort, he returned to marshal the joint-best defence of the 2021/22 Ligue 1 season, extending his contract for another season in March 2022.
His smile has lifted dozens of Niçois, just as his competitive spirit and perfectionism has raised the standards of his teammates. When Khephren Thuram arrived from Monaco, he was taken under the Brazilian's wing. "When I arrived at the club, I was 17-18 years old, I didn't know many people. Coach Vieira told me to work with Dante for the pre-training session or gym work," said the midfielder. "He was there, he spoke to me. We had to do four or six reps. Each time, Dante added two more. As I was new, I wanted to do like him. For each exercise, we added two. I remember I was tired, but he was still going all out. I said to myself that it was because of that he was a great player, playing in big clubs. He always did a little more than was asked of him. That made an impression on me."
After a double century of games played for the club, he's now very much a man to be counted on on the Côte d'Azur. Settled in the club, he's even started his coaching badges – he takes training sessions at the youth academy – and he's far from finished his adventure in Rouge-et-Noir. "Each time I played against him, I always asked him for his shirt. I figured he was a great guy, but I didn't know him away from the pitch," said Andy Delort, who has been a teammate for a year now. "Today, I can say he's an exemplary captain, an extraordinary man, and a fabulous teammate. I hope he'll play another 100 games for Le Gym."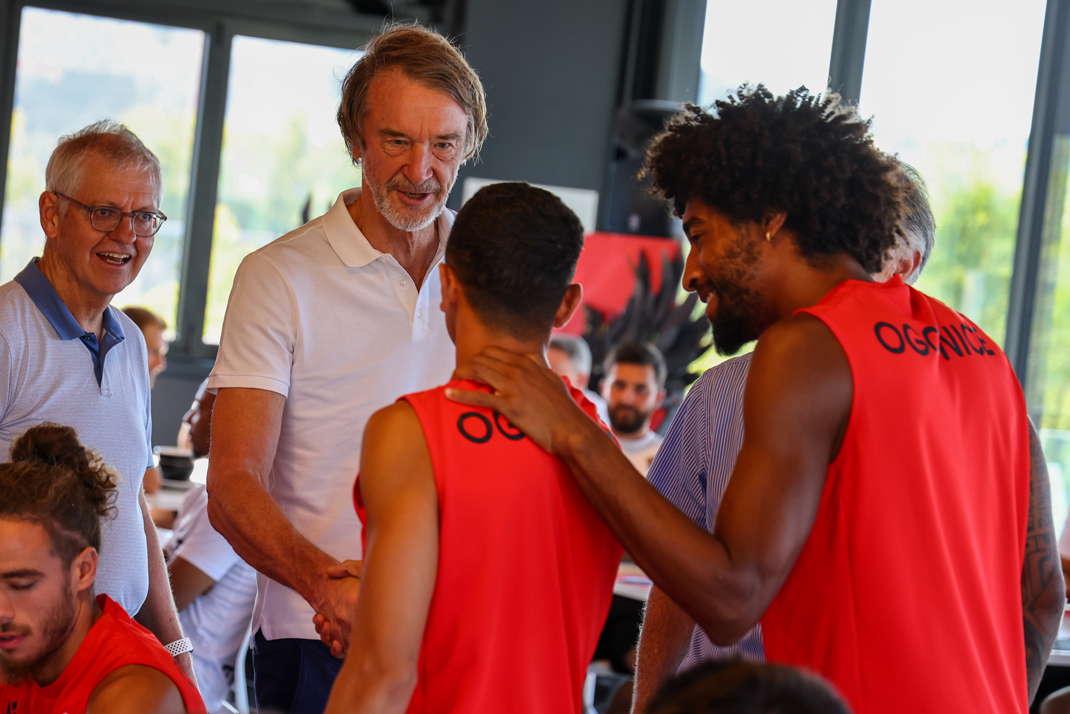 « I'm very proud. When I arrived at Nice, I never would have believed I'd get to this number. I'd like to thank everyone from the bottom of my heart for the respect they have shown for me and my career. And even those who criticise me, they're also the ones who keep the flame burning [smiles]. I'm very proud. I'm going to keep working hard and leave a good impression, and – who knows? – finish my career here, which would be a superb story.»
Dante, OGC Nice captain, following his 200th game for the club on Sunday
DANTE & OGC NICE IN NUMBERS
200 matches: 4 UEFA Champions League, 15 UEFA Europa League, 168 Ligue 1, 8 Coupe de France, 5 Coupe de la Ligue
179 games as captain
86 wins
51 draws (including 3 that ended in a penalty shoot-out)
63 defeats
277 points obtained in 168 Ligue 1 matches (1.65 points per match)
6 goals
8 assists
---
Tom Mollaret