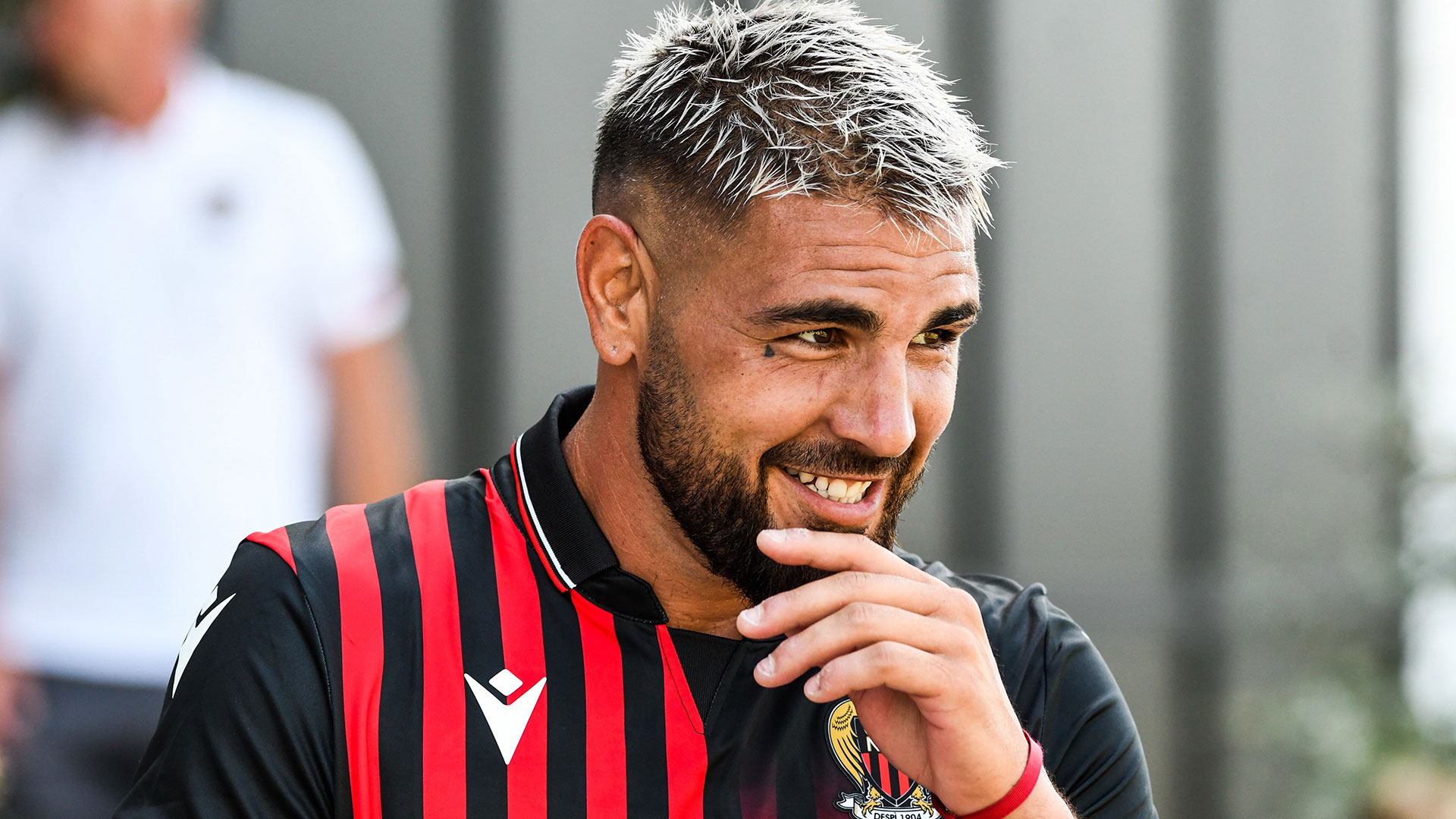 Interview
Delort : "We're capable of doing great things"
Before starting his 2022-23 season with a first goal against Cercle de Bruges (1-1 on Saturday 9 July), Andy Delort spoke to Nice-Matin in an extensive interview. His meeting with Lucien Favre, his relationship with the fans, his personal goals and even the Algerian national team: the Aiglon of last season spoke about many subjects, with his usual frankness. Here are some extracts from the interview, still available online.
Lucien Favre :
I really like it. We are really enjoying the sessions. The first day, he came to talk to me. He asked me: "How do you feel? I tell him, on behalf of the group, that we're all eager to resume training. He said to me: "I'm talking about you, Mr Delort! I didn't know that he speaks in the formal manner to his players, I hadn't understood anything! It's surprising (smiles). But really, he lives for football. He loves it. He explained to me all the details of the exercises, what it can do in a match. It all seemed so simple and I thought, "Well, I'm an idiot, actually!
" I FEEL THiS SUPPORT"
I am like that, simple, accessible. In all the clubs, I have been. I feel this support and I thank the people of Nice. That's what makes me better. The song that the fans sing for me is a real plus which helped me score a hat-trick in the last match, the double at Angers to turn the match around, the 1-0 against Paris... Football is a lot of emotions. Giving your all means having something more than the others. With the season I had last year, the support of from the fans, I want to continue and take advantage of it. Here, there is everything in place to do great things with the new project.
"I play anywhere anyway" :
I've already had some good seasons on my own up front, at Caen for example. As long as there's a ball, I play anywhere anyway. With two up front, that was the case at Montpellier or with Kasper (Dolberg) last season. Amine (Gouiri) played almost like a ten when we were both playing.
coupe de France : "For two days, I didn't get out of bed".
We fell apart. Nantes weren't stronger than us, that's what hurt us the most. We fell from the top three after it against Lille. Winning in Reims allowed us to make up for it a bit. We went through all kinds of emotions. I was really upset. For two days, I didn't get out of bed. I saw one or two things on social media: the handball at the start, which irritated me even more, and the last move saved on the line... I'm close to the fans, it made me feel so bad for them. We lacked experience and drive, they had more than we did. Everyone saw us as favourites, and that made us relax a bit too.
"I WANT TO GO HIGHER" :
I want to go higher, to break records. Being the top African scorer in Ligue 1 is something that speaks to me, for example. I need 19 goals to beat Mamadou Niang. That's the kind of goal that makes you go further.
THE Conference League :
It's an opportunity to be seized. I understand the disappointment of some fans not to play in the Europa League or in a better competition. But Roma is a prestigious winner of the Conference Leage. The hype around OM's run also shows that it's an interesting cup. There is a good group, a good coach, we are capable of doing great things.
the Algerian national team :
We discussed with the coach (Djamel Belmadi). It was necessary. I am back at his disposal. I'll know soon if I'll be back with the other players from Nice (Atal, Boudaoui, Brahimi). With Youcef, we are enjoying ourselves.
---