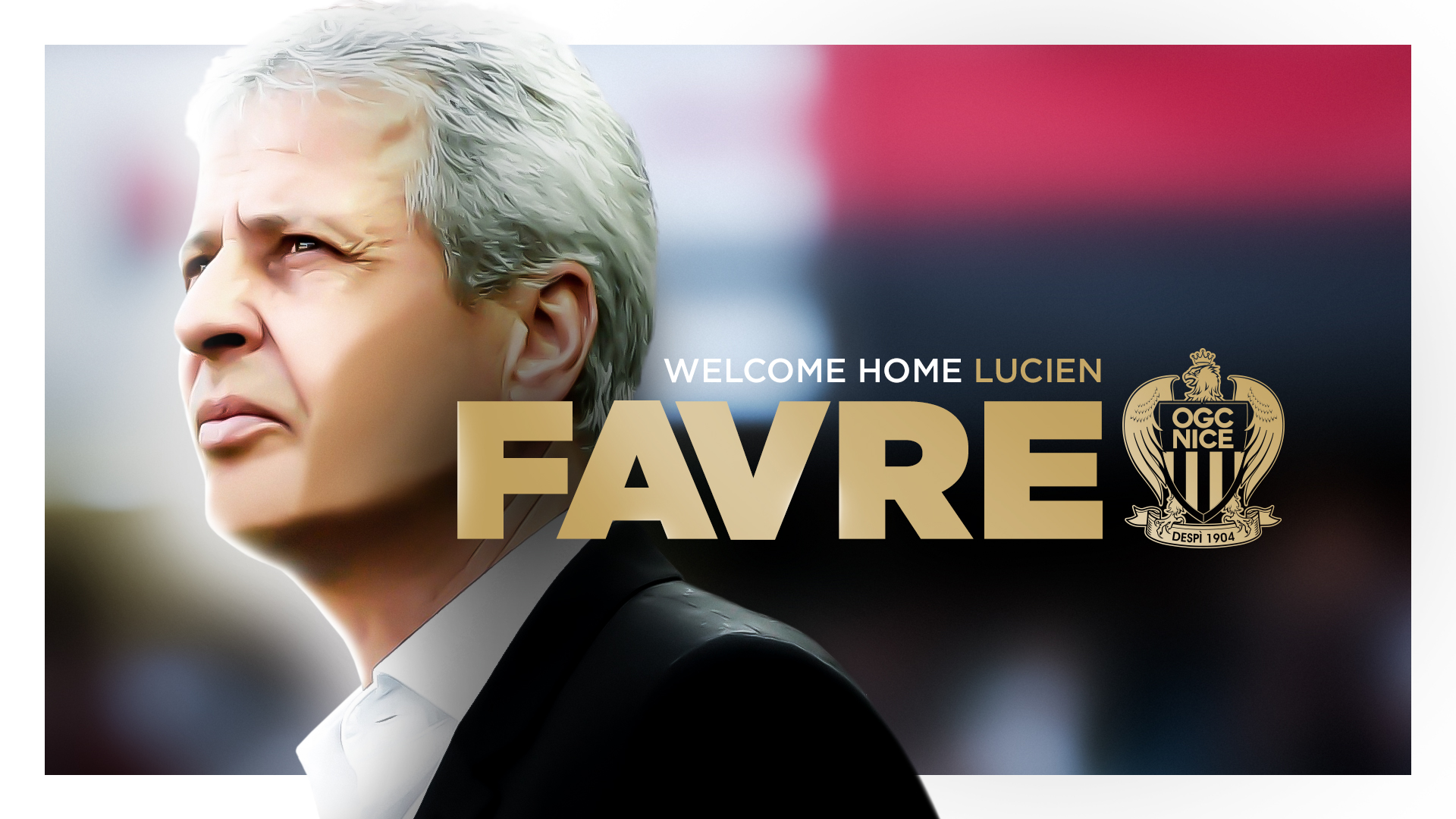 Official
Lucien Favre back at OGC Nice
Christophe Galtier is no longer in charge of the first team at OGC Nice. This Monday morning, the resumption of the Aiglons will be led by Lucien Favre, whose return the club is proud to announce.
His first stint on the Côte d'Azur will go down in history. So when it comes to a future full of challenges, it is difficult not to mix ambition and sentiment. The excitement felt by the whole red and black community at the simple mention of his name, for years now, illustrates wonderfully the attachment that is felt for him.

After two and a half seasons at Borussia Dortmund, one of the biggest clubs in Europe with whom he won a German Supercup and came second to Bayern Munich after a close battle for the top spot in the Bundesliga, Lucien Favre is back at OGC Nice. At home. Where he has already managed 99 games and where he left his mark between 2016 and 2018, with poetry and efficiency.
In Nice, the Swiss won 3rd place at the end of a historic first season 2016-17, building a team with a luminous style of play that pocketed 78 points. He achieved the feat of taking out Ajax the following summer, sounded the Champions League tune before travelling to Moscow in the Europa League round of 16. Then finally, it failed to come within a whisker of a 2nd straight European qualification, after a less consistent 2017-18 league, where it all came down to the last game in Lyon.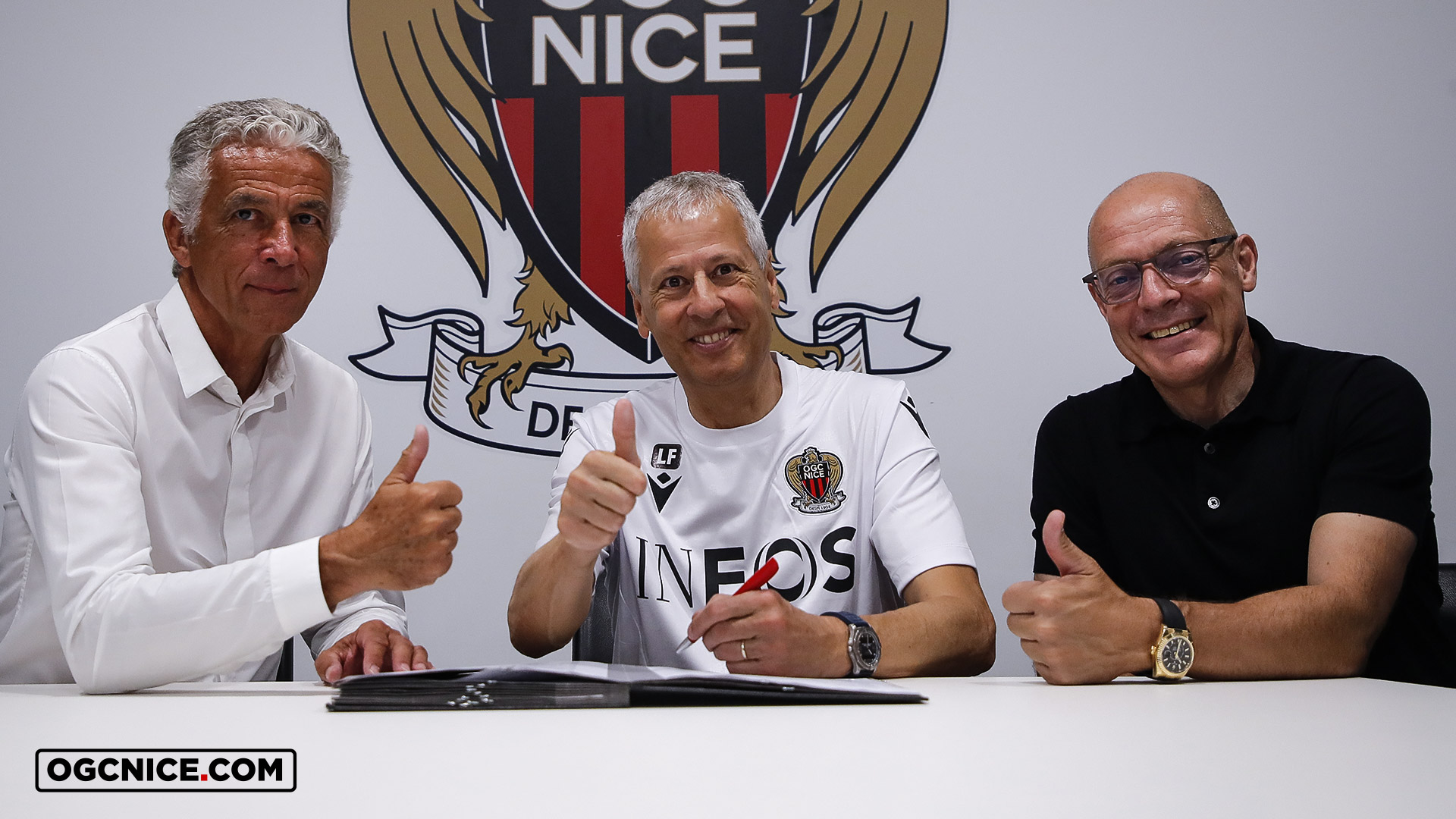 Arjan Peço and Christophe Moulin in the staff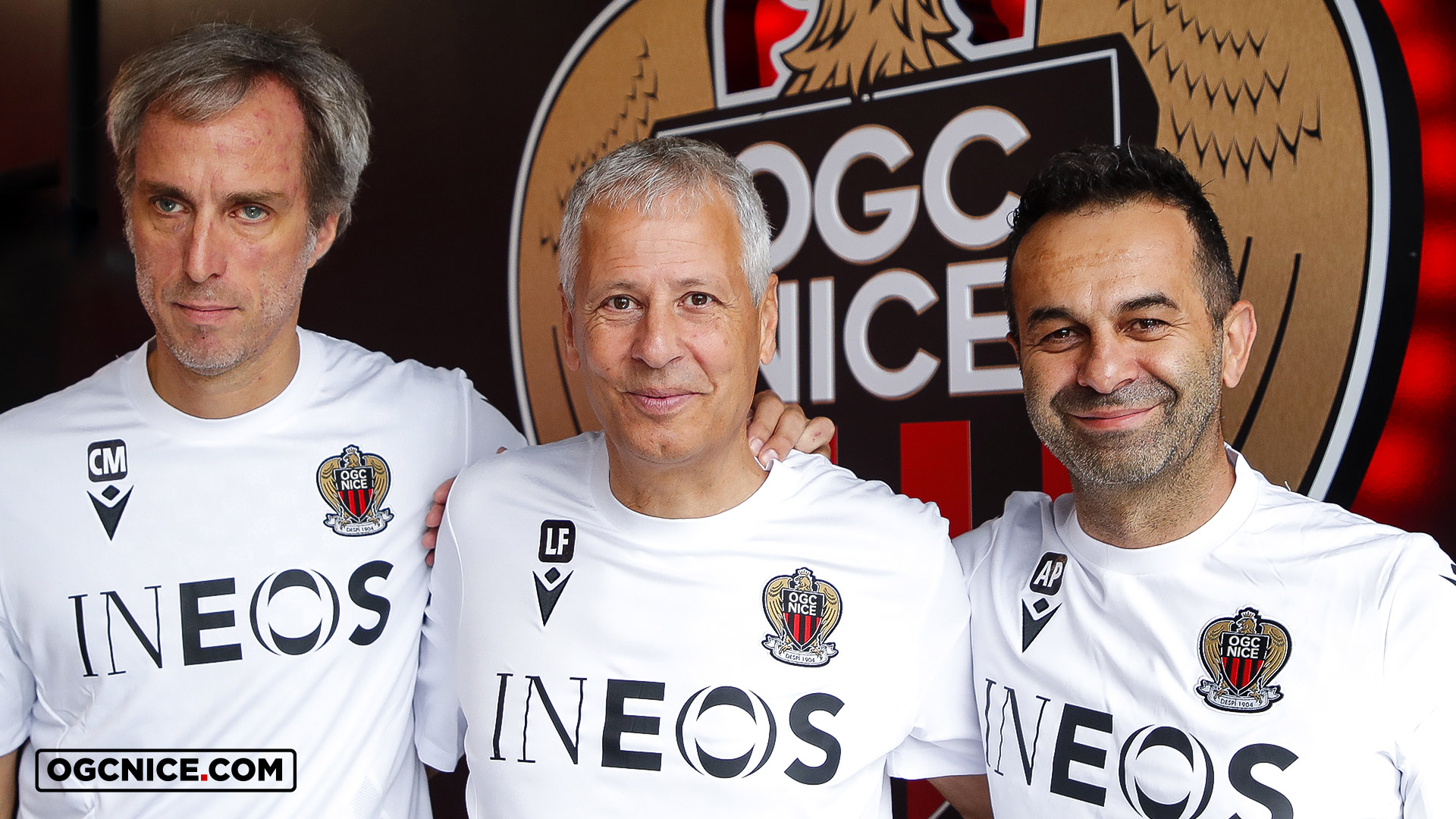 Europe is what OGC Nice 2022-23 is aiming to achieve, with the Europa Conference League play-offs scheduled for August. To fulfil this mission, to perform on the national stage and to give a new impetus to its project, the red and black club has decided to put its trust in an apostle of the game, unanimously appreciated by all its employees. To carry out his mission, Lucien Favre will be accompanied by Arjan Peço and Christophe Moulin, who complete the current staff of the first team, and who, due to their profile, will be able to revitalise the links between the pros and the training.

OGC Nice welcomes them all!
« I am absolutely delighted that Lucien Favre is joining us. He is an experienced coach who has been successful in the Bundesliga and also here at Nice. He has earned respect and admiration everywhere. His way of developing his teams pleases us and corresponds perfectly to the vision we have at INEOS of the style of play we want for OGC Nice »
Sir Jim Ratcliffe
LUCIEN FAVRE IN BRIEF
FC Echallens / Yverdon-Sport / Servette Genève / FC Zurich / Hertha Berlin / Borussia M'Gladbach / OGC Nice / Borussia Dortmund / OGC Nice

Record of achievements: Swiss champion (with FC Zurich in 2006 and 2007), Swiss Cup winner (with Servette in 2001 and FC Zurich in 2005), German Supercup winner (2019).

Awards: Best coach in Switzerland (2006, 2007) and Germany (2009, 2012, 2015)
---