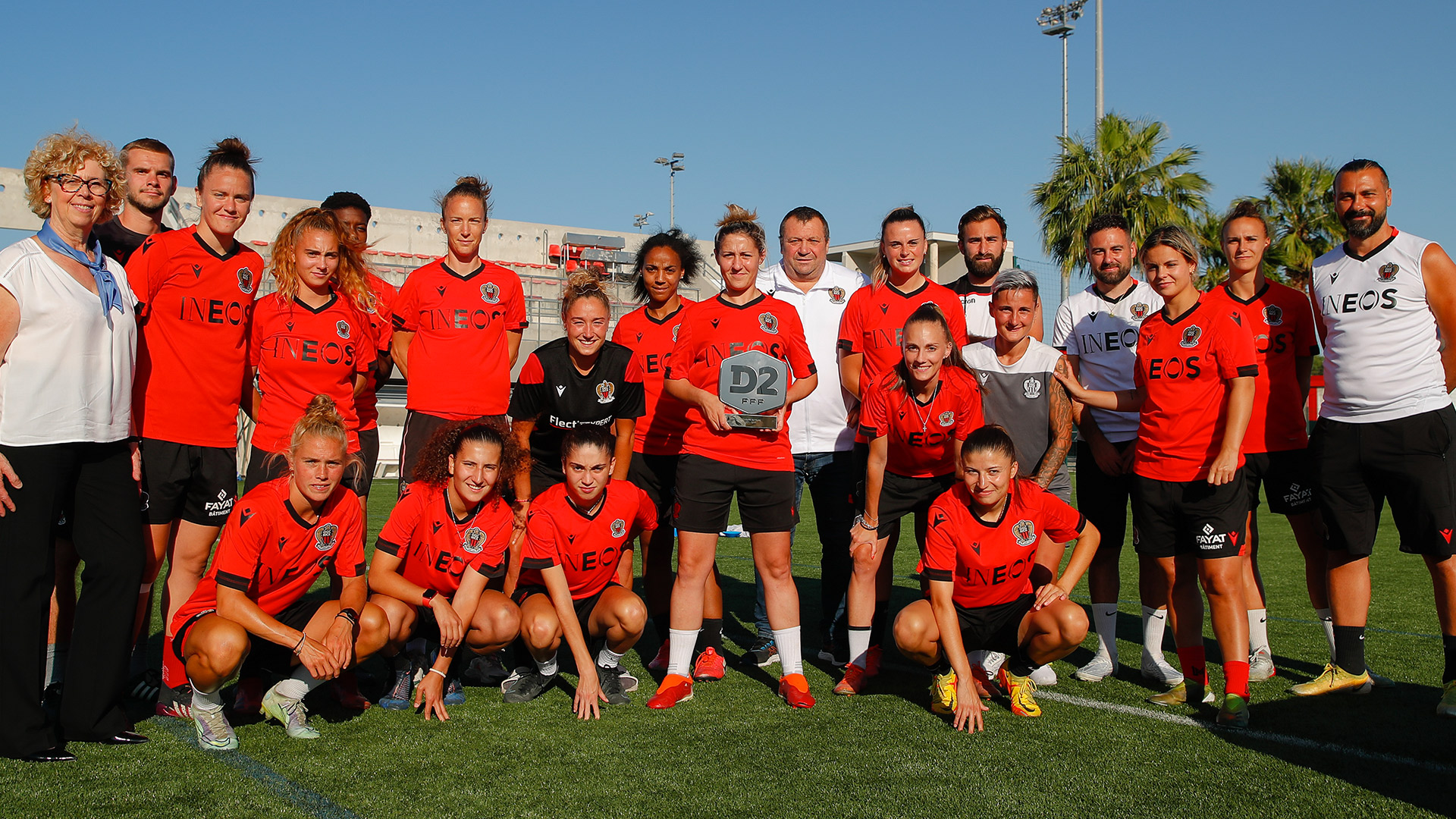 Women
J-L. Donati: "Perhaps promotion would have been premature..."
Small, medium, tall: this season, the Niçoises have worn the most beautiful colours of the world brilliantly on all the pitches in France. So when it's time to look back, it's with a mixture of pride and ambition that Jean-Luc Donati, general manager of the association and "father" of the women's section, takes the floor, as he dissects the first team's season.
The first team finished second in their Division 2 group. What do you think of the season?
It's a good second place, even though it's only our third year at this level. The first two were hampered by Covid, so this is the first one that reflects our true merit. To be in this position is very good. We are happy with our result, with the best attack and the top scorer from the two D2 groups combined: Sarah Palacin. The goal was the podium, and we're there. We may have dreamed of something better for a while, but would it have been a good thing to get there? I don't know. Maybe it would have been premature to go up now.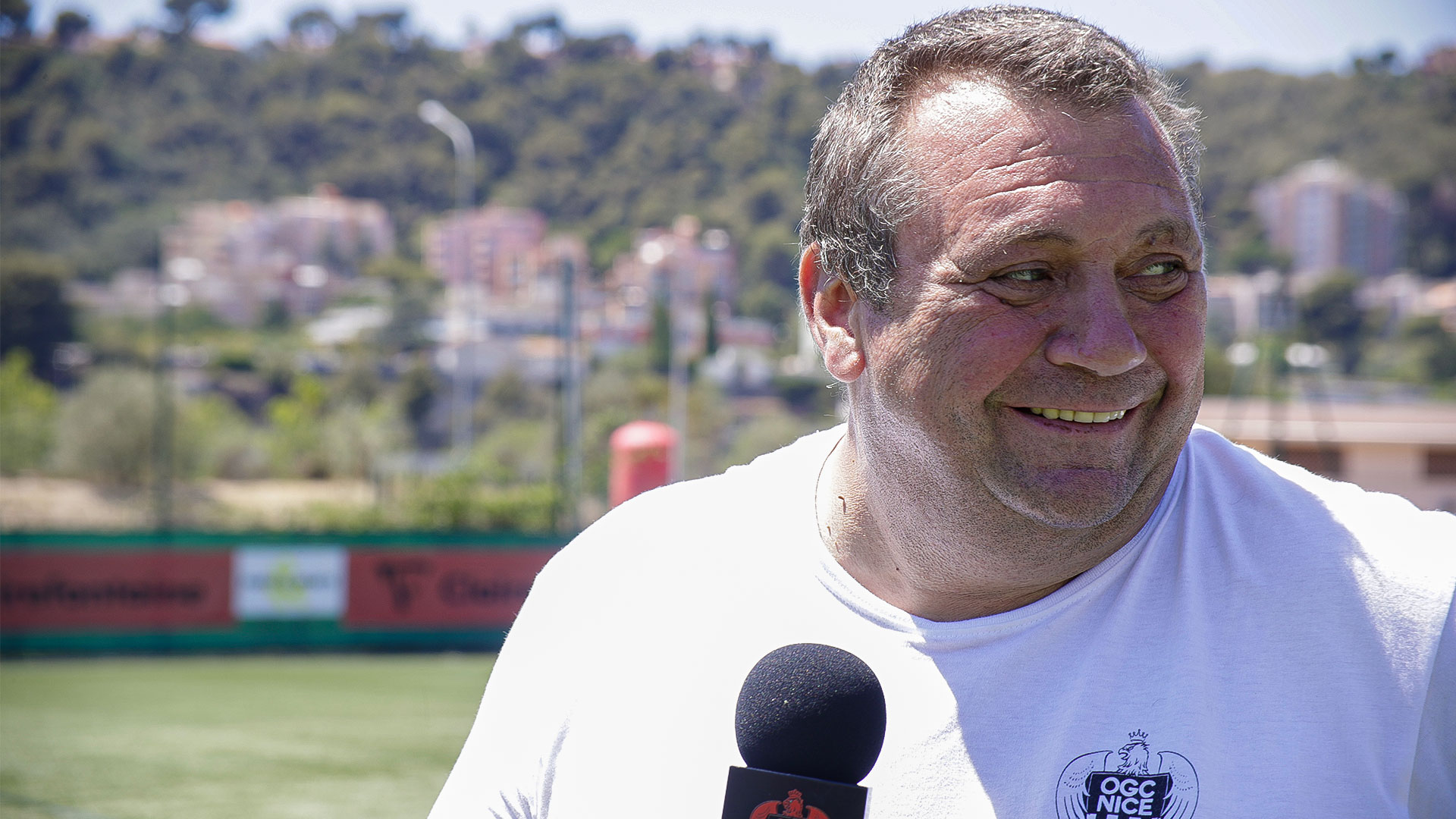 Premature?
Yes, that's my opinion. We'll prepare for it. It's made us hungry and I hope we'll achieve it in the next three years. The club deserves it.
What is your analysis of this campaign?
We have a few benchmark matches. On the other hand, we lost against teams that were supposed to be easy but in the end were not. It was often in conditions... (he pauses) It's normal, football is played on grass pitches. Here, we're not used to these types of pitches, because we play on an artificial pitch, which is very good. When we are on good quality pitches, like in Montauban (2-3) or Yzeure (1-2), we win, as if by chance, against very well placed teams. Then, without quoting or offending anyone, when we play on pitches of much poorer quality, with weather conditions that are not those of the Côte d'Azur, we struggle. It's not normal that we haven't adapted, so that's one of the points we need to improve for next season.
"MARSEILLE, MONTAUBAN, YZEURE..."
What are the "benchmark matches" from the beginning of the season that you mentioned? The trip to Marseille, three weeks after the unfortunate incidents in Ligue 1... It was very special, with a police escort, stewards, security. Everything went very well, we were very well received, there was a great atmosphere... Beating OM is always important for Nice, especially in these conditions. I would add the return match in Montauban (2-3), which allowed us to dream, thinking that we could still do it, that we could still go up. Then the match at Yzeure, the highlight. The girls played their best game of the season, by far, against a good team who had just played in the final of the French Cup. This consolidated our second place, and it was a great performance by the girls as a whole. Yzeure didn't expect such an opposition. We really dominated the match. We were hustled in the last quarter of an hour, because they were pushing, but we controlled it.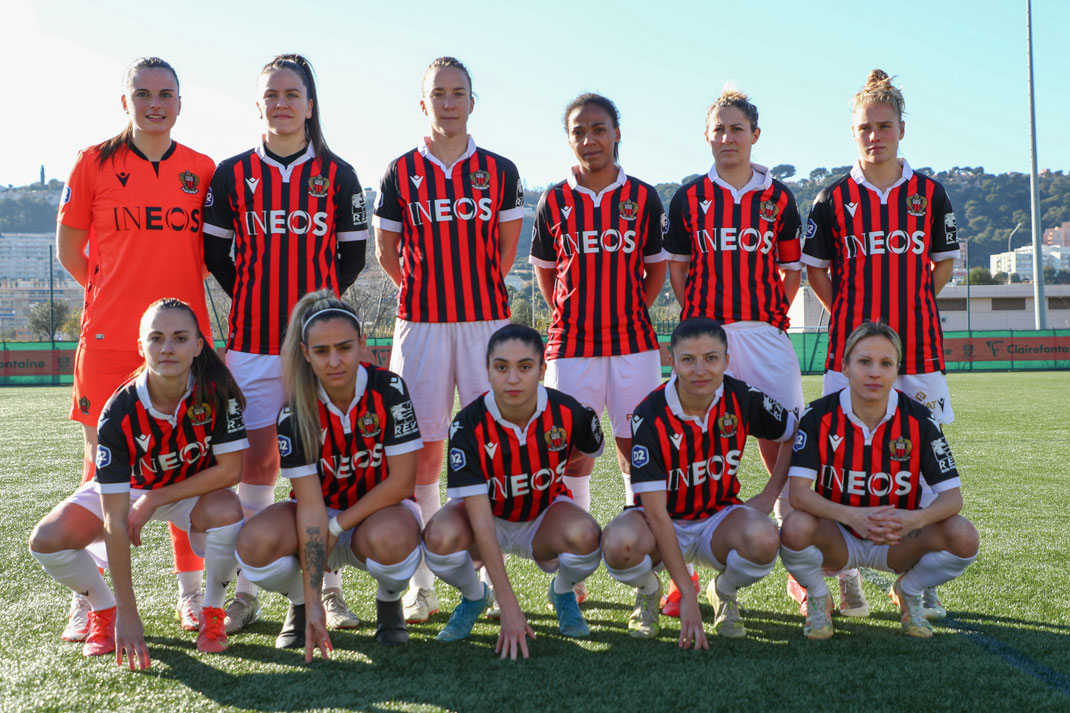 The season was also marked by a fine run in the French Cup...
It's the first time we've been out of the federal level, as they call it, that is the mixture between the regional teams and the D2 teams. We were lucky enough to play Fleury, who are a very good D1 club, a reference point in women's football. It allowed us to become aware of our abilities. We lost 3-0, but it was a match in which we showed some good things. The result is logical, but it's always good to play this kind of game.
What did you think about when you finally played a D1 team?
(Laughs) That it exists. What's more, it's a club coached by a former Niçois, Fabrice Abriel, and a president, M. Bovis, who has Niçois roots. There were good signals. That allowed us to say to ourselves that one day it could happen here at the Complexe de la Plaine. Fleury is here, with international players, a team that finished 4th in the Arkema D1, against us, at home... It's one of those moments when we dreamed of something better.
"MATTHIEU WILL WRITE HIS LETTER TO SANTA CLAUS"
What will the 2022/2023 version of OGC Nice look like?
For the moment, we're aiming for four players: one in each line, and perhaps one more in attack. We also want to rejuvenate the squad a little and give players from below a chance. We would like to integrate them into the group. They won't have their spot right away, because they don't have the level to play in D2, but we want them to train with the older players, so that they can acquire a good level. It's important to give visibility to our young players. We have a good group that played in the play-offs for the women's national championship in U19 (4-0 defeat in the first leg at GPSO 92 Issy, 1-0 victory in the second leg), and we will integrate three players into the first team next season.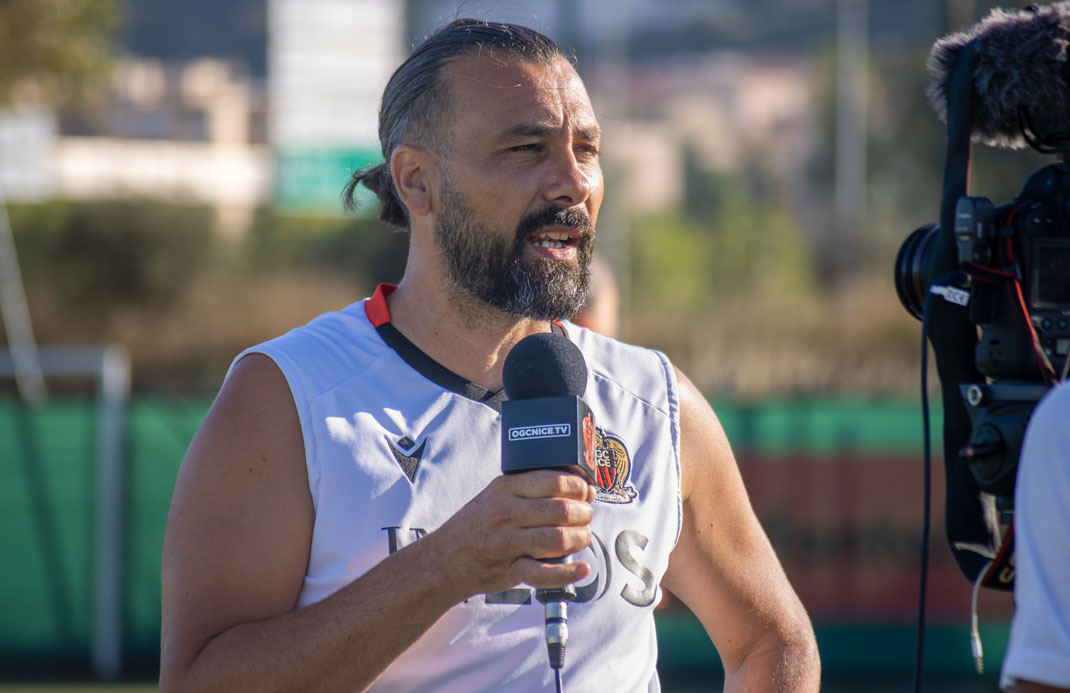 Sarah Palacin gave the club a boost at the end of the season, saying that she would like to play for Nice next year, but that it depended on you and Matthieu...
(Laughs) She will be. It's not a scoop because she knows it. Sarah is a very likeable player, very intelligent and, above all, very efficient. She has a great career. She is very happy with us and I am very happy to have her. What's more, she needs to reach 100 goals for us. She is a good person, a good player, with a lot of experience. She is one of the leaders of the group. We have two or three of them in the squad. They sometimes speak up in the dressing room, we step aside and they take charge.
Do you ever look back and analyse how far the women's section has come since 2005, when it was founded?
Yes, because it seems like a long time ago... I was one of its creators. I wasn't the most ardent supporter of women's football at the time, I'll admit that. Things have changed a lot since then. We have been able to raise our level and, above all, to build a structure. We have 155 members, teams in all categories, a sports section at Frédéric-Mistral, with national education accreditation, with Laura Georges who has become our patron. We have a special timetable section with the Estienne d'Orves high school. We also have the Gold label, a D2 side, we have just reached the R1 level with the reserve team... Today, we can't do better. It's up to us to continue to progress. To do this, we must be able to provide for certain needs at a lower cost, notably through our training and pre-training.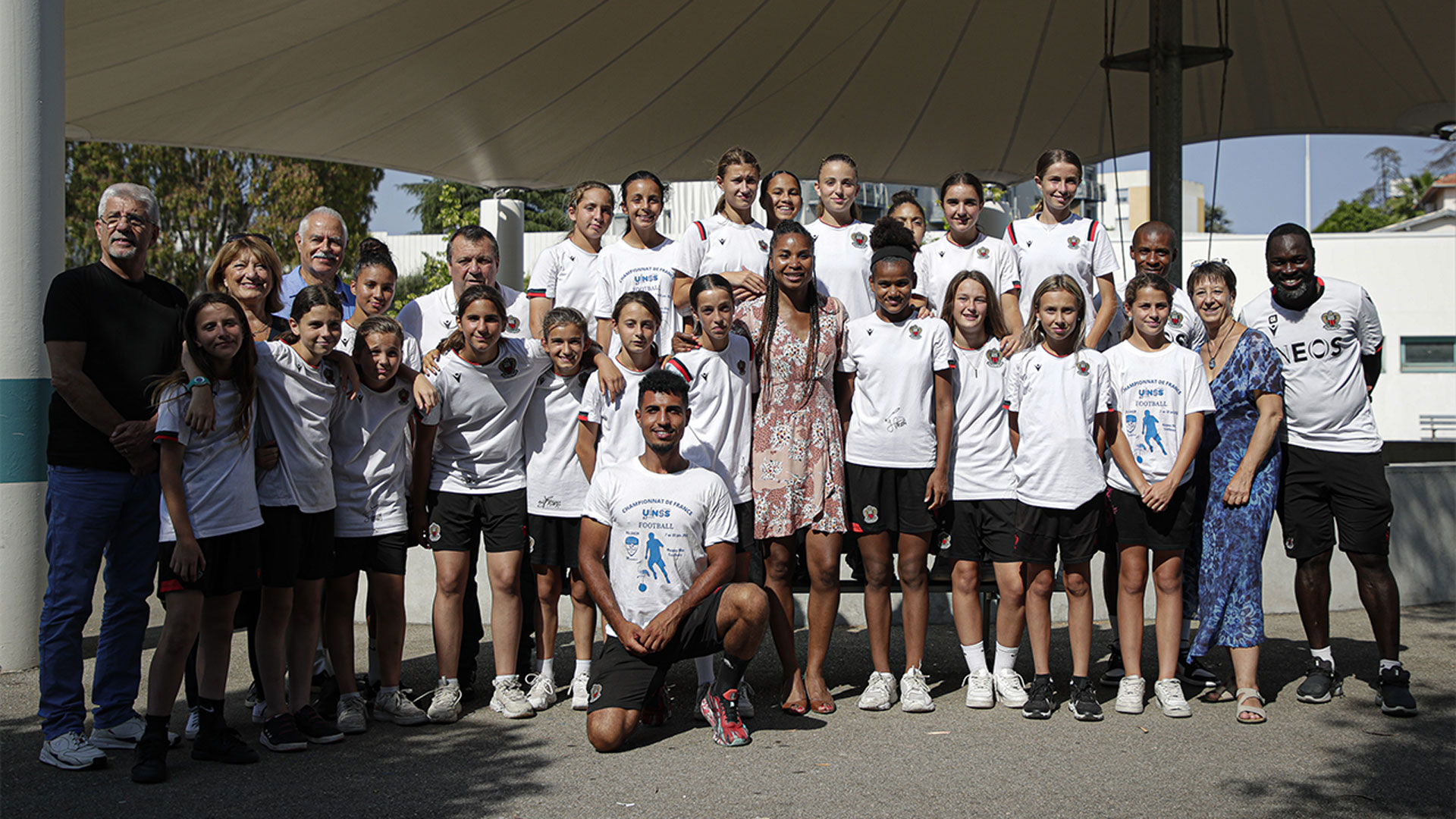 "WE ARE VERY CAREFUL ABOUT THE ACADEMIC RECORD"
Sectors where, here too, everything is structured.
Thanks to our sports sections, the girls train four times a week from U12 to U15, and four to five times for the older girls. I would also like to point out that we look at the academic record of these young girls. This is very important. We are not getting any favours, even though we have a very good relationship with the two schools where we play. If a player is not up to speed academically and, above all, in terms of behaviour, the headmistress of Estienne d'Orves and the headmistress of Mistral inform me and the young girl does not join the section. Every year, I get rejections, and unfortunately, they are often very good players (laughs). We have to make do.
How important is the reserve team's promotion to R1 that you mentioned earlier?
It will allow us to play a girl who has a federal contract and who was not in the D2 group. Secondly, the regional championship is of a good level, we know it very well having played there for a long time. It will give our young players the opportunity to get used to it, while motivating them and providing a good link between the U18s and the first team.
Several players who have come through the OGC Nice training programme are now coaches. Is that a source of pride?
Absolutely. There's Chloé Charrier, Mélina Haffaf, Sandra Rochetaing, who made the final of the U13 F Festival, in Capbreton, a few years ago. It's a nice way to go, for all the people who saw us at the regional level, four years ago, and who tell us that it's not the same team. They are right. We have other D2 players who were not developed at the club and who take care of teams in the football school or in U10-U11, thanks to the BMF in apprenticeship. They are examples for the kids they are responsible for. The little ones recognise their teachers, they come to see them on Sundays. There is really something going on. You can also feel it on social media and through the club's communication, who I thank. What we are able to do today was unthinkable before. We have about thirty fans who are there at all the women's matches. It's a big change compared to the past, I didn't think it would happen. I didn't think it would happen, so it's good that it did!
---
Interview by Tom Mollaret