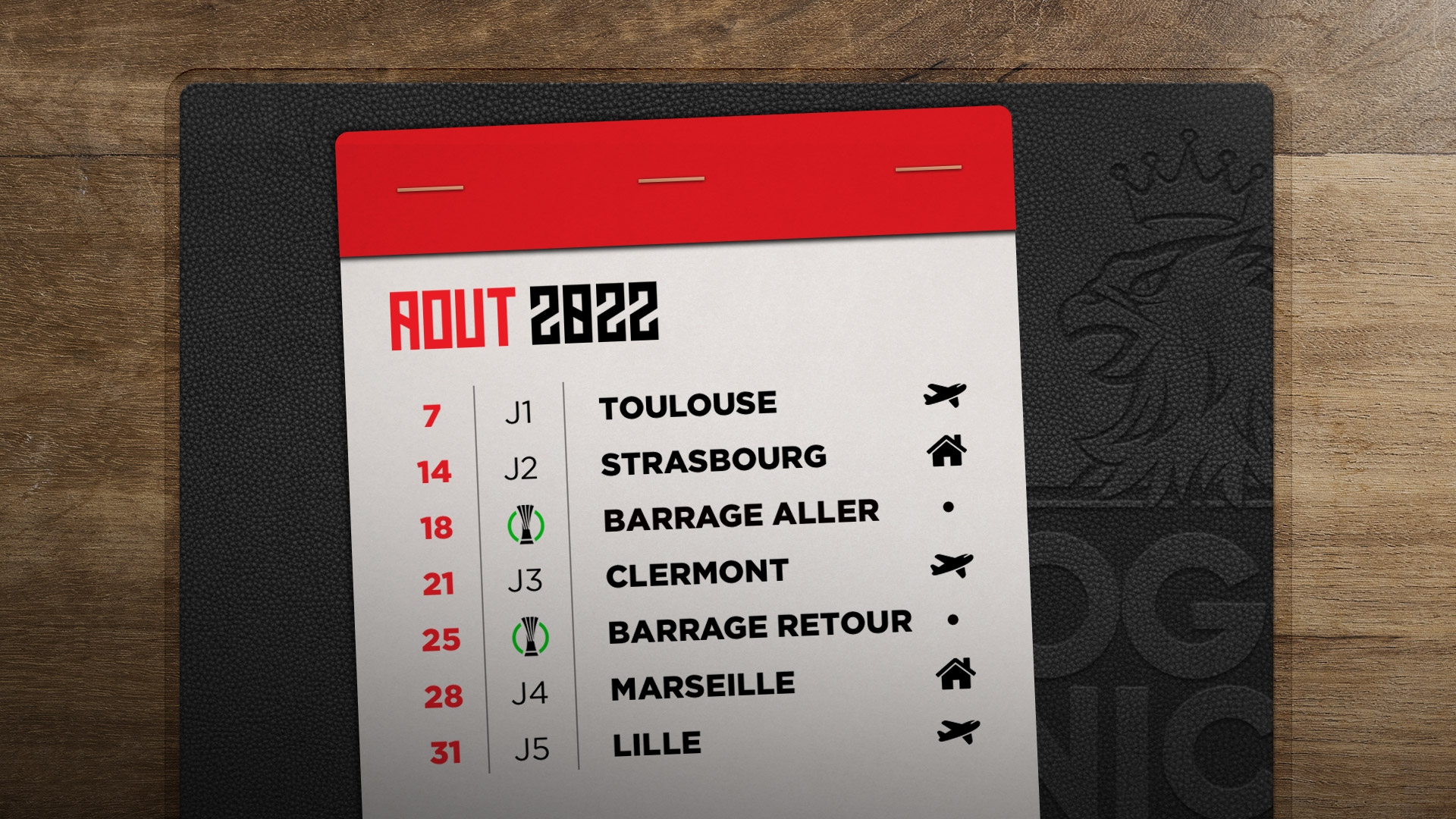 Focus
The subtleties of the 2022-23 fixture list
Having been published earlier today, the 2022-23 Ligue 1 fixture list has officialised OGC Nice's schedule from 6th August 2022 until 3rd June 2023. So, what can we learn from it? Here's part of the answer…
SEVEN MATCHES IN AUGUST
Before today, the general schedule had already been public knowledge for several months. We knew that there would be five Ligue 1 Uber Eats matches to play in August, October, February and April. In August, the tally even goes up to seven games in 24 days given the two legs of the Conference League play-off.
However, little did we know just how intense Les Aiglons' schedule would be, as, in each of those four months, Les Rouge et Noir will have three away games and two home games to negotiate in the league.
THE BIG GAMES SPREAD OUT
Among the most eagerly anticipated clashes this season are, of course, the derbies. The start of the league campaign promises to be quite the spectacle for the Allianz Riviera's summertime spectators, with visits from both OM (Matchday 4, 27th/28th August) and, a week later, AS Monaco (Matchday 6, 3rd/4th September). Other encounters that Le Gym's fans take great pleasure from – the games at home to Paris SG and OL – have been placed in the second half of the season, on Matchday 30 (8th/9th April) and Matchday 38 (3rd June 2023) respectively.
AT HOME OR AWAY TWICE IN A ROW, TWICE IN A ROW
As luck would have it, the two times when Nice will play consecutive home or away games are themselves consecutive. Les Aiglons will travel to Lens on 1st February 2023 (Matchday 21) and then to Marseille on the weekend of 5th February (Matchday 22). Straight afterwards, the Allianz Riviera will play host to AC Ajaccio on the weekend of 12th February (Matchday 23) and Reims on the weekend of 19th February (Matchday 24). This special month will also end with a trip to the Stade Louis II on either Saturday 25th or Sunday 26th February.
a fixture list with a 45-day break
Due to the World Cup in Qatar, the Ligue 1 season will be put on hold for a month and a half. As a result, Nice will travel to Lyon's Groupama Stadium on the weekend of 12th/13th November 2022. Ten days after the final in Doha, the league will start up again with Matchday 16 on Wednesday 28th December, when Le Gym entertain RC Lens.
TOULOUSE THE FURTHEST AWAY; LENS AND REIMS THE CLOSEST
Within our fixture list, the two games against Toulouse are the furthest away from each other in terms of dates, as 287 days will pass between the opening-day trip to Le Stadium on 7th August and Les Violets' visit to the Allianz Riviera on 21st May (Matchday 36). Conversely, the double headers against Lens and Reims will be played with just 35 days between them. The game at home to Les Sang et Or on 28th December will be followed by a trip to Bollaert on 1st February, while Les Aiglons will head to Reims's Stade Auguste Delaune on 15th January before hosting them on 19th February.
SPECIAL FEATURES FOR MATCHDAYS 16, 17 AND 19
This distinctive season will bring up some novelties for the Ligue de Football Professionnel. For example, Matchday 16 will take place entirely on Wednesday 28th December, whilst Matchday 17 will take the form of a totally unprecedented, French-style New Year's schedule on 1st and 2nd January 2023. On Sunday 1st January, four matches will be played simultaneously at 15:00 CET, one will be scheduled for 17:00 CET and another will be set for 20:45 CET that evening. On Monday 2nd January, the schedule will be split into four matches at 15:00, 17:00, 19:00 and 21:00 CET respectively. Matchday 19 will bring the first half of the season to a close on the weekend of 14th and 15th January and will be structured like a standard matchday (and not with games being played simultaneously). Finally, the season's end date will be Saturday 3rd June, again with all games being played simultaneously.
EXPERIENCE THE SEASON AT THE ALLIANZ RIVIERA
Enticed by the fixture list? Having a season ticket is the only way of being sure that you'll be able to attend every game at the Allianz Riviera. Season tickets are now on sale to all.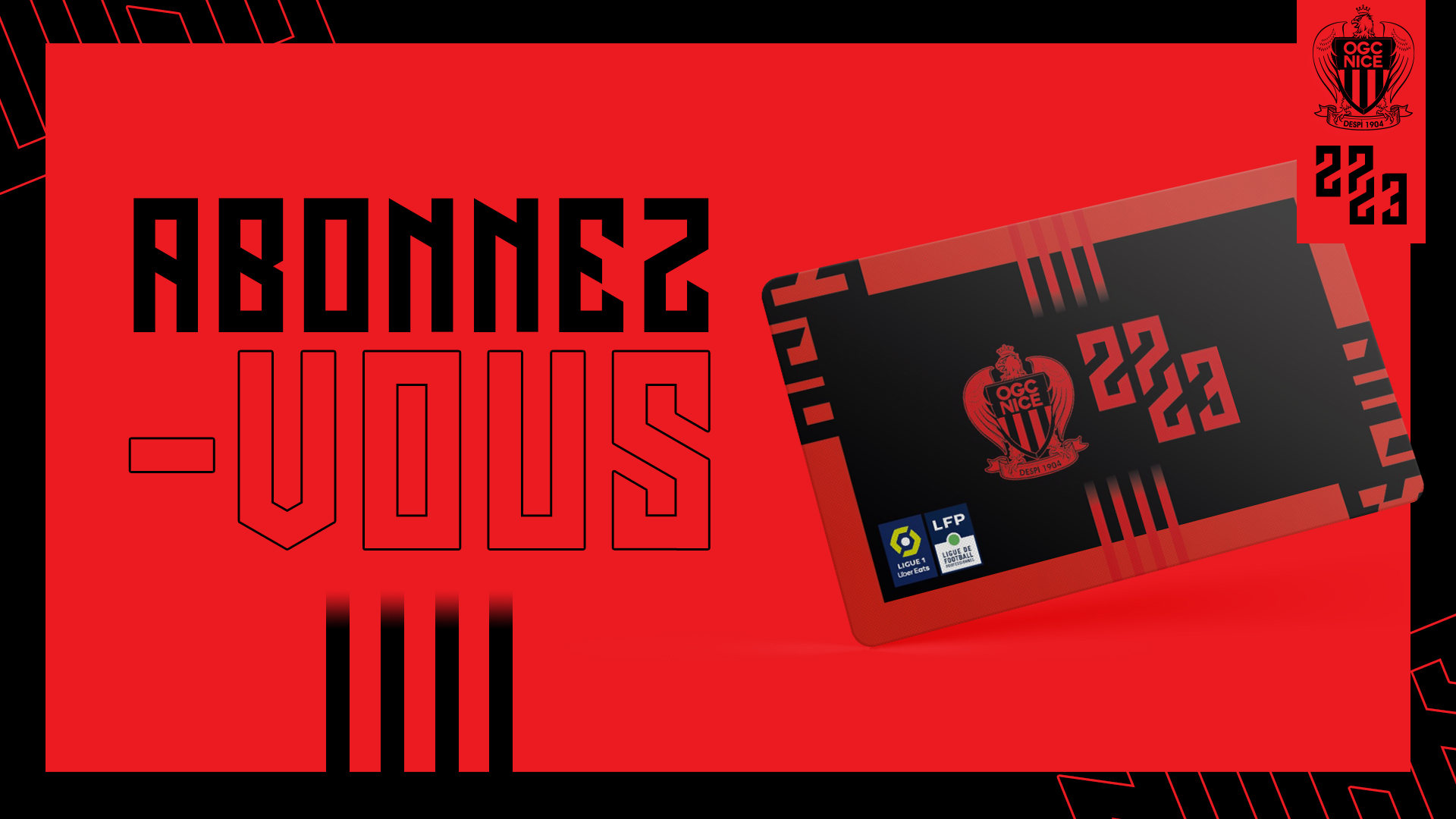 ---