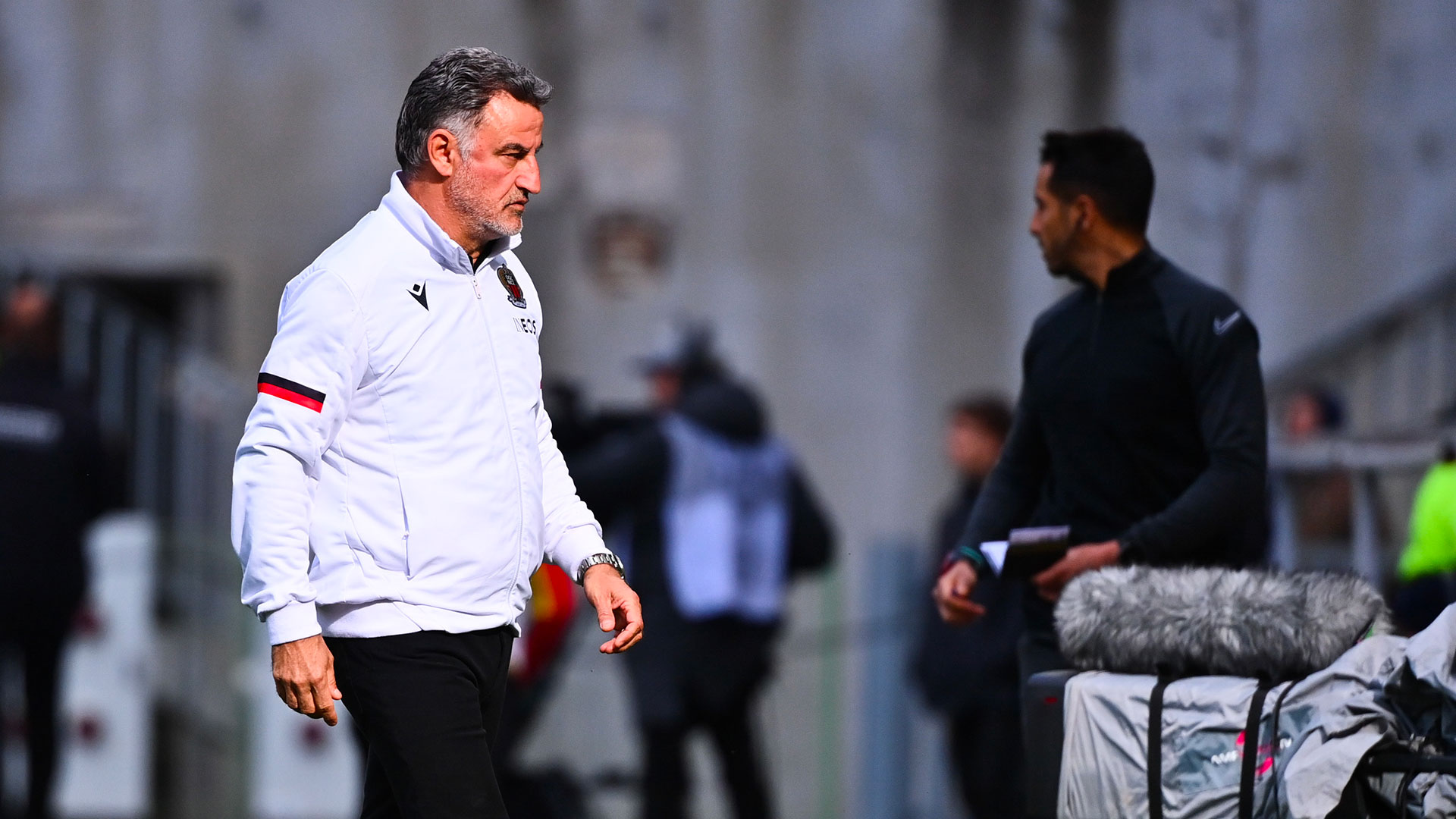 Post-match Lens 3-0 Nice
Galtier: "Come back with a lot more humility'
Here is Christophe Galtier's reaction following Lens – Nice, which his side lost on Sunday afternoon (3-0).
How would you explain your side's second half performance?
I will try to explain the inexplicable. I am convinced that we had a good first half, at 11 against 11 and 11 against 10. We had chances but we didn't manage to open the scoring. And in the second half, there was no defensive effort made by my attacking players. I have just watched the goals back: we found ourselves in a 4-2-4 and were quickly punished by the quality of the Lensois, even though they were down to 10 men. And also by an extra dose of spirit. I think that I was very clear at the break about what needed to be added to our first half. Either I wasn't clear, or I wasn't heard or listened to and we were completely split apart. We conceded two goals at 11 against 10, leaving it to our defence to manage those situations. That's what makes this second half catastrophic. Even though it's tough to trail 2-0, you can still hope to get back into the match at 11 against 10. Then we lost control, we received a first red card. That made the mission of getting back into the game very difficult. This second half needs to bring everyone back down to earth. As I said a while ago on Canal +, Nice played a Lens side with real competitors; Lens played a Nice team where people came here as tourists. That's what I saw in the second half. It's difficult to accept it. It's unacceptable. I can't tell you what happens in the head of some players. But this result needs to bring us a lot more humility because when you don't respect the game and the balance, you are punished, even against a team playing with 10 men. Lens' victory is deserved based on the second half. It's the first time that I have experienced that, I don't know if that is the case for the players, but it's the first time that I have witnessed such a difference between a first and second half when the team has an extra man. It shows that we need to reflect on the mental side of things that you need to bring to the pitch for the team. Too many players in the second half didn't play, didn't put in the necessary effort. We will see what happens next. What we know for sure is that we have a real headache. To say that I am disgraced, I am not far from it. I hope that my players, although I won't bring all of them into this because some put in huge effort, will see the attitude of some which threw the match away, despite a first half performance that should have meant that we were looking to win the game. We came here to stay in touch with the leading pack. Now, we are completely severed from that pack. They are now well in front. I hope that we are not in the process of throwing away the 8 months that we have built together. It would be both a shame and disrespectful to allow it to allow it to go that way. We will see the reaction that we get next weekend, ahead of a week with three matches, two players sent off, Youcef Atal who we lost because of a knock to his shoulder, the shoulder that he fractured a few weeks back. We will review the state of the squad. To say that we will get back to work would mean that we haven't been working. We have been working. There is a truth from this match, there is the point around the personality of the team, the personality of one and other who have led us to completely let this match go.
Was there a problem of defensive balance with this system of four forwards?
When you play 11 against 10, it wouldn't have made sense for me to add a defender at half-time. You play to win, you set up a system that created chance after chance in the first half. I am struggling to explain to you what happened in the second half, even though I have seen the replays of the chances in the second half where my side was completely split in two. We left our defensive players to deal with the Lens attack.
We get the feeling that you are worried for the end of the season…
It's not fear, it's a fact. It's the truth. When I look at the matches that we have played over recent times, either we were missing in the first half and we reacted, or we were present like we were this evening in the first half, and we completely let go in the second half. It's not being worried, it's a statement that is hard for a coach, very hard. But we will need to react and maybe with the team we pick in coming matches (despite having lost three players this evening), in order to show who will play in the final.
To get this team going again, will it be a choice between men or a choice of words?
I am already saying quite a lot. There will be choices, personalities and temperaments. Football at the highest level needs personality, character, temperament and intense effort. Lens showed us with 10 men against 11, that they were capable of imposing their rhythm and real intensity, and the team was unable to find solutions for that.
Following the match, in the dressing room, do you feel that the players had processed what had happened? Or were they in shock?
Some players spoke. In the heat of the moment like that, it's always difficult. I didn't speak in the dressing room. Words are one things, actions are something else.
Can we see some form of punishment for certain players in your substituions this evening?
No. It's paradoxical but I took off JC (Todibo) to avoid him getting annoyed or losing his head in the situation. I also wanted to avoid an injury because I saw that he had taken off his shin pads and he was beginning to stretch his calf. Unfortunately, it's our captain let it go at the end of the match.
---