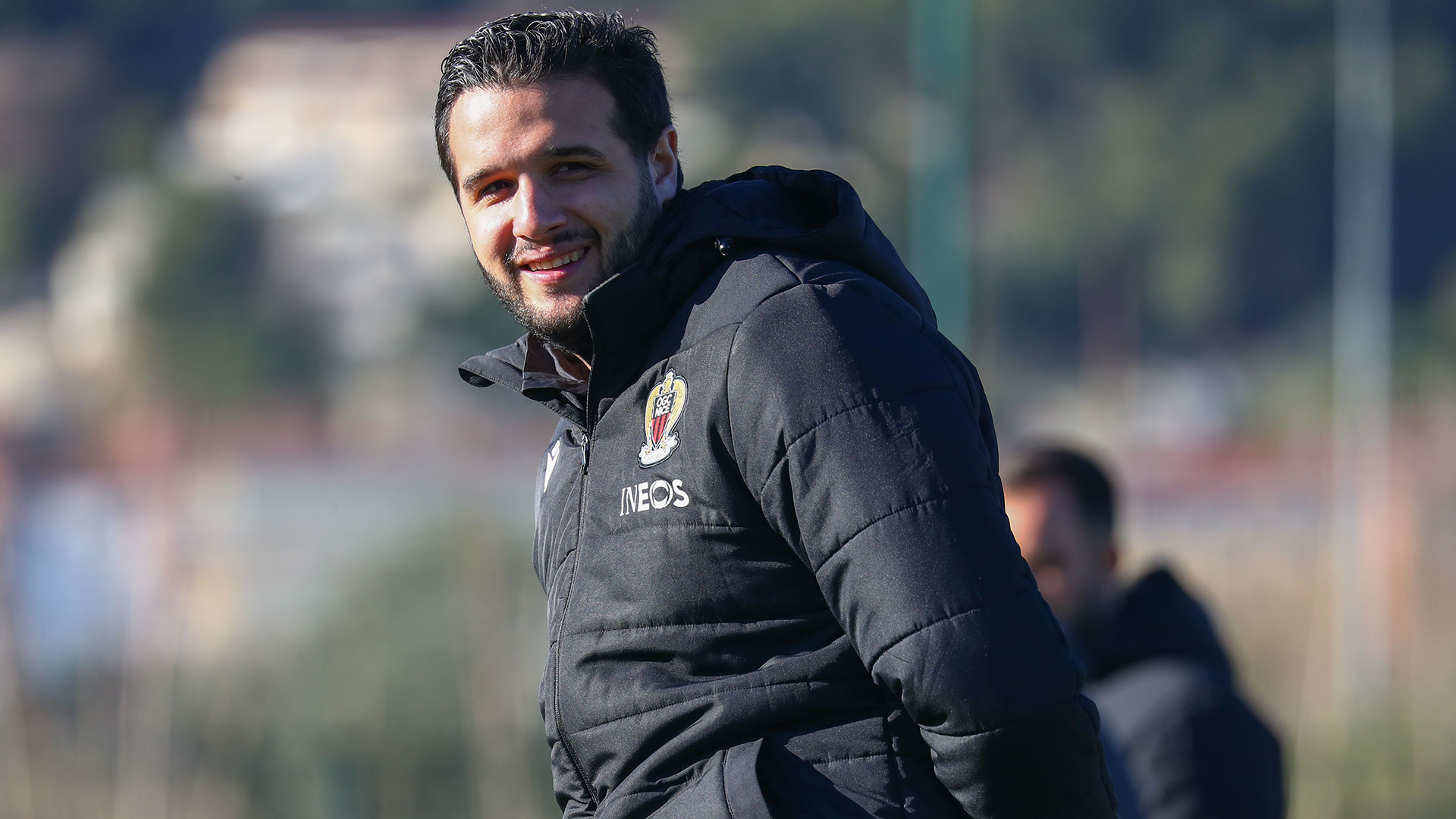 Club
Who are you, Damien Della Santa?
He describes himself as "a child of the 1998 World Cup who comes from AG Caen's under-11s". It's a way for Damien Della Santa to explain that he caught the football bug when he was little. Since then, the new dad, 32, has never got it out of his system. Better still, he's experienced all of its symptoms. A former amateur player who would go on to blossom at professional level, a youth coach from the age of 14, not to mention a hard worker, the former teacher at the Université de Picardie Jules Verne in Amiens had collaborated with several clubs, both in France and abroad, before joining Le Gym on a full-time basis in early January. His speciality? Studying set pieces. His method? Developing "motor and cognitive" skills. His aim? To mix the two, to implement them at team level and to help Christophe Galtier's squad, of which he is now an assistant manager, to take advantage of them, all whilst keeping an eye on the other clubs in the INEOS universe.
Damien, what have been your first impressions since you joined the club?
I'm immensely proud to have joined OGC Nice. It's the ideal situation for me: an ambitious club that is still growing. I'm hoping to grow alongside it and do my bit. I've been given a great welcome by the coach and his staff; they've all met me individually and made me feel comfortable. I'm happy and motivated to be here. Coming into professional football on a full-time basis, especially into a project like this, is a childhood dream come true. I've been making sacrifices ever since I started playing amateur football, and I've earned the right to kickstart my career and to fight for my chance because, for me, something new is starting today.
You're joining the club on a full-time basis, but you've got history here…
I worked with the club last year! At the start of the 2020-21 season, the team was the worst in Europe at defending corners, with one goal conceded every 11 corners. I saw that, and I knew Adrian Ursea, so I talked to him about it when he was assistant manager. When he took charge of the team, he asked me to help him, so I worked as a consultant and prepared for games with him, proposing solutions and analysing opponents. Above all, as a priority, we worked on changing the defensive setup.
The much-vaunted switch from zonal to man marking…
Exactly.
It was a change that paid off.
We went from conceding a goal every 11 corners to conceding a goal every 59. Those figures are up there with the best in Europe. Because Le Gym gave away a lot of corners, they conceded a lot of goals. If you only look at the figures, it's nothing special, but if the team had carried on down the path that they were on in the early part of the season, they would have – again according to the figures – conceded 21 goals more. [Director of football] Julien Fournier told me last year that if it worked out well, he wanted us to keep working together. When he felt that there was an opportunity, he introduced me to the coaching staff, who agreed to let me join. That's how it all happened.
«I want to reach the top, to be judged, to feel the pressure, »
Damien Della Santa, assistant manager in charge of set pieces
And here you are now with Coach Galtier…
It's impressive. I'm so happy.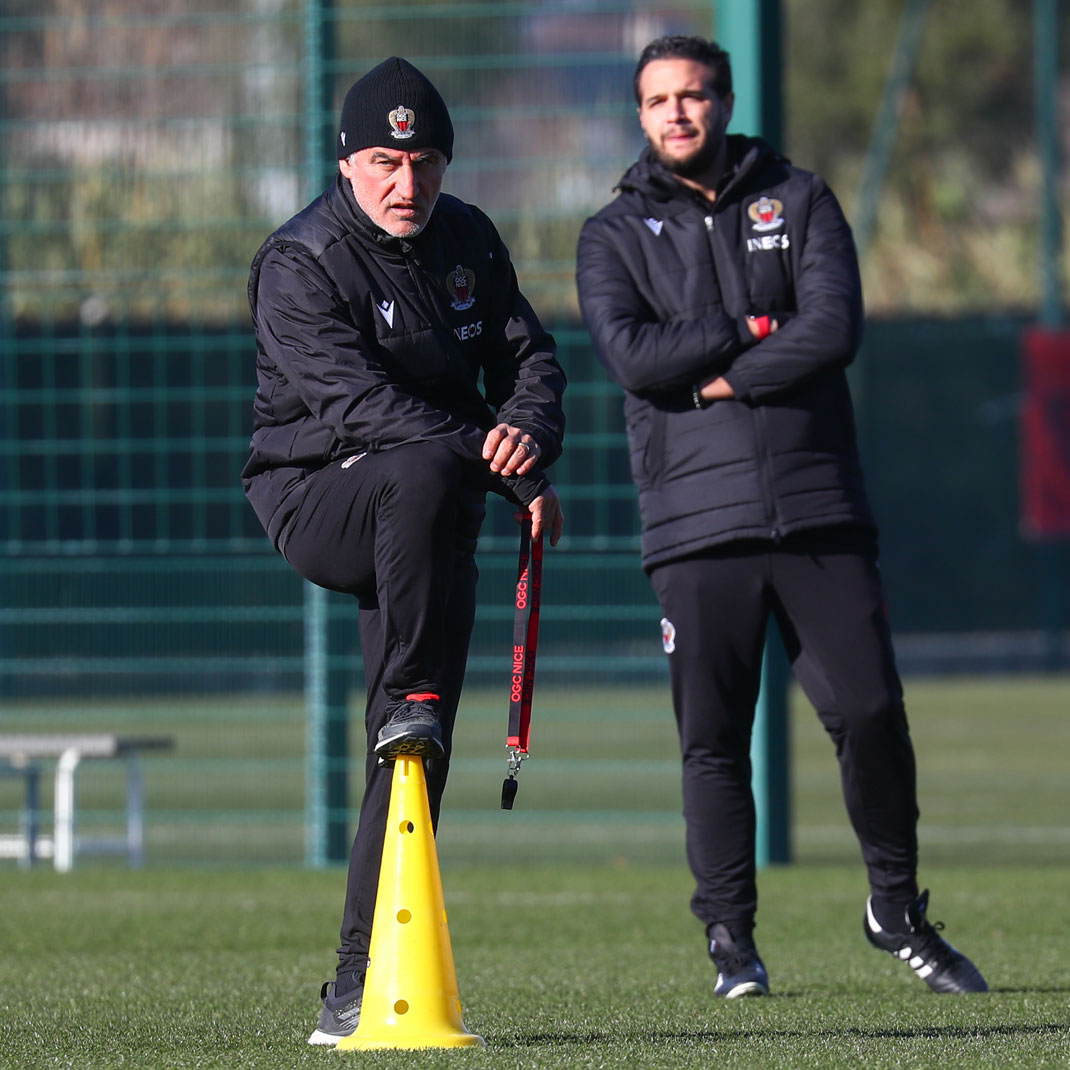 How does being part of a team of staff full-time change things?
When you're a consultant, you don't win games and you don't lose them. I'm a highly competitive person. That's what I live for. I want to reach the top, to win games, to lose them, to have challenges, to be judged, to feel the pressure and to help a team of staff and players to perform well in the long term. I want to be on the pitch, to get "under the bonnet", so to speak. Being with others and thinking things through together: that's what motivates me.
Even though the results will be looked at over the long term, are you setting yourself any aims in the short term?
Reason dictates that your work is judged over the long term, but at the highest level, the long term doesn't exist. You have to perform well right from the off, win, not concede goals from set pieces, score them. Like I said, I do this job to be judged every weekend, even though it's not thanks to me if the team scores, just like it's not because of me if they concede. My aim is for the impact of my work to be felt as soon as possible and for the squad to benefit from it. If I'm being honest, I even have a priority that comes before that aim.
Which is…?
I need to meet the coach's expectations! That's my absolute priority, and it's what I have in mind above all else. There's a great coach and a great team of staff here, but I've got it all to prove. Even though the coach has told me that I'm not sitting an exam, it's a huge challenge that I want to rise to. Everything else will follow on from that.
You said earlier on that you knew Adrian Ursea. Where did you meet each other?
He was on the same training programme as me in Switzerland. It was a programme about motor and cognitive preferences along the lines of the "ActionTypes" approach. It's based on an observation: all techniques in all areas of society are based on the best. To learn how to take free kicks, you follow Juninho's example and copy his method, but everyone is different. This training programme gives you the chance to work on that difference as well as others through a whole range of physical processes and techniques in order to take the individualisation of work further, although I prefer to use the term "individuation".
Why?
Because people already criticise individualism in sport, whereas individuation is about the individual's relationship with their environment. The two work together, which suits me much better! Taking the individual into account helps you to go further – a lot further. If you carry that method over to football, it opens up many different horizons and applies to many different areas. One of those areas is set pieces.
« Nowadays, in all competitions, one goal in every three is scored from a set piece »
Damien Della Santa
In practical terms, how do you work on them?
In several ways. You can start by working with the takers on finding achievement criteria to suit them, like having the optimal run-up. Their run-up is something that you identify and that you get them to repeat again and again. There's also the work that I do with the "receivers": looking for what makes them comfortable, their strongest type of starting run, their favourite angle – basically, anything that helps you optimise things on a case-by-case basis. Nowadays, in all competitions, one goal in every three is scored from a set piece. That's important, but the players don't like it. They don't have the time. It's too much. So, you have to find methods to go further, learning processes to help them enjoy it, something that's consistent with the coach's wishes and with the whole staff's way of working. That's what brought me here.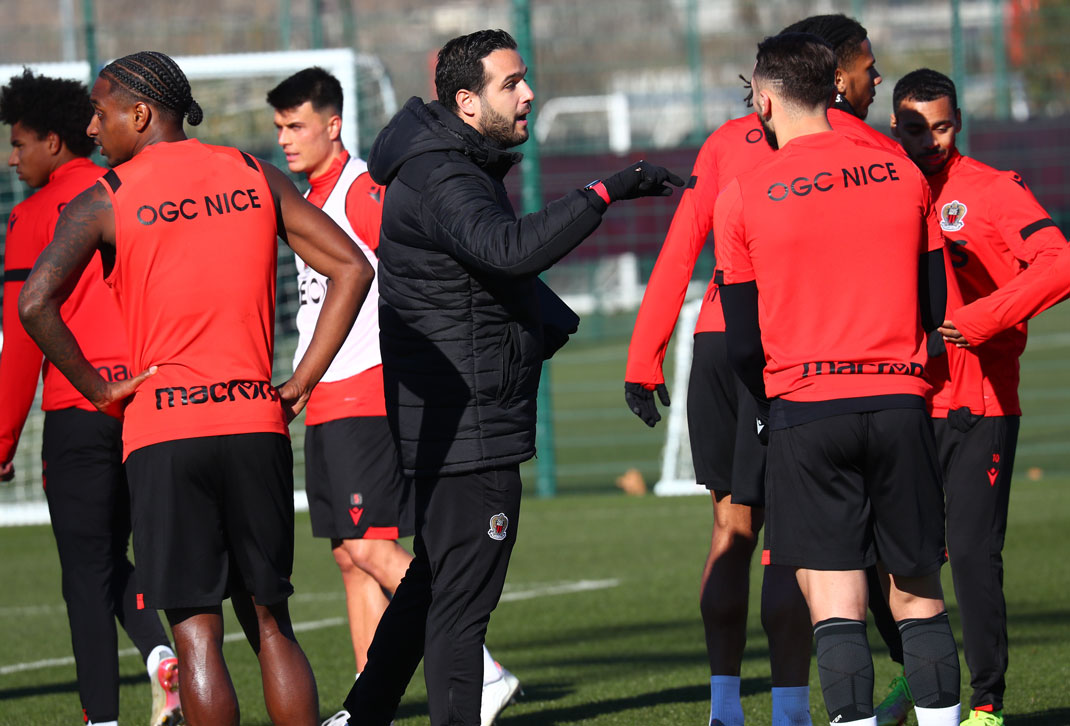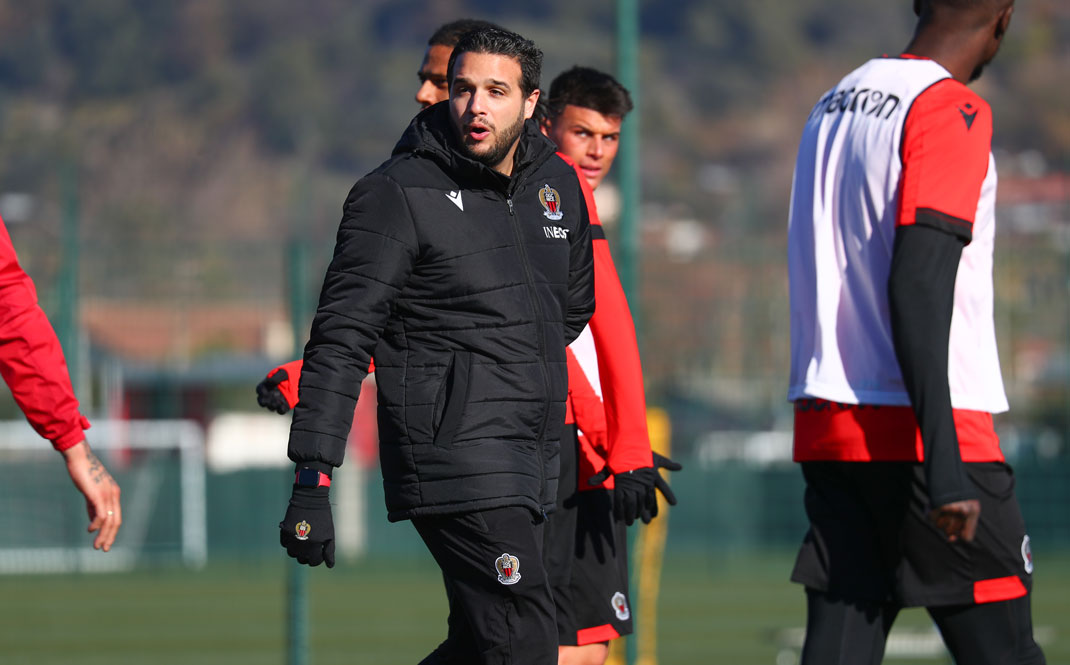 And how do you work on throw-ins?
In the same way. First of all, the thrower is important. That might seem silly, but it isn't. There are 40 throw-ins per game, with 20 per team. It's one of the most common phases of play, yet it isn't the one that's worked on as a priority. So, first of all, you have to bring technique into it, work on being coordinated with the receivers, build options so that the players can keep the ball, move forward, create chances depending on which area they're in or, conversely, win the ball back. Nowadays, the stats show that you lose the ball at every other throw-in. If we're able to improve on that, it'll be a positive.
How do you fit set pieces into the team's work schedule?
I carry out diagnoses and suggest a work plan to the coaching staff. Then, the coach either approves it or doesn't; he takes what he finds interesting. Like with all assistant managers, the idea is to take up the space that the coach gives you, but one of the principles of my method is to divide the work on set piece systems into subsystems.
What does that mean?
It means that in order to optimise the time given to me and so that it doesn't encroach on the work of the whole squad, we'll identify areas for development, create sessions to improve on them and work in small groups – for example, the takers, the receivers, the players going for the second ball. I'm convinced that set-piece routines are finished. Nowadays, there are analysts everywhere, spending their time dissecting matches. Players have thousands of pieces of information to think about; you can't give them five set-piece routines to remember as well. That said, I think that we have to give them tools and build common reference points so that they can find solutions and take control of set pieces like they take control of the game plan and principles of play, as, at the end of the day, they're the ones being judged. We're not there just yet, but that's what we want to put in place in the long term, both at Le Gym and within INEOS's other teams.
---
Propos recueillis par C.Djivas