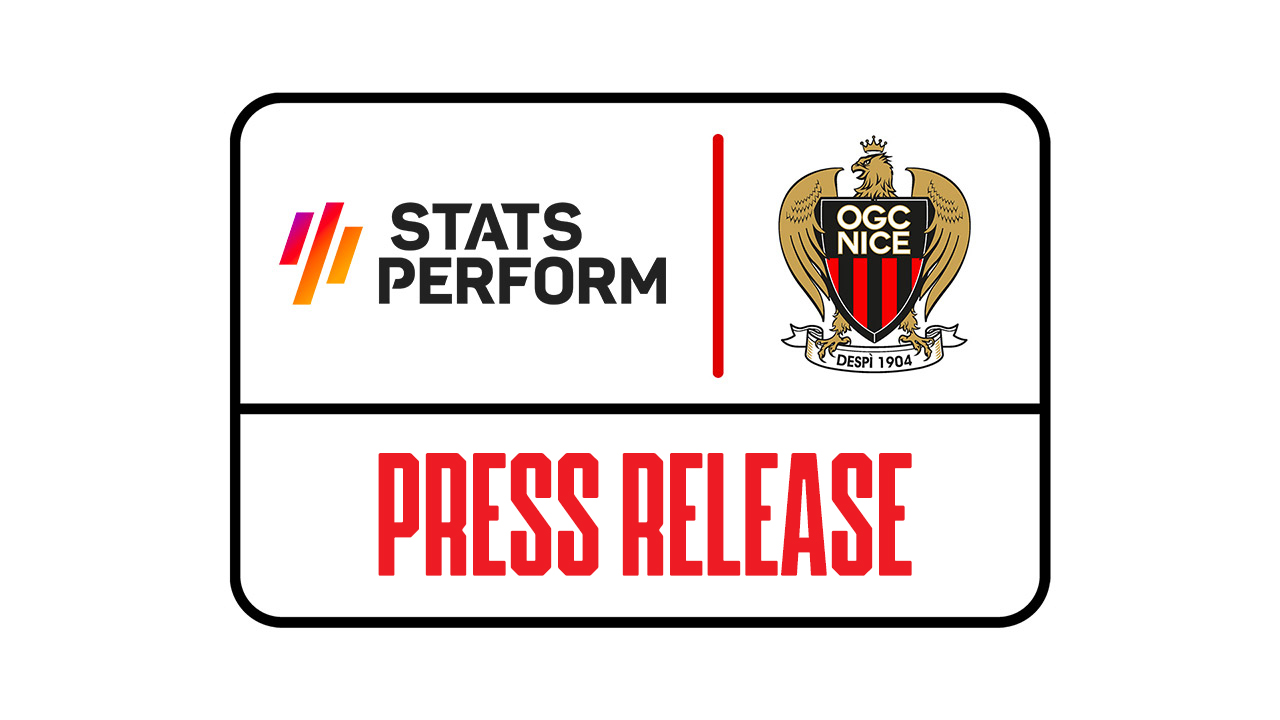 Press release
OGC Nice Turns to Stats Perform for their Analytics Solution
Today Stats Perform, the sports tech leader in data and AI technology, has agreed to a new deal with OGC Nice which will see the company deliver multiple analysis and recruitment solutions across each of the club's key football departments.
After confirming the continuation and expansion of its relationship with Stats Perform, OGC Nice Directeur du Football Julien Fournier, said: "Stats Perform is a long-standing partner of the club and I am delighted to extend our collaboration. Stats Perform works with the best football clubs in the world and has a real understanding of the different day-to-day challenges faced by the sports sector. Their knowledge and expertise are very useful to us. They also have a compelling long-term vision for AI in sport, which puts them at the forefront of innovation, making them the ideal partner for us as we seek to successfully execute our long-term strategy."
OGC Nice's relationship with Stats Perform dates back to the early 2000s, when OCG Nice was an early adopter of Stats Perform's player tracking solutions. Twenty years later, the club has recognised how Stats Perform is uniquely placed to provide solutions that can help optimise match preparation and analysis, help utilise data to inform player monitoring and recruitment decision-making and monitor the physical condition and fitness levels of every player in the club.
Today the club's performance analysis department continues to use optical tracking data, collected from Stats Perform's SportVU system, which also powers Pro Analysis, a platform that provides the club's analysts with predictive insights on each upcoming opponent using eight unique AI models. This is complimented by a stadium camera system provided by Stats Perform's SPIN partner, Pixellot, which captures both panoramic and tactical feeds to enhance pre-match and post-match analysis.
The club's recruitment operation will also benefit from the integration of Stats Perform's Opta data to power its scouting management system, whilst OGC Nice's fitness coaches and sport scientists will continue to use Stats Perform's AI-powered wearable system, which will be utilised by the first team and across every age group within the club's Academy.
OGC Nice's decision to extend their use of wearables into Academy teams will enable the club to create a central fitness hub using Stats Perform's cloud-based solution Dynamix, where the physical performance of players in every OGC Nice squad, from the first team down, is monitored using the same bespoke metrics set by the club's fitness coaches. This global fitness monitoring of all the Academy teams is a strong trend in modern European football and will give the club an edge in relation to its talent identification as well as injury prevention.
Stats Perform's Antoine David, who has worked closely with the club for two decades, stated: "OGC Nice and Stats Perform share many common objectives. We both strive for high quality performance and look to work collaboratively with key partners to ensure we achieve our respective goals. In order to do that, investment in new technologies is vital and we have made great strides with the ongoing development of our performance analysis, recruitment and wearables solutions, all built on AI, which are now in place across each of OGC Nice's key departments. There is no doubt that AI is going to change the way we analyse sport throughout the 2020s and I am looking forward to working to supporting the club's key technical staff to ensure they maximise the benefits of these technologies in the years to come."
About Stats Perform

Stats Perform is the market leader in sports tech providing the most trusted sports data and the latest advancements in applying AI and machine learning to deliver better predictions for teams, sportsbooks and a more engaging broadcast, media and fan experience.​ The company collects the most detailed sports data to create new experiences across sports. Leveraging the richest sports database, Stats Perform enhances sports competition and entertainment through machine learning and computer vision to create advanced predictions and analysis – be that for digital and broadcast media with differentiated storytelling, tech companies with reliable and fast data to power their innovations, sportsbooks with in-play betting, integrity services for rights holders and other stakeholders, or teams with first-of-its-kind AI analysis software. SportsContentCo is the exclusive reseller of Stats Perform premium sports betting content to licensed sportsbooks in the United States. For more information, visit StatsPerform.com or SportsContentCo.com.
---