Ligue 1
March 30, 2021
The schedule for the final sprint
With the last international window over, Nice start the league season's final sprint this Sunday at Nantes. On the menu are eight decisive matches that will determine the finishing position of the Aiglons. A focus on the final two months of the campaign.
What form?
After a difficult start to the second part of the season (7 points claimed between Round 18 and Round 26), Nice have found their colours again. With three wins and a draw, starting with the success at Rennes (1-2), the Rouge et Noir have picked up 10 points, the best total in France over the period.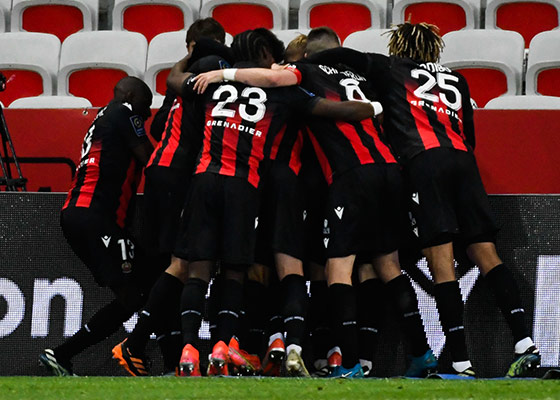 Which opponents?
The final two months of the season each contain two home games and two away games.
In April, the Gym will head to the bottom two in the division. They're at Nantes (19th) when Ligue 1 returns on Easter weekend (April 4 at 15:00) then at Dijon (30th) two weeks later (April 18, kick-off to be determined). In between, the Aiglons will host Stade de Reims (12th), currently a point behind them in the table (April 11 at 15:00). The last match of the month will see Nice meet Montpellier at Allianz Riviera (April 25, kick-off to be determined). Engaged in the battle for European qualification, the Paillade club are currently 8th.
In May, OGC Nice will host two clubs currently lower in the standings than them. Stade Brestois (14th) first of all (the weekend of the 8th) and then RC Strasbourg (15th, on the 16th, 21:00). The final two matches of the season at Allianz Riviera are surrounded by two away games. At Lille, currently second to PSG (weekend of the 1st) and then Groupama Stadium in Lyon to finis off the season on Sunday May 23 at 21:00.
Where in the table?
With 39 points, the Aiglons are 11th in Ligue 1 after Round 30. Their recent form has allowed them to latch onto the right train. After their derby win against Olympique de Marseille (3)0), Adrian Ursea's men find themselves as many points (6) back from sixth place as they are clear of 16th place.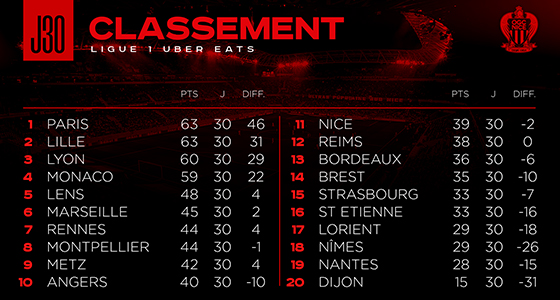 The fixtures for the last 8 rounds:
April:
Round 31: FC Nantes - OGC Nice, Sunday April 4, 15:00
Round 32: OGC Nice - Stade de Reims, Sunday April 11, 15:00
Round 33: Dijon FCO - OGC Nice, weekend of April 17
Round 34: OGC Nice - Montpellier HSC, weekend of April 25
May:
Round 35: Lille OSC - OGC Nice, weekend of May 1
Round 36: OGC Nice - Stade Brestois, weekend of May 8
Round 37: OGC Nice - RC Strasbourg, Sunday May 16, 21:00
Round 38: Olympique Lyonnais - OGC Nice, Sunday May 23, 21:00